Government on FDI
June 20, 2016
It is a encouraging sign that BJP has evolved with time otherwise some years back it was the same BJP that was very vocal against FDI. It was the Vajpayee Government that decided to continue with the economic reforms started by the Narasimha Rao Government but even Vajpayee was unable to clear FDI in the Defence and Oil sectors after strong opposition from the RSS. However the Modi Government has now undertaken a bold step. One can hope that this would finally reap rich dividends.
Drug smuggaling
June 20, 2016
When militants use weapons to strike, casualties are inevitable and they create a sense of fear amongst people. However when drugs are used, an entire generation is lost. It is not about few homes getting affected, the whole social structure starts disintegrating which is exactly what we are witnessing in Punjab. Drugs are a bigger threat than guns and bombs and Pakistan has tried to destroy Punjab by pushing drugs into the state. The nabbing of a Pak smuggler, has given us enough proof of this. It is noteworthy that our security agencies are taking strict action against the drugs smugglers similar those taken against militants. It is the responsibility of the Punjab government and the state police to eradicate the problem from its roots otherwise the people of Punjab will never forgive them.
Yoga with Swami Ramdev
June 20, 2016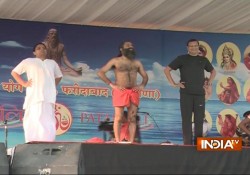 In today's world when we are all living under such stressful circumstances, Yoga as a means to lead a healthy and qualitative life has become extremely important. One cannot deny the benefits of Yoga on our physical, mental and spiritual wellbeing. And if there is one person who has successfully converted Yoga into a household activity, it is none other than Swami Ramdev. The large gathering today at Swami Ramdev's Yog shivir in Faridabad in the early hours of the morning on the eve of International Yoga Day once again reinforced how important and effective Yoga has become in our day to day lives.
KAMAL NATH APPOINTMENT
June 16, 2016
Kamal Nath finally resigned as the party's general secretary in-charge of Punjab. He is a veteran Congress leader who is well aware that the controversy that got generated on his being appointed Punjab in-charge would prove costly for the party in the upcoming Punjab Assembly Polls. Before further damage is done, he put in his papers. The question here is who decided on his appointment since this is not the first that he has been in news? It is certain that whoever suggested his name, cannot be considered as Rahul Gandhi's well wisher!
WATER TANKER SCAM
June 16, 2016
Lt Governor of Delhi Najeeb Jung has given orders for a probe into the 363 crore water tanker scam. There are two sides to this entire scam. Delhi's Water Minister Kapil Mishra had made a complaint to the Chief Minister almost a year ago so that an enquiry could be made into corruption charges particularly against Sheila Dixit in the water tanker issue. However Kejriwal took no action for one whole year. Under mounting pressure Kejriwal finally urged the Lt Governor for further investigations into the matter. The irony is that, the same mafia against whom a probe has been initiated, was awarded the tender to supply water in the past one year. Leader of Opposition in the Delhi Assembly, Vijender Gupta has raised this issue. Najeeb Jung has given orders to investigate into both the matters. Arvind Kejriwal will now accordingly have to explain his stand.
MEHBOOBA MUFTI
June 15, 2016
There is a marked change in the manner in which Mehbooba Mufti has been projecting herself lately. She has been speaking in the same tone an tenor as that of her father Mufti Mohammad Sayeed and has even started following the same path that Mufti Sahab took. She has adopted a tough stand towards the separatists. She has even instructed Pakistan to stop terror activities. She has always believed that Jammu & Kashmir should not be in news for the wrong reasons. Rather the state should be projected by the Media along similar lines like the other states.
KAIRANA EXODUS
June 15, 2016
That the Kairana exodus issue has been politicised is without doubt… and it is not of late that people have started decamping and besides it is not restricted to only Kairana. If BJP was really sincere in its efforts, their leaders would not made efforts to meet only the Hindu families, on the contrary they would have met people cutting across religious lines. However it is also true that many families out of fear have left their homes and their livelihood and have settled elsewhere due to the hooliganism and extortion prevalent in that area and there are both Muslims and Hindus amongst them. Akhilesh Yadav certainly cannot deny such a fact.
ARVIND KEJRIWAL
June 15, 2016
It seemed today as if instead of responding to questions, Arvind Kejriwal was addressing his voters! With half truth and half baked information, he tried to portray how extraordinary his Parliamentary Secretaries were and that the welfare of the people was his top priority. However the real truth is that in order to placate his MLAs, he appointed 21 of them as Parliamentary Secretaries since as per the law he cannot appoint more than seven ministers. He even raised the salaries of his MLAs by almost four times. In order to keep his flock together and to be able to retain them, he misused public money. And today after having given his side of the story left the press conference without even taking any questions.
Kairana Update
June 14, 2016
There is no doubt that there has been an exodus in Kairana. People have left their homes due to the disorder and extortion prevalent in that area. While it is also true that the list prepared by BJP MP Hukum Singh has certain discrepancies. Names of many families who have not left Kairana feature in the list prepared by Hukum Singh. It would be completely incorrect to say that people have left owing to communal tensions. People have left owing to extortion threats from criminals in that region. Akhilesh Yadav is naturally peeved since the State's reputation in terms of the law and order situation under the Sawajwadi rule is known to all. And it is not wrong on his part to be upset especially when he is trying hard to illustrate his Government's achievements and has been talking about developing the State while some members in his party are trying to derail his efforts.
21 MLAs of Aam Admi Party
June 14, 2016
After 21 MLAs belonging to the Aam Admi Party face disqualification, the Delhi Chief Minister Arvind Kejriwal has questioned the illegality of appointing them as Parliamentary Secretaries since states like Rajasthan, Gujarat, Punjab, Madhya Pradesh and some other states have also made such appointments. However it is half-truth that Arvind Kejriwal is speaking about. The states that he cites as examples, have their own Assemblies and every Assembly is within its right to make such rules and appointments. And for those states and Union Territories that are administered by the Centre, rules are different. It requires the approval of the Lt Governor for it to become a law and is then sent to the Centre. Delhi is not a state by itself and without the Lt Governor's approval, Arvind Kejriwal has passed the amendment and sent it to the President for his approval. Arvind Kejriwal has not only indulged in a wrong doing but the manner in which he has executed it, is also wrong. The President had no other option but to reject it. Kejriwal should go by the rule book and realise that by crying foul against the Prime Minister at every instance and slinging mad at the Lt Governor will only end up ruining his own image.
RAHUL GANDHI ON PUNJAB DRUGS
June 13, 2016
Rahul Gandhi is not wrong when he pointed out that four years ago when he had raised the issue of drugs in Punjab, he had been ridiculed by the Akali leaders. Over the years it has got worse and it is now well established that the state is reeling under the problem of drugs. Villages have been wiped out and families have been ruined. Whether the Badal family is involved in the drug trade or not is debatable but there is no doubt that the state government has done little to stem this menace. With names of Akali leaders and ministers featuring amongst those involved in the racket, the Shiromani Akali Das is likely to suffer the consequences since the problem of drugs is one of the major issues in Punjab. Consequently Anurag Kashyap's film 'Udta Punjab' generated enough controversy since the entire state is badly affected.
NARENDRA MODI & AMIT SHAH ON UP POLLS
June 13, 2016
It is quite evident from their speeches how important the UP Polls are for Narendra Modi and Amit Shah. If the BJP is successful in UP then it would be a step closer to victory in the Lok Sabha polls. Modi has already kick started his election campaign in the state even though there is considerable time left for the polls. However one major problem that the BJP is faced with in UP, is who to project as the Chief Ministerial candidate since the party does not appear to have a leader of that stature. Rajnath Singh has already refused the offer, Smriti Irani does not fit into the realm of caste equations and leaders like Yogi Adityanath or Mahesh Sharma can never match up to that level whereby they could pose a formidable challenge to Mulayam Singh or Akhilesh Yadav or even Mayawati. Without doubt this is perhaps the biggest challenge for Narendra Modi in the upcoming UP Polls.