How Demonetization Has Helped the Economy 
August 31, 2017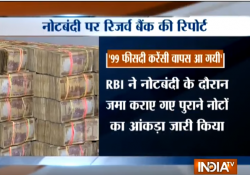 The Reserve Bank of India on Wednesday in its annual report disclosed that 99 per cent of demonetized currency notes returned to the bank's post demonetization, and only one per cent, amounting to nearly Rs 16,000 crore did not return. Finance Minister Arun Jaitley sought to clarify that only these unreturned currency notes were not black money. Nearly Rs 3 lakh crore currency notes came back to the banking system, and along with this nearly two lakh shell companies were traced. Most of these currency notes were black money being held by shell companies. Jaitley also explained that another big benefit of demonetization was that 56 lakh new taxpayers have joined the tax net. The real motive behind demonetization was (1) bringing black money back to the banking system (2) expanding the tax base and (3) switching the economy to digital mode. According to Jaitley, on all these three counts, the objectives were achieved.
Click Here for the Video
Now is the Time to Expose All Fake Godmen
August 30, 2017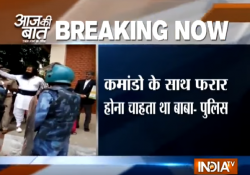 The stunning revelation made by IG India Reserve Battalion K K Rao about a diabolical plan hatched by Gurmeet Ram Rahim to escape from Panchkula court minutes after he was convicted, speaks volumes about the criminal nature of the fake godman. It was clear that Ram Rahim knew he would be convicted by the court, he had asked his men to store firearms inside the vehicles, had brought goons in his cavalcade, and had planned to escape, taking advantage of the bloody mayhem that would have ensued. He could have then posed a big challenge to the establishment, but his plan was nixed in the nick of the time by alert police officers like Rao.
I would also praise retired CBI officer Narayanan who diligently investigated both the rape cases, gave confidence to the rape survivors and ultimately justice prevailed. Narayanan revealed how he was literally forced by political leaders to weaken the case. It exposes the rot that has set in our system. The fake godman was clearly reaping benefits from politicians by offering them support in elections. That is why Ram Rahim was cocksure he would not land in jail because of his 'high' political connections. But he was proved wrong. The Punjab and Haryana High Court was very much alert, along with the media this time, and the Special Judge of CBI court did not give him any leeway.
The most surprising thing in the entire sordid episode is how fake godmen like Ram Rahim manage to fool gullible devotees despite committing heinous crimes. He was literally robbing them in the guise of faith. He was using his devotees as shields and was goading them to carry out bloodshed. The irony is: even if one fake godman is exposed, another godman crops up and starts fooling gullible people. The saddest part is that eminent spiritual leaders in our society fail to prevent such fake godmen from engaging in nefarious activities. They are unable to create awareness among the people. This is a work which no government nor any government official can perform. It is the responsibility of spiritual and religious heads. It is the responsibility of the entire society, which includes all of us, including the media. It is only then can we prevent fake godmen from carrying on with their business in the guise of religion and faith.
Click Here for the Video
Heinous Crimes by Ram Rahim are Yet to Come to Light
August 29, 2017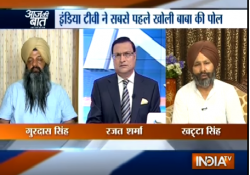 On Monday, the CBI court's special judge sentenced Gurmeet Ram Rahim to a total of 20 years' rigorous imprisonment for raping two female devotees more than 15 years ago. But this seems to be only the tip of an iceberg. I interviewed Ram Rahim's former manager Khatta Singh and a former sewadar Gurdas Singh Toor live on television, and what these two ex-employees revealed was chilling. One feels sad and also angry on listening to such revelations. A fake godman rapes his female devotees, intimidates them and carries out forced abortions. One wonders how this baba can carry out such crimes in the guise of religion. The two ex-employees revealed how the fake godman had a gang of killers with him, they had code words assigned for specific acts, the hospital which he was running ostensibly for social service, was being used as a den to castrate his male devotees. The fake godman used to pay off the parents of his rape victims, and those who refused, were put to death. Is Ram Rahim a human being or a demon? Twenty years of imprisonment are nothing considering the gravity of his crimes. I hope more rape survivors would come forward to testify against the fake godman, who must get the punishment he truly deserves.
Click Here for the Video
Haryana CM Khattar has a lot to answer
August 26, 2017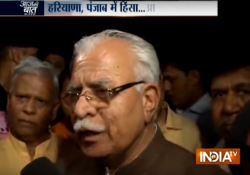 A rape survivor gets justice after fighting a powerful self-styled godman for 15 long years. At last, the real face of Gurmeet Ram Rahim has been exposed in the CBI court verdict. The baba will go to jail and serve his sentence, but the sad part is that thousands of his followers are so much blind and superstitious that they are unable to accept that their fake godman is a rapist. These followers have now turned to arson and lawlessness, throwing normal life in Haryana, Punjab and other neighbouring states in disarray. So long as these gullible followers live in our country, fake babas like Gurmeet Ram Rahim will continue to fool them.
In the wake of widespread arson committed by the baba's followers in Haryana, Punjab and Delhi, questions are now being raised over Haryana chief minister Manohar Lal Khattar's role.
The first question: why was such a huge crowd of over one lakh supporters allowed to assemble in Panchkula? Everybody knew what these supporters would do if the baba was convicted, they had swords, arms, diesel, petrol and lathis with them. This was not a marriage party. It was a crude show of strength by a powerful self-styled godman. Police and paramilitary forces were present, but the arsonists carried on their work with impunity, only because they were numerically stronger and were well-prepared. The chief minister must answer this question.
The second question is directed towards the supporters who had assembled to defend a rapist. Till yesterday, these supporters were claiming that their baba has taught them lessons of love and brotherhood, but the moment the judgment was announced, they resorted to stoning and arson. It is a crying shame that thousands gathered to support a rapist and created a reign of terror. Justice demands that the losses caused to properties by these hooligans must be compensated by attaching the properties of the billionaire self-styled godman.
Click Here for the Video
Mamata Banerjee's minority appeasement politics
August 25, 2017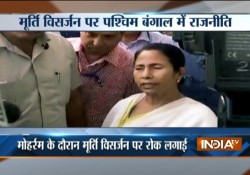 West Bengal chief minister Mamata Banerjee has ordered a 24-hour halt to immersions of idols of Goddess Durga this year due to Muharram. If one sees this in the light of similar orders in the past, it does not seem to relate to law and order at all. Last year too, Vijayadashami took place a day ahead of Muharram, and Mamata Banerjee had then halted the immersion of idols. Her order was criticized by a single bench of Calcutta High Court headed by Justice Dipankar Dutta, which described the order as 'arbitrary' and a "clear endeavour to appease the minority section of public". "To put it straight, the State government has been irresponsibly brazen in its conduct of being partial to one community, thereby infringing upon the fundamental rights of people worshiping Maa Durga", the High Court had observed. It is now clear that Mamata Banerjee wants to appease the Muslims and wants to consolidate her vote bank. But the chief minister should know that creating a wedge between Hindus and Muslims for petty political gains does not portend well, either for West Bengal or for the rest of India. People of both communities have the right to celebrate, but imposing unreasonable restrictions is unfair.
Click Here for the Video
Suresh Prabhu has Set Standards of Accountability by Resigning
August 24, 2017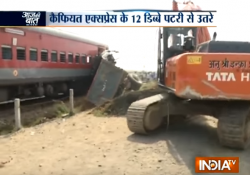 There can be no lame excuses for negligence resulting in train accidents. It was Railway Minister Suresh Prabhu's tough luck that these accidents on the tracks occurred one after another within a span of three days, but I will appreciate Prabhu for taking moral responsibility after the two rail accidents and offered to resign. I somewhat feel Prabhu overreacted by becoming too sensitive. If one looks at Wednesday's rail accident near Auraiya, a dumper stuck on the rail tracks caused the accident. How can a minister be held accountable for that? Similarly, in the Utkal Express accident near Muzaffarnagar, it was caused by negligence on part of the Section Railway Manager. Despite several requests, the SRM did not give permission to halt rail traffic for carrying out urgent track repairs. And yet, Suresh Prabhu took moral responsibility for this. In the past, Lal Bahadur Shastri has taken similar moral responsibility after a train accident during Pandit Nehru's regime, and resigned. Suresh Prabhu, by resigning, has set standards of accountability, and as, Finance Minister Arun Jaitley said, 'accountability is a good system in the government'.
Click Here for the Video
Modi Govt Has Played a Major Role in Abolition of Triple Talaq
August 23, 2017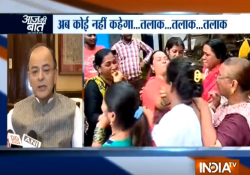 The historic verdict by the Supreme Court has given Muslim women the long-awaited freedom from the 1,400-year-old curse of triple talaq. For years, I have been listening to the travails of Muslim women, who were living a life of fear lest their husbands utter the dreaded word 'talaq' thrice. Most of these women did not raise their voice against this practice all these years out of fear. Their only aim was to ensure that their husbands do not get angry. Their second worry was about 'halala', wherein if a husband utters 'talaq' thrice and then realizes his mistake, his wife would have to sleep with another man and then obtain talaq in order to remarry. One cannot understand the pain behind this dreadful practice, but today Muslim women are now free from such fear. They have now been empowered by this historic verdict.
Political interpretations of this landmark judgment have already begun. Some politicians have begun saying that Prime Minister Narendra Modi may now get the support of Muslim women. Whatever the interpretations are, the fact is that this verdict will bring a big change in the lives of Muslim women. They will be empowered and their contribution to the creation of a New India will increase. One will have to agree that PM Modi and his government have played a major role towards that end.
Click Here for the Video
Red-Letter Day for Muslim Women
August 22, 2017
Today, 22nd of August, 2017, shall be written as a red-letter day in the history of Indian judiciary, as well as for all Muslim women fighting for equality and empowerment, as a five-judge Constitution Bench of Supreme Court, by a majority 3-2 judgement, struck down the practice of 'triple talaq' as unconstitutional.
There were five judges on the bench, including Chief Justice J.S.Khehar, who belonged to different faiths – Hindu, Muslim, Parsi, Christian and Sikh. Justice Rohinton Nariman, Justice U.U.Lalit and Justice Kurien delivered the majority judgement striking down 'triple talaq', while outgoing Chief Justice J.S.Khehar and Justice Abdul Nazeer gave the minority judgement calling for a Central legislation to replace 'triple talaq'. The five judges had been hearing various petitioners for the last three months. The majority verdict clearly said that 'triple talaq' practice was violative of Article 14 that grants fundamental right of equality before law.
Muslim women in India have been suffering for centuries because of the abominable 'triple talaq' practice, that has already been abolished by more than 22 Islamic countries, including Pakistan and Bangladesh. They have been petitioning the government and courts seeking justice. At last, the NDA government led by Prime Minister Narendra Modi, has heard their voice and advocated their cause before the Constitution Bench. Past governments had been wary on this issue because of the votebank politics since the powerful Muslim ulema had been opposing any tinkering with Muslim Personal Law.
With today's verdict, Muslim women will now be able to empower themselves. There have been umpteen cases in which Muslim men in India had given 'triple talaq' to their wives through WhatsApp, Skype, telephone and even telegram. The long-suffering Muslim women can now heave a sigh of relief.
Stop Giving Political Colour to Lt. Col. Purohit's Release on Bail
August 22, 2017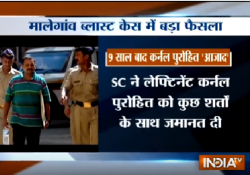 After nine years of incarceration in jail, Malegaon blast accused Lt. Col. C. P. Purohit was granted bail by the Supreme Court on Monday. According to senior public prosecutor Ujjwal Nikam, the court might have found conflicting statements in the chargesheets filed by ATS and National Investigation Agency and granted him bail. This may be a lawyer's opinion, but giving political colour to this apex court order amounts to raising finger at the judiciary. Leaders from the opposition have alleged that the army officer got bail because of help from Modi government. Such allegations are harmful, both for the judiciary and for the democracy.
Click Here for the Video
Mirwaiz, Geelani Are Now Exposed Before Kashmiris
August 19, 2017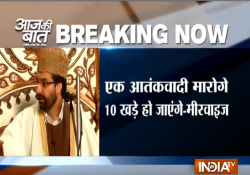 On Friday, Mirwaiz Moulvi Farooq made a fiery anti-India speech before his devout followers in Srinagar's Jama Masjid. He said, 'if one youth dies, there are 10 more youths to fight'. In short, he was openly praising terrorists. One thing is now clear from his speech. It does not matter at all to Mirwaiz and Geelani if youths throw stones, get injured, take up arms, and die in encounters with security forces. It does not matter to these separatist leaders if they give sudden strike calls bringing civic life to a halt, if traders suffer huge losses or school buildings are burnt. It, however, matters more to Mirwaiz and Geelani, if their main fundraiser Zahoor Ahmed Watali is arrested, if Shabbir Shah and seven other leaders are caught on the charge of terror funding, and if the terror funding tap from Pakistan is shut. Hurriyat leaders then become flustered, and then they resort to inciting people in mosques. On Friday, Mirwaiz tried to do exactly the same thing, but he and his associates have probably forgotten that the common man in Kashmir now knows his true face and the influence that Mirwaiz and Geelani once wielded, is now on the wane.
Click Here for the Video
Appeasement of None Should be Government's Policy 
August 18, 2017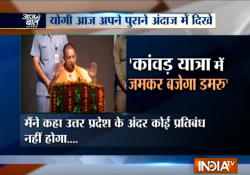 Uttar Pradesh chief minister Yogi Adityanath has raised a valid question. He has said that if namaaz can be performed on main roads, azaan can be played on loudspeakers at odd hours, then DJs and loud music should also be allowed during Kanwad yatras and Janmashtami should be allowed in police stations. What he meant was this: if there is a ban on loudspeakers at odd hours, it should be applicable to all communities and religions. There should be no discrimination between Hindu and Muslim communities. It is a bitter truth that during the Samajwadi Party rule in UP, Janmashtami was banned in police stations, and discriminations were made between Hindu crematoriums and Muslim cemeteries. The first and foremost duty of any elected government should be appeasement of none, exploitation of none, and insult of none.
Click Here for the Video
Stop 'Love Jehad' Before It Spreads to Other States
August 17, 2017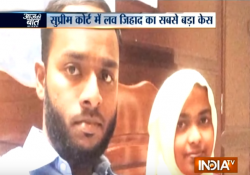 The Supreme Court has ordered the National Investigation Agency (NIA) to probe links of 'love jehad' cases in Kerala to Islamic State and submit its report. This comes in the backdrop of an interesting case from Kerala where a Muslim youth married a Hindu girl, converted her to Islam, but the marriage was annulled by the Kerala High Court on grounds of 'love jehad'. The Muslim youth has now appealed to the Supreme Court, which has taken up the case for hearing. Legal eagles from both sides are appearing in this landmark case. But the issue is quite big, and serious too. If one goes through statistics, one is bound to find something fishy. Five years ago, on June 25, 2012, the then Kerala chief minister Oommen Chandy had told the state assembly that there were 7,713 cases of religious conversion between 2006 and 2012. In all cases, either Hindus or Christians converted to Islam. The interesting part is that, between 2009 and 2012, 2,195 Hindu girls and 492 Christian girls in Kerala converted to Islam before marrying Muslim youths. Oommen Chandy as chief minister had then given official figures, but the actual figures are quite huge. According to the conservative estimate, more than 10,000 Hindu girls were converted to Islam in Kerala in the last ten years. Kerala is the only state in India from where the largest number of Muslim youths fled to Syria to join the radical outfit Islamic State. Now that the apex court has ordered an NIA probe into 'love jehad' cases in Kerala, one hopes that the truth will come out and preventive measures would be taken.
Click Here for the Video