The Mumbai rooftop inferno
December 30, 2017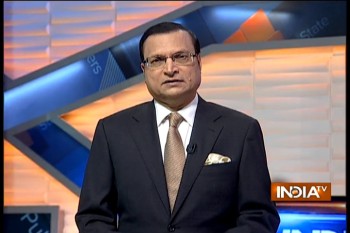 On Thursday midnight, 14 people, including eleven women, died and over 50 people were injured in a blaze that swept through two illegal rooftop restaurants in one of the nightlife hubs of Mumbai metropolis. Most of the deaths occurred due to suffocation as the women had locked themselves inside a washroom to save themselves from the blaze. Within half an hour, the fire completed gutted a rooftop restro-bar and an adjoining cafe, trapping guests because of narrow exits. Kamala Mills compound in Lower Parel houses nearly 35 restro-bars, several corporate offices and news channels. Police is now on the lookout of the absconding restro-bar managers and owners, but the deaths of 14 people have laid bare the venality of the entire system that includes the Brihanmumbai Municipal Corporation, the fire brigade and police.
It raises questions about how safe are our public spaces. This year we saw people dying in a stampede at a temple, people losing their lives in another stampede on a railway foot overbridge and now this midnight inferno. After every tragedy, an inquiry is ordered, and two or three persons are made the scapegoats, but the fact remains that even after 70 years of independence, there is no guarantee of safety for people in public places, nor has the system been able to make people aware about their security and safety.
One of the local BJP MPs in Mumbai has blamed the Shiv Sena that runs the BMC for allowing these illegal restro-bars to run. There were over 36 restaurants in the Kamala Mills compound alone. Hundreds of people visit these restaurants daily, but nobody knows how many of them are legal, and how many are being run illegally with slush money. Nobody knows how many restaurants strictly adhere to fire safety norms, or how many of them have fire safety approvals from the fire brigade authorities. Most of these restaurants run illegally because of patronage of local politicians and bureaucrats. Arraigning four or five accused persons for this inferno will not suffice. There must be strict safety audit of all restaurants that run in Mumbai, and those shielding illegal restaurants must be punished.
What Pakistan is trying to hide about Kulbhushan Jadhav ?
December 26, 2017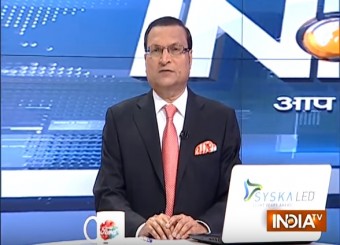 Pakistan's intentions about death row convict Kulbhushan Jadhav have been suspect from day one. He was not tried in a law court. He was not allowed consular access, nor was he allowed to hire a lawyer to defend him. He was hurriedly given death sentence by a military court. When India approached the International Court of Justice and got his death sentence stayed, the Pakistan army, under international pressure, allowed him to meet his mother and wife. On Monday, the world was witness to a sorry spectacle of a death row convict facing his mother and wife behind a glass partition, with cameras keeping a close watch on what was being done or spoken on both sides. Even the clothes worn by his mother and wife were changed before the meeting. There was an intercom on which Jadhav spoke to his wiife and mother. Closeup video of Jadhav clearly shows he was tortured and there were injury marks on his head, neck and ear. The medical report of a German doctor based in Dubai that was flourished clearly showed that it was manipulated, with a date written by hand on the printed report.
This goes against all canons of natural justice. Not only that, it is outrightly inhuman. Imagine, a mother going to meet her son, and a wife going to meet her husband, after a wait of 21 months, and yet they are unable to even touch him, or ask him in private whether he was alright?
The most outrageous aspect of this meeting was that the Pakistan government orchestrated it as a big PR stunt. If Kulbhushan Jadhav is alright, he has not been tortured, then what is the problem in providing him consular access? This is a norm that is prevalent worldwide, and India has sent requests for consular access at least 20 times. Pakistan government should realise that the entire world is closely watching the outcome of this case.
Click Here to Watch Video | Get connected on Twitter & Facebook
Yogi breaks the Noida 'jinx'
December 23, 2017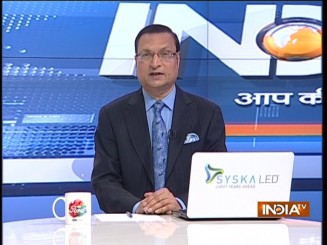 The decision of Uttar Pradesh chief minister Yogi Adityanath to break the jinx about a CM visiting Noida is a welcome step. The Yogi has opted to shun superstition and visit Noida to oversee preparations for the inauguration by the Prime Minister of Metro Magenta Line between Kalkaji and Noida on December 25. For the last 29 years, chief ministers of Uttar Pradesh had been avoiding visits to Noida because of the widespread superstition that any CM visiting Noida loses his or her seat soon after.
The then CM Veer Bahadur Singh visited Noida in 1988 and soon after lost his seat. Narayan Dutt Tiwari visited Noida as CM in 1989, and lost power. A similar fate awaited Mulayam Singh Yadav in 1995, Kalyan Singh in 1999 and Mayawati in 2012, and all of them lost their seats as CM soon after. Rajnath Singh as CM inaugurated the DND flyover from the Delhi end, while Akhilesh Yadav openly said that he believed in the jinx. He did not visit Noida even once during his five-year tenure. Yogi Adityanath as CM has vowed to break this superstition. It shows the level of confidence that he has, as far as religious superstition is concerned.
There should be no place for such jinx and superstition in the 21st century. Normally, jinx and superstition arise when there are surprising coincidences. Rajnath Singh did not visit Noida and yet lost his CM seat. Akhilesh stayed away from Noida as CM and yet failed to retain his CM seat. I consider all such superstitions as foolish.
Why trial court's 2G verdict runs counter to what SC said in its judgement ?
December 22, 2017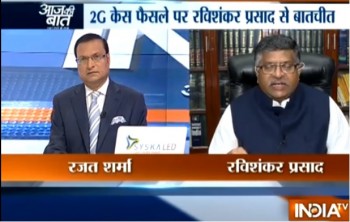 On Thursday, a Delhi CBI court acquitted all the seventeen 2G scam accused, including former Communication Minister A. Raja, DMK MP Kanimozhi, several businessmen and former bureaucrats, and severely castigated the Special Prosecutor and CBI for failing to provide concrete evidences of corruption.
The special judge O. P. Saini in his 1,552-page verdict ominously wrote: "For the last seven years, on all working days, summer vacation included, I religiously sat in open court from 10 am to 5 pm, waiting for someone with some legally admissible evidence, but in vain." This speaks much about our lower judiciary and the prosecution. The special court's verdict clearly runs counter to the Supreme Court order cancelling all 122 licenses issued during the 2G scam.
The Supreme Court while cancelling all 122 2G spectrum licenses had clearly described the allotments as "arbitrary, capricious and contrary to public interest". The apex court verdict had clearly said that the minister (A. Raja) "had virtually gifted away the important national asset at throwaway prices". And yet, the trial court has acquitted Raja and others.
On its part, the CBI reacted to the trial court verdict by saying it would appeal before the Delhi High Court. The CBI spokesman has said "it appears that the evidence adduced to substantiate the charges by the prosecution has not been appreciated in its proper perspective by the learned court. The CBI will be taking necessary legal remedies in the matter."
One thing is very clear: the CBI and its prosecutor did not work diligently. Had they worked seriously, the judge would not have made such stinging remarks. The judge wrote four pages on the role of the public prosecutor, and described how the entire case was dealt with in a casual manner. The judge, in his verdict, also noted how accused A. Raja fought the case like a clever lawyer.
If one carefully reads the judge's verdict, he has nowhere out rightly rejected the charge that there was corruption and wheeling-dealing in the 2G scam. His main contention was that the CBI failed to produce concrete evidences.
Soon after the 2G scam verdict, Congress leaders quickly claimed their stand were vindicated. The Congress leaders alleged that the BJP "used" this 2G scam to gain political advantage in the 2014 elections. It is true, during the 2014 elections, BJP leaders were mentioning "2G, 3G, Jijaji" in most of their speeches, and described the 2G scam as one of India's biggest scams.
Thursday's verdict may cause political loss to the BJP, because the common people do not normally read the entire verdict. A perception will surely gain ground that all the accused in the 2G scam have been acquitted by the court. Few people will try to understand that it was the Supreme Court which had described the 2G license allotments as "arbitrary, capricious and contrary to public interest", and had cancelled all 122 licenses. In the final run, it is the perception that counts, and it will be tough for BJP leaders to explain the correct position to the masses.
Click Here to Watch Video | Get connected on Twitter & Facebook
Stop dumping of industrial waste in Ganga first
December 21, 2017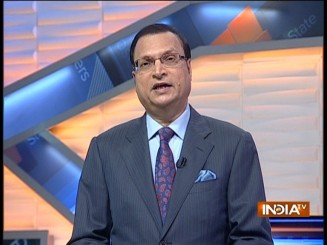 The Union Minister of State for Ganga Rejuvenation Dr Satyapal Singh has called for stopping immersion of ashes of human beings in the holy Ganga river, citing it as one of the causes of pollution. Dr Singh has said that this centuries-old Hindu tradition should be revisited and instead of immersing ashes in Ganga, people should bury them on land and plant a sapling. In Hindu mythology, the river Ganga has been given the stature of a goddess, and millions of Hindus consider it as sacred. It is their religious belief that a human being can attain salvation if the ashes are immersed in Ganga after their death. People, by and large, have accepted that rivers in India are being polluted when pooja materials and flowers along with idols are immersed. But the main culprit behind river pollution is dumping of industrial waste. Hundreds of factories, mostly tanneries, are located on the banks of river Ganga, and they dump toxic waste material into the river daily. The Centre should first concentrate on removing these polluting industries from the banks of Ganga, and then think of "revisiting" centuries-old Hindu traditions.
What Rahul should learn from Gujarat poll results
December 20, 2017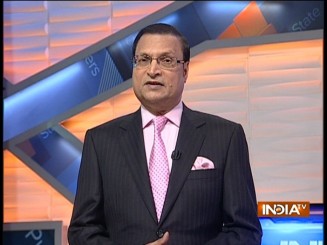 On Tuesday, Congress President Rahul Gandhi told mediapersons outside Parliament that the Gujarat polls have delivered BJP a 'zabardast jhatka' (strong shock), and the BJP promptly responded to say that Rahul was enjoying 'defeat as victory'. It also came to light that on Monday evening when Prime Minister Narendra Modi was addressing party workers after the twin victories in Gujarat and HP, Rahul Gandhi took time off to watch a Hollywood film at a cinema hall in Delhi. Rahul may have wanted to freshen up and seek relief from the hurly-burly world of politics, but when he will sit with his party leaders soon to analyze the Gujarat results, he may be shocked to find some harsh facts.
Rahul may notice that the BJP lost in those areas, where neither GST nor the Gujarat model were important issues. The farmers in the rural areas of Saurashtra belt voted against BJP because of low prices of cotton and groundnut. Rahul may also notice that in cities like Surat, Vadodara and Rajkot, where GST was the burning issue among traders, the Congress fared badly. In Patidar-dominated areas too, the Congress lost and the BJP performed better.
In his speeches, Rahul incessantly attacked Modi's Gujarat model, but 49 per cent of voters in Gujarat voted for Modi. The Gujarat poll results will also serve as a wake-up call, a warning from the voters, for BJP, which has to tackle the agrarian distress in rural areas on a war footing.
Click Here to Watch Video | Get connected on Twitter & Facebook
Entire credit of Gujarat victory goes to Modi
December 19, 2017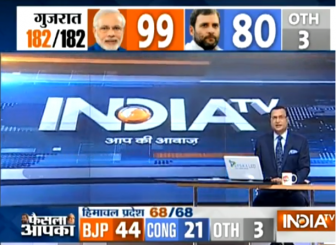 Dislodged from power for the last 22 years in Gujarat, the Congress leadership had pinned its hopes this time on voters' unhappiness with the BJP. Rahul Gandhi showed up in his new avatar this time during the campaign and the media lapped it up to say that Rahul was giving a tough challenge to Modi in the latter's home turf, but the final results have dashed the hopes of Congress leaders. Also dashed were the hopes of Modi's other political opponents like Lalu Prasad and Mamata Banerjee, who had calculated that the 2019 LS battle would have been easier if the BJP was dislodged from its Gujarat citadel.
Who else could have understood this game better than Narendra Modi? The victory in Gujarat reinforces the trust people had in Modi's leadership, and the hopes of Modi's opponents have been dashed. There will be fresh efforts now to prop up an anti-Modi political front, but this is not easy. Because if Congress joins this front, questions would be raised about the leadership abilities of party chief Rahul Gandhi, and Congress would be loath to face such questions.
The Congress should learn some lessons from its failed Gujarat experiment. Rahul Gandhi should have trusted old Congress leaders instead of his young, immature associates. This could have changed the entire picture. Rahul felt that the young trio – Hardik Patel, Jignesh Mevani and Alpesh Thakor – would help his party get a majority. Because of this wrong calculation, Rahul ignored and sidelined Shankarsingh Vaghela. 14 MLAs left the Congress and joined BJP, and this harmed the party at the hustings. It's true, Vaghela failed to provide a strong political alternative, but he succeeded in preventing the Congress to appear as a forceful alternative. Had Vaghela been in the Congress, the results could have been different.
The results prove one thing. That, Modi knows the pulse of the voters of Gujarat, and that, the people of his state love him. That is why when Modi made emotional appeals to touch the chords of the hearts of the voters, the message went through. The results of the second phase of voting are there for all to see. Modi's magic worked, and the way was cleared for the BJP for a sixth successive term. And the credit for all this rightly goes to Modi.
There are lessons to be learnt by the BJP too. The party fared well in the urban centres, but if it had performed well in rural areas, it could have been a landslide. There seems to be lack of enthusiasm for the BJP in rural areas because the farmers are in distress and unhappy, and the party will have to work towards that end.
It is true traders in Surat, Rajkot, Ahmedabad and Vadodara were angry over the implementation of GST. The traders, who were traditional supporters of BJP, felt that the party had brought their thriving trade to a halt. Rahul Gandhi sniffed an opportunity and he derided GST as Gabbar Singh Tax. He assumed that the traders' community would support the Congress this time, but Modi took up the issue at the right time. Modi is a politician who personally knows many of the businessmen in Gujarat by name. He sent Arun Jaitley and Amit Shah to talk to the traders, and all their grievances over GST were addressed, both by Jaitley and Amit Shah. That is why, there are seats in Surat, where the BJP candidates won by huge margins. The Congress leaders and Rahul Gandhi are now scratching their heads after the results.
Patidar movement leader Hardik Patel faced the biggest disappointment from the results. There were huge gatherings at his rallies, he worked on the emotions of people, and went to the extent of saying that 'even if my parents contest on BJP ticket, do not vote for them, and support the Congress', but Patidar voters did not listen to his emotional appeals. They voted for BJP. The Patidars were, of course, angry with the BJP, but they preferred not to vote for the Congress. You will be surprised to know that in as many as 29 constituencies, the number of NOTA (none of the above) votes was higher than the victory margin. It worked both ways. BJP won 15, the Congress 13 and one Independent won because of NOTA. Nearly 5.5 lakhs voters in Gujarat pressed the NOTA button. This amounted to roughly 1.8 per cent of the total votes polled.
Click Here to Watch Video | Get connected on Twitter & Facebook
The Sooner Triple Talaq is Abolished, The Better
December 16, 2017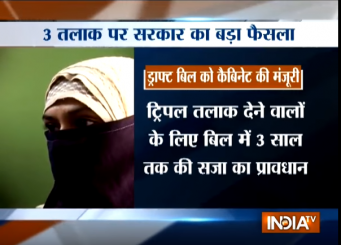 On Friday, the Union Cabinet approved the bill to ban Triple Talaq among Muslims. While Muslim women have welcomed this bill, several Maulanas and Muslim leaders have opposed this, saying the government must not interfere in Muslim personal law. Among Islamic scholars, the respected Shia scholar Maulana Kalbe Jawwad is a notable exception. He has said that Triple Talaq is anathema to the tenets of Holy Quran. There are 16 Islamic countries in the world which have declared Triple Talaq as illegal. These include Pakistan, Bangladesh, Indonesia, Turkey, Egypt, Iran, Iraq, Morocco, Sudan and UAE. In that case, how can Triple Talaq be legal in India? The Maulanas have been saying that the community should be left on its own to eradicate this social evil. But has anything been done in the last several decades? Muslim women deserve the right to be treated as equal. Why should they live in perennial fear of Triple Talaq? Why should a man utter Triple Talaq just because his wife has not cooked to his satisfaction, or has not washed clothes properly? In some cases, Muslim women as old as 70 years have been given Triple Talaq. Why should Muslim women suffer in a world which is witnessing the 21st century? The Union Cabinet approved this bill only after the Supreme Court in its landmark judgement asked the government to enact such a law. How can this be termed as interference in religious matters? One should welcome this bill, and the sooner it is enacted, the better.
Click Here for the Video
If Gujarat Exit Polls are Proved True, Credit Will Go to Modi
December 15, 2017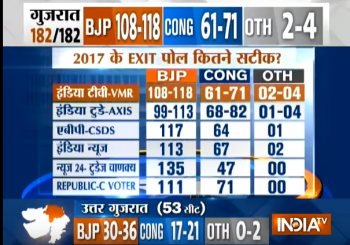 The results of Gujarat and Himachal Pradesh assembly polls will be out on December 18. As of now, all exit polls conducted by media houses predict BJP will retain Gujarat and storm back to power in HP. If the exit poll projections are proved true, all the credit will go to Prime Minister Narendra Modi. Congress had been saying that the people of Gujarat are unhappy with BJP, but if the exit poll projections are proved true, it will reaffirm people's trust in Modi's leadership.
It is true that Rahul Gandhi toiled very hard this time in Gujarat. He tried to reset caste calculations, allied with young emerging leaders like Hardik Patel, Jignesh Mevani and Alpesh Thakore, made changes in ticket distribution on their advice, went to at least 28 temples, and did not speak about Muslims. Initially, it appeared that Rahul's toil was bearing fruit, and Patidars' anger could harm BJP, but in the final lap of campaigning, it was Modi who changed the atmosphere. He made the entire poll campaign Modi-centric and issued emotional appeals to the people of Gujarat. The exit poll projections show this seems to have worked. Let keep our fingers crossed for the day of counting.
Click Here for the Video
Why PM Scotched Rumours Being Spread About Bank Deposits
December 14, 2017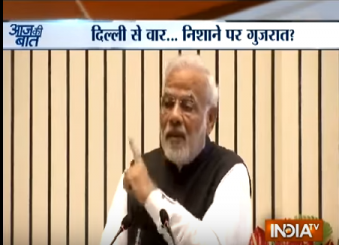 On Wednesday, Prime Minister Narendra Modi, while addressing a FICCI meeting, launched an attack on the UPA government over bad loans, calling it the "biggest scam" of the previous government and blamed it for putting pressure on banks to lend to select corporates. Modi alleged, banks were pressurized to give loans to a select few industrialists, and this scam was bigger than the coal and 2G scams.
The Prime Minister also scotched rumours being spread about bank deposits because of the proposed FRDI (Financial Resolution and Deposit Insurance) bill, which will be brought before Parliament in the forthcoming winter session. Indian banks are struggling with nearly Rs 7 lakh crore of non-performing loans and Modi said, the non-performing assets of banks were the biggest liability handed down by economists sitting in the previous regime, because of which banks are unable to lend money to create new jobs.
Modi explained that the FRDI bill, presently before the select committee of Parliament, is aimed at quick resolution of non-performing assets of banks. He assured depositors that their money was safe in banks and there was no need to believe rumours that are being spread about the bill. Two days ago, Finance Minister Arun Jaitley had also explained that the FRDI bill was meant to make bank deposits more secure, and if the banks ever fail, the bill was meant to provide more compensation than the present limit of Rs 1 lakh that is legally permissible. Congress leaders like Anand Sharma have been posing questions based on such rumours, and one should be aware about the sources which are trying to create unnecessary panic among bank depositors.
Click Here for the Video
Seaplane Ride is Modi's Innovative Idea
December 13, 2017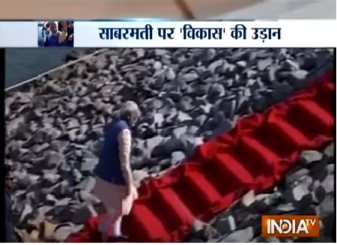 On Tuesday, Prime Minister Narendra Modi and Congress leader Rahul Gandhi were to take out roadshows in Ahmedabad, but the local police refused to give them permission citing security reasons. While Rahul Gandhi addressed a press conference, Prime Minister Modi took an eight-seater seaplane ride from Ahmedabad Sabarmati riverfront to Dharoi dam in Mehsana to offer prayers at Ambaji temple. Thousands of people watched the seaplane take off and land.
Modi always thinks originally, has innovative ideas and implements them suddenly. When denied a roadshow, the Prime Minister opted for an airshow to the delight of his fans and supporters. With the seaplane ride, Modi also sent a 'vikas' message to his voters. He said, government would promote seaplane service for 108 waterways across the country. The basic difference between Modi and Rahul is that while the former always comes out with new, innovative ideas, the latter repeats the same issues every day in a monotonous tone. There was nothing new in the issues that Rahul Gandhi raised in his press conference on Tuesday.
Click Here for the Video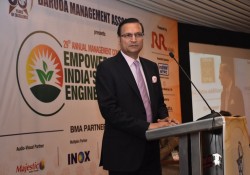 India TV chairman Rajat Sharma addresses Annual Management Convention of Baroda Management Association
December 13, 2017
Vadodara, Gujarat: Baroda Management Association held its 29th Annual Management Convention on September 15 and 16 at The Gateway Hotel, Taj, Akota. India TV Chairman and Editor-in-Chief Rajat Sharma addressed the valedictory session on the second day as chief guest.
While interacting with the participants, Rajat Sharma said: "There is no shortcut to success. One must struggle to succeed. This is the mantra of success." Several questions were asked by participants about India's longest-running popular TV news show Aap Ki Adalat.
Rajat Sharma told the audience how the Aap Ki Adalat show with Narendra Modi, telecast on April 13, 2014, garnered 74 per cent ratings, one of the highest in the industry. "I don't think any other news show can break this record", he added.
India TV chairman also said, the Aap Ki Adalat show with actor Salman Khan was hugely popular with 47 per cent ratings. "In this show, Salman spoke for the first time about major incidents that took place in his life. The latest popular Aap Ki Adalat show was that of actor Kangana Ranaut, where she made some big revelations."
The theme for the Annual Management Convention was "EMPOWERING INDIA'S GROWTH ENGINE".
Bringing together the entire management fraternity of the state under one roof, the convention offered a platform to explore and discuss India's growth story. Think tanks from all walks of life shared their perspectives and brainstormed the innate factors driving the nation's economy.
The two day event was segmented into 7 sessions excluding the valedictory session. The entire gamut of issues from culture to healthcare, from finance to infrastructure, from digitization to entertainment were comprehensively discussed at the convention. The platform was successful in churning out distinct view points and exchange of insights between speakers of diverse backgrounds.
BMA President Gaurish Vaishnav, convenction chairman S. K. Raizada, Avinash Joshi IAS, Shailesh Patwari, Shailendra N. Roy, Dr Bhavna Mehta, Dr Pradip Khandwalla, Swami Parmatmanandaji, Dr Avniash Phadke, Dr Subroto Das, Sriram Iyer, Parag Desai, Zafar Sareshwala were among the dignitaries who addressed the convention.