KOLKATA FLYOVER COLLAPSE
March 31, 2016
There can never be any room for politics when such horrific tragedies occur. Chief Minister Mamata Banerjee cannot put the blame on the previous government. Even if the Left Front government awarded the contract of building the bridge to a company without much experience during its tenure, how can the Chief Minister forget that she has been ruling the state for the past 5 years? On the contrary she should have undertaken the responsibility to rectify the past mistakes. Whether the construction company is to be blamed or not for the collapse will be known only after investigations are complete. But the company's reaction to the tragedy by calling it an act of God is certainly insensitive and irresponsible.
Mallya proposal
March 30, 2016
Till Vijay Mallya repays the banks, the Government will have to face the onslaught of the Opposition. However with the Supreme Court tightening the noose around him and the Centre coming down heavily, Mallya has proposed to pay 4000crores. He is well aware that leaving the country and staying abroad will not lessen his troubles and probably that is why he is slowly trying to get back on track.
PAKISTAN ON PATHANKOT
March 30, 2016
Even if Pakistan were to repeatedly send its team to investigate the Pathankot terror attack or allow our team to visit their country for interrogations, there is not much that our Government or intelligent agencies can expect from the outcome of such visits. There are mere conjectures and posturing for the world to see. If Pakistan is sincerely committed to tackling terrorism, it would have ensured the most stringent punishments for the perpetrators after nabbing them by now instead of merely engaging in a flow of investigating agencies between both the countries.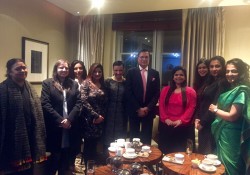 It is not easy being a journalist in India
March 25, 2016
It is not easy being a journalist in India. Those who use the media for their interests eventually turn out to be against journalists. There have been situations where the media has been found lacking and there is need for more focus on research. By and large, media has done a good job over the past few years. Journalists understand that they have to live with criticism. At a recent interaction with an enthusiastic bunch of LSR alumni from London, the participants were curious about the political narrative in India and the relationship between the judiciary and the legislature. They were particularly curious about the Media in India and the paradigm shift it has undergone over the years. Formed in 2014 with 150 members in the UK, the LSR Forum was represented by members across different fields and backgrounds who have been contributing to the British society in their own unique ways.
Vijay Mallya
March 14, 2016
There is no doubt that Vijay Mallya has violated the law by not repaying his loans that he took from the banks. However if he has deposited the money in his account overseas and utilised it for some other purpose then this is indeed a very serious offence. However one would have to wait till investigations are over. Besides Mallya should refrain from making statements through the media and twitter and instead face the CBI and ED. If he has done nothing wrong he should not be scared at all.
OWAISI -No to BHARAT MATA KI JAI STORY
March 14, 2016
Whether or not Asaduddin Owaisi raises 'Bharat Mata Ki Jai' slogans will not make any difference. However there was no need for Owaisi to even mention that he would not raise such slogans since this unnecessarily rakes up a controversy and provides fodder for others to talk. Even Shiv Sena's call to send Owaisi to Pakistan is wrong. Rather we should all rise above such loose talks for India can develop only when all of us think in terms of what will benefit our own country.
Vijay Mallya
March 09, 2016
Vijay Mallya knew that several cases were pending against him. Banks would have recovered money easily and quickly, had he not moved out of the country. Now that Mallya has moved out of India, Government is left with two options – first, to revoke his passport and second, to try and bring him back to India, in case there is an extradition treaty with the country where he is presently staying. This process, however, is long and complicated. Since, most of Vijay Mallya's properties are in foreign countries like England and South Africa, the recovery would be more difficult as well as time-taking.
Sri Sri Ravi Shankar
March 08, 2016
Some very valid concerns have been raised over the Art of Living event to be held on the banks of the River Yamuna. With such a colossal stage being built, with thousands of people being invited and with such a huge parking space — all these are bound to have a negative impact on the environment. However massive preparations have already been made and foreign delegates have been invited and if at this point the show is cancelled, it would result in a huge embarrassment. Sri Sri Ravi Shankar should rather take responsibility and compensate for the damages likely to occur.
Mehbooba Mufti J&K
March 07, 2016
Mehbooba Mufti has made it very clear that she wants assurance on the implementation of the Common Minimum Programme that her party has finalised with the BJP. She wants to fulfil the promises that her father made to the people of Jammu and Kashmir. Even the BJP would like to form the government in the state with Mehbooba but there are some leaders who are apprehensive that Mehbooba might just walk out of the alliance on some pretext within a year and a half. Overall, the issue is about a lack of confidence which can only be resolved through negotiations.
Anupam Kher
March 07, 2016
Anupam Kher articulated his viewpoints boldly. One would have to compliment him for his courage. Many people think on similar lines but only a few speak out lest it should create a dent to their image. His speech went viral on social media has even become a talking point all across the country. What he said is some kind of a bitter truth. He made some powerful observations in his speech irrespective of whether one would like to agree with him or not.
Vijay Mallya defaulter
March 07, 2016
Vijay Mallya has already been declared bankrupt. While the banks are trying to recover their loans, he is making all preparations to settle abroad. His former employees are even more unhappy with him at his opulent lifestyle despite his bankruptcy. While his employees are finding it difficult to make their ends meet, an unperturbed Vijay Mallya continues to throw lavish parties, publish calendars and fly in private jets. With his chances of going to jail increasing by the day, perhaps Vijay Mallya might soon realise that theft and fraud cannot go hand in hand with his bullying tactics.
Modi on Rahul
March 03, 2016
Rahul Gandhi had hit out at Narendra Modi the other day and the manner in which the Prime Minister deflected every volley with finesse and decorum was witnessed by all today. But that aparat, certain suggestions made by the Modi are worth a mention. He spoke of the need to rise above party politics and work together towards improving primary education, take steps to save water and ensure judicial reforms so that justice is not delayed. He said he would like all parties to give their suggestions, point out the flaws of the government and also consider new policies. Essentially the Prime Minister through these issues would like to kick start some positive politics. On the 8th of March on International Women's Day he said he would like only women MPs to speak while all others would listen to them. He even pointed out that one week should be devoted for only the first time MPs who despite being talented and brimming with new ideas are generally shy of speaking out much. What Narendra Modi has recommended should not be difficult for parties to accept since these suggestions are bereft of any party politics.