Rahul should realize the positive outcome of demonetization
August 31, 2018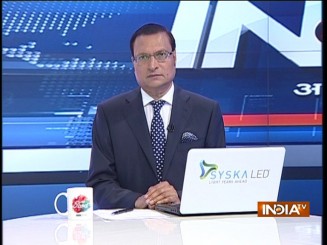 On Thursday, Congress President addressed a press conference and clubbed demonetization with Rafale deal to allege that these were 'scams' meant to favour what he called 'crony capitalists' close to Prime Minister Narendra Modi and the BJP. He said, "the intention (behind demonetization) was to help his (Modi's) 15-20 crony capitalist friends, who have massive non-performing assets, by taking money from common man to fill their pockets."
Rahul repeated this charge several times during his brief press conference, but he did not name a single "crony capitalist" friend. Nor did he give details of how much money these industrialists got and in what manner. Rahul had been making such allegations several times in the past at his public rallies. It would have been better if as the president of a national political party, he should have given facts, cited logic, to give a sheen to his charges. Nothing of the sort happened.
Contrast this with the blog that Finance Minister Arun Jaitley wrote on demonetization and its impact. Citing facts and figures, Jaitley sought to establish that the main purpose behind demonetization was not to unearth and destroy black money in currency. According to him, just because most of the demonetized currency flowed back into banks does not mean that demonetization has failed. Jaitley believes, the larger purpose of demonetization was to move India from a non-tax compliant society to a tax complaint one. Post-demonetization, he wrote, more than 1.8 million depositors have been identified by the tax department for inquiry. Tax and penalties have been levied on them.
There has been a phenomenal increase, Jaitley wrote, in the number of people who have filed tax returns. From 3.8 crores in March, 2014, the number of tax returns filed in 2017-18 is 6.86 crores. There has been an increase of 19 pc and 25 pc in the number of tax returns filed in the last two years. Advance tax returns filed in the first quarter of this financial year has increased by 44.1 pc. Income Tax collections have increased from Rs 6.38 lakh crores in 2013-14 to Rs 10.02 lakh crores in 2017-18. According to Jaitley, the positive impact of demonetization has been: more money has come into the system, there has been more formalization of the economy, and this has led to higher tax revenue, higher expenditure and higher growth.
As far as the Rafale deal is concerned, I have already written that this is a highly strategic issue. Everybody admits that the Indian Air Force badly requires Rafale aircrafts to enhance its strike capability. It would be better if we avoid unnecessary political shadow boxing on such a sensitive issue. The lesser, the better.
Click Here to Watch Full Video | Get connected on Twitter, Instagram & Facebook
Rahul has simply no answer to 15 questions raised by Jaitley on Rafale deal
August 30, 2018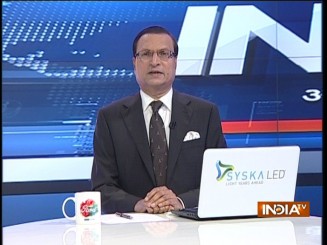 On Wednesday, Finance Minister Arun Jaitley in his blog on Facebook posed 15 questions to Congress President Rahul Gandhi on the Rafale aircraft deal. Jaitley replied to most of the allegations made by Rahul Gandhi and his party during the last several months. There can be no reply more clear and transparent than this.
It must be remembered that this is an Inter-Governmental Agreement, and both the countries are bound by the confidentiality clauses mentioned in the agreement. Had Mr Jaitely disclosed more details about the deal, the Congress leaders still have raised questions. Reason: Congress leaders are sniffing electoral advantage from this Rafale deal issue.
Rahul Gandhi did not reply to a single question posed by Jaitley. Rather, in order to obfuscate matters, he promptly demanded a Joint Parliamentary Committee to go into the deal. He set a 24-hour deadline for Mr Jaitely. to respond, and the latter did, by pointing out at the JPC fiasco that took place during Rajiv Gandhi's regime when Bofors issue was the talk of the town.
Why did Rahul demand a JPC to probe Rafale deal? Reason: If the JPC is formed, ministers and bureaucrats will be summoned, and the Congress and other opposition parties can merrily go around the town raising an issue which has no legs to stand upon. The same allegations couldl be repeated ad nauseum. Congress leaders will then continue to demand that the government reveal the exact price at which the Rafale aircrafts were purchased. The Congress can then continue to allege that the government was trying to hide facts related to the deal.
On Wednesday, the Congress party responded to Jaitley's questions by alleging that ministers in the Modi government are reacting to issues that are not related to their ministries. The party said that the Defence Minister was the right person to reply to allegations.
The Congress has nothing else to say because it has simply no cogent reply to the questions raised by Jaitley. The party has no answer to Jaitley's question as to why the UPA government delayed the acquisition of Rafale aircraft by eleven years, thereby compromising national security considerations. The party has no answer to Jaitley's question as to why the negotiation on acquiring Rafale aircraft that was shortlisted in 2007, began five years later, in 2012. The Congress has no answer to Jaitley's assertion that the basic price at which NDA government acquired the Rafale aircraft was 20 per cent cheaper than what was approved by the UPA regime.
Click Here to Watch Full Video | Get connected on Twitter, Instagram & Facebook
Avoid politicizing the probe into Bhima-Koregaon violence and conspiracy against PM
August 29, 2018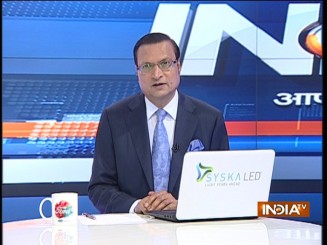 In simultaneous raids in seven cities across India, Pune police on Tuesday arrested civil rights activist and writer P Varavara Rao, lawyer Vernon Gonsalves, human rights activist and lawyer Arun Ferreira, activist and lawyer Sudha Bharadwaj and human rights activist Gautam Navlakha in connection with the violence at Bhima Koregaon early this January, in which one person was killed and there was widespread arson and rioting. The violence took soon after a rally organized by Elgar Parishad which was addressed by Dalit and pro-left leaders.
Soon after the nationwide raids, there was a loud outcry on social media and both the Congress and CPI(M) denounced the move. While probing the violence, Pune police had found a mail from the computer of a suspect, who had mentioned about a conspiracy to eliminate Prime Minister Narendra Modi during his roadshows. Since this issue has sinister implications, the authorities had to swing into action and take these pro-left extremists into custody for further questioning.
Pune police claims that it has concrete evidence about the left-wing conspiracy and it hopes to unravel more after questioning the suspects.
My view in this matter is clear. In criminal cases like this, one should avoid politicking and wait for the outcome of police investigation. The investigators will have to produce evidences in court, and it is the court which will finally decide who is guilty and who is not.
Click Here to Watch Full Video | Get connected on Twitter, Instagram & Facebook
Rahul's assertion that Congress 'had no role' in 1984 riots is surprising
August 28, 2018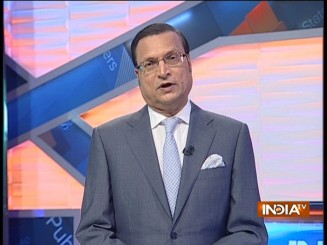 Congress President Rahul Gandhi's remark in London that his party "had no role" in 1984 anti-Sikh riots that claimed more than 3,000 Sikh lives, has rekindled a fierce debate in India. Both the BJP and Shiromani Akali Dal have criticized the Congress President for trying to absolve his party of the sins of 1984 Sikh massacres. Punjab Chief Minister Capt Amarinder Singh has said that Rahul was 14 year old at that time and only some Congress leaders were involved in the massacres.
The question is not about Rahul Gandhi's involvement in 1984 riots, but about the connivance of his party in the massacres of Sikhs.
It is a historical fact that former Prime Minister Indira Gandhi was assassinated by her two Sikh bodyguards, and this led to widespread riots in Delhi and other cities. As a reporter during those days, I have been an eyewitness to how Sikhs were killed by rioters. There is no iota of doubt that several Congress heavyweight leaders were involved in those massacres. It was only after the massacres were over that the new Prime Minister Rajiv Gandhi made the infamous remark that 'when a big tree falls, the ground beneath the tree does shake'.
It was because of their involvement in massacres that the Congress party later sidelined its stalwarts like Har Kishen Lal Bhagat, Jagdish Tytler, Sajjan Kumar and Dharam Dass Shastri. It was because of the sins of 1984 that Dr Manmohan Singh, after becoming Prime Minister, went to the Golden Temple and offered public apology. Even Rahul Gandhi, in an interview four years ago, had confessed that some leaders of the Congress were involved in the riots. Despite all this, Rahul's assertion that the Congress party "had no role" in 1984 riots is surprising, and it does not hold water.
Click Here to Watch Full Video | Get connected on Twitter, Instagram & Facebook
Communal tension over Kanwariyas can be dangerous for social unity
August 25, 2018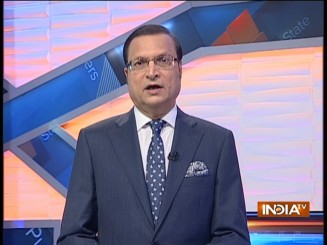 Curfew had to be imposed in a small town called Malpura in Rajasthan's Tonk district after communal clashes took place for two days consecutively. A group of Muslims attacked Kanwariyas who were carrying holy Ganga water to temples. There was stoning and some vehicles were set on fire, after the Kanwariyas passed through a Muslim-dominated locality. Fifteen Kanwariyas were injured. The situation is now under control. Similarly, in UP's Bareilly district, tension arose after Kanwariyas insisted on passing through a Muslim-dominated locality. The local BJP MLA sat on dharna demanding that Kanwariyas be allowed to pass through the locality.
Kanwar Yatra takes place every year, when pilgrims carry holy Ganga water on foot to temples for worshipping Lord Shiva in the month of Shravan. For Hindus in northern India, this yatra carries significance. The kanwariyas pass through localities which have temples, mosques and gurudwaras. They pass through both Hindu- and Muslim-dominated localities. If members of one community insists that they would not allow them to pass, and then indulge in stoning, this is unacceptable.
Such incidents have led to local Hindu leaders in Bareilly and Tonk threatening not to allow 'tazia' processions during Mohurram. They have also threatened not to allow Muslims to offer namaaz prayers in the open. Both these tendencies are not good. This can weaken our fabric of social unity. Leaders of both Hindu and Muslim communities should understand that they must co-exist peacefully and allow others to bring out processions and perform prayers.
Click Here to Watch Full Video | Get connected on Twitter, Instagram & Facebook
Bring law to give death sentence to food adulterators and fake medicine sellers
August 24, 2018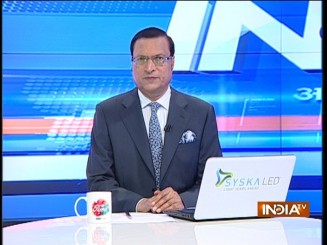 On Tuesday, the Mohali Police in Punjab alongwith district health authorities raided an unlicensed factory at a village near Mohali-Kharar Road and seized 2,060 kg of spurious cheese alongwith 3,375 kg of skimmed milk powder made from 'synthetic' milk, 89 kg of butter and 360 litres of sulphuric acid. The owner was arrested and the illicit factory was sealed. Samples of all these milk products were sent to a lab in Kharar for testing.
Synthetic milk and products made from it are sheer poison, whether it is cheese, butter, khoya or paneer. It leads to a slow death for consumers. Several years ago the Centre had promised to bring a law to give death sentence to those who adulterate food products and sell fake medicines.
Time has come for the government to enact such a stringent law to act as deterrent for such people who play with the lives of people. In most of the countries of the world, food adulteration is considered a heinous crime, and a similar legislation should be enforced in India too.
Click Here to Watch Full Video | Get connected on Twitter, Instagram & Facebook
Separatists in Valley are doing un-Islamic acts
August 23, 2018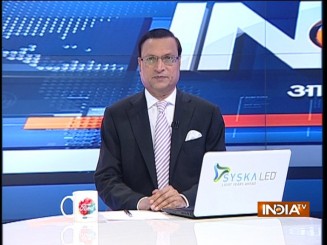 On Wednesday, as the nation was celebrating Eid Al Adha, a despicable act was being committed at the famous Hazratbal mosque in Kashmir valley.
The chief patron of National Conference Dr Farooq Abdullah was preventing from offering namaaz prayers by a bunch of hoodlums posing as separatists and followers of Zaaqir Musa, the self-styled Islamic State leader in the valley. Their objection: Dr Abdullah had chanted 'Bharat Mata Ki Jai' and 'Jai Hind' slogans at a condolence meeting in memory of Late Atal Bihari Vajpayee ln New Delhi. The hoodlums were shouting anti-Indian slogans, and they shoved and pushed the devouts in order to prevent Dr Abdullah from offering prayers.
The same day, terrorists went on a spree killing four persons, including a BJP worker. The BJP worker had come to his home in Pulwama to celebrate Eid.
Clearly, separatists and terrorists in the valley are acting out of frustration. They are doing un-Islamic acts. They do not have any regard for Insaaniyat (humanity), Kashmiriyat or Islam.
One should note that the number of hoodlums at Hazratbal was few, while most of the devouts wanted to offer namaz on Eid day. The people of the Valley wholly disapprove such un-Islamic acts, and this is a fact. These terrorists do not deserve to be called Islamic. They are inhuman and they have no sensitivity towards any religion.
Those who were killed in the Valley on Eid day were Kashmiris and Muslims. These terrorists only work on orders from their masters sitting across the border in Pakistan. They are shedding the blood of innocent Kashmiris. Time has come to liquidate these terrorists. We need to follow a 'bullet for bullet' policy, and the message should go to them that the only consequence of such acts is: death.
Click Here to Watch Full Video | Get connected on Twitter, Instagram & Facebook
Interlinking of rivers can prevent floods and drought in India
August 22, 2018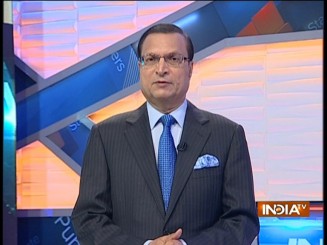 The deluge in Kerala has caused deaths of 223 people (official count) and has displaced nearly 10 lakh people, many of whom have been sheltered in temporary relief camps. Crops and properties worth billions of rupees were damaged, and the state government has sought immediate assistance of Rs 2600 crore. The Centre, on its part, has already released Rs 600 crore.
For the last few days, the media had been talking about the great visions of late Prime Minister Atal Bihari Vajpayee. He launched the Golden Quadrilateral and North-South East-West corridor, and implemented the Pradhan Mantri Gram Sadak Yojana to provide easy connectivity. Vajpayee also planned inter-linking of rivers to combat the annual scourge of both drought and floods.
Watching visuals of flooding in Kerala, Madhya Pradesh and Bihar, I remember how Atal Ji ordered the plan to interlink rivers and entrusted this work to Suresh Prabhu. Unfortunately, Vajpayee's government fell after the 2004 Lok Sabha elections, and work on this plan came to a standstill.
Every year in India, people face the scourge of drought in summer, followed by flooding of rivers during monsoon. The mission to interlink rivers was aimed at preventing floods and provide river water to parched areas which witness low rainfall. Had subsequent governments implemented the plan for interlinking of rivers, such deluges could have been prevented. It is time that the Centre, alongwith state governments, work on the plan to interlink rivers in a time-bound manner.
Click Here to Watch Full Video | Get connected on Twitter, Instagram & Facebook
Atal Bihari Vajpayee was an 'ajatshatru', a man who had no enemies
August 21, 2018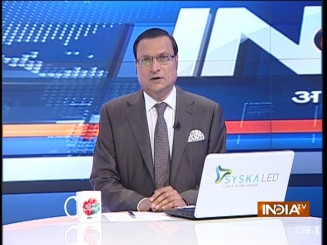 On Monday, an all-party condolence meeting in New Delhi saw both the main political rivals from Kashmir valley – Dr Farooq Abdullah of National Conference and Mehbooba Mufti of People's Democratic Party – praising Atal Bihari Vajpayee's Kashmir policy in one voice. This happened in the presence of Prime Minister Narendra Modi, RSS chief Mohan Bhagwat and leaders of all major political parties. While Dr Farooq Abdullah chanted 'Bharat Mata Ki Jai' and recalled how Vajpayee stood firm with army jawans near the Line of Control despite firing from the Pakistani side, former CM Mehbooba Mufti praised the "Kashmiriyat, Insaniyat, Jamhooriyat' policy of Vajpayee. Mehbooba Mufti said Vajpayee won the trust of the people of the Valley by holding free and fair elections. "Today Kashmir weeps in memory of Vajpayee", she added.
Mehbooba Mufti's words carry weight. It was a big historic change in the Valley when people came out in large numbers to vote in a free and fair election during Vajpayee's regime. Both Farooq Abdullah and Mehbooba Mufti called for pursuing Vajpayee's policy while solving the vexed Kashmir issue. One should understand that the issue of Kashmir cannot be delinked from Pakistan. Atal ji understood this, and tried to convince the people of both India and Pakistan about this.
As one leader after another from diverse political parties like Congress, AIADMK, DMK, Trinamool Congress, Shiv Sena and Biju Janata Dal, stood up and praised Vajpayee, it underlined one major fact. Vajpayee, as a large-hearted statesman, used to carry political parties of all hues with him together. It was he who showed that a coalition government of 22 political parties at the Centre can work successfully for six years. Vajapyee's greatest strength was that he not only carried rival political parties with him, but also neighbouring countries. It was during his regime that China for the first time acknowledged the accession of Sikkim with India, and the Nathu La border trading post was opened. Secondly, he knew how to forge relationships and always remained true to his friends.
The biggest tribute that we can pay to Vajpayee will be to follow his path of inclusiveness, and create an atmosphere of harmony and amity. On behalf of India TV family, I once again offer my humble tributes to the great statesman.
Click Here to Watch Full Video | Get connected on Twitter, Instagram & Facebook
Atal Ji shall always remain in our hearts: some reminiscences
August 17, 2018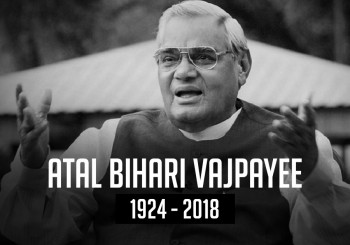 I never dreamt in my life ever that a day will come when I will have to pen a few lines about Atal Bihari Vajpayee's passing away. Never had I imagined that I would one day have to bid farewell to Atal Ji. The still, lifeless body of Atalji lying in state disturbs my mind. My heart is unable to accept that Atal Ji has left on his eternal journey.
I still visualize huge crowds of lakhs of people, flocking to hear and see Atal Ji. But today the leader is silent, in permanent slumber. I only hear the spontaneous outpouring of slogans 'Atal Ji Amar Rahe', 'Jab Tak Sooraj Chaand Rahega, Atal Tera Naam Rahega'. My heart feels, what I see is true, but my mind is unable to accept this fact. For me, Atal Ji was not only a leader, he was my guardian, my teacher, my friend, and most of all, my guide. With his passing away, I have lost all.
Atal Ji is out on his final journey, in the midst of lakhs of people, but somehow I feel, every individual is feeling himself or herself alone in this vast crowd. There is loneliness in my heart. The house where he used to live is empty. The house where I spent much of my time with Atal Ji, heard him recite his poems, is silent. The house, that used to resound with his laughter, is now silent. There is only a big portrait of Atal Ji, and all that is left, are his memories. I now remember the days that I had spent with Atal Ji, his conversations, his laughter, his anger, his advice, everything.
An era has ended today. Atal Ji was not only 'atal' (enduring) in name, he was 'atal' in his personality, he was 'atal' in his ideology, throughout his life he remained 'atal' in honesty, he remained 'atal' throughout his life in the cause of truth. Men like Atal descend on this earth in ages. A great orator, a sensitive poet, an outstanding statesman. For 60 years he remained in the black-stained Hall of Politics, but came out unscathed. He became the 'raja' (king) but continued to remain a 'faqir'(mendicant). You don't find such politicians any more.
I often feel that some of the words that Atal Ji wrote in his iconic poems may come true. He had written "Laut kar aaonga, Kooch se kyon daroon" (I shall come back, why should I be afraid of marching?) No more. No more shall we hear him vigorously reciting his poems, nor will I hear his scoldings, his gentle advices. I had the fortune of expressing my "mann ki baat" to him. At times, he also used to share his "mann ki baat" with me. I got his affection in abundance. A man who had a heart as crystal clear as that of a child. He sometimes used to sulk for the flimsiest of things, and he used to be pampered. No more sulking, no more pampering.
Memories are many. I wanted him to be my guest in my show Aap Ki Adalat. To bring him to the show was not so easy. I knew Atalji's foster daughter Namita from my college days. Ranjan Bhattacharya was with me in college. I took their help and persuaded Atalji to come to the show. Atalji used to fob off my requests with a laugh. Once I took hundreds of letters of my viewers to show him that people really wanted to see him on the show. He guffawed, and said you take all these letters from people when you meet them. At last he agreed, but on the day of recording, he backed out. He flatly refused to come. I rushed to Atalji's house, tried to persuade him, but he said his party has forbidden him to speak. I told him, 'well, I am seeing for the first time that you are following the party's diktat'. Atalji was somewhat angry, but Namita intervened. She told him, 'Baapji you had promised to go'. All of a sudden, Atalji stood up and said, let's go. That's how I got him in Aap Ki Adalat.
Atal Ji, as an individual, was a rarity. He never had shallow thoughts, nor would he ever make shallow remarks. After his first 'Aap Ki Adalat' show was telecast, he became Prime Minister and his government lasted for 13 days. H. D. Deve Gowda became the Prime Minister, and there was a dinner at Rashtrapati Bhavan. Atal Ji told me at that dinner that he wanted to meet me.
I met him the following day. He said, I have three things to tell you. In humility, I told him, 'you are my elder, you can say anything'. He replied: 'I have some burden on my heart, which I want to share with you. First, I am grateful to you. The process of my becoming the PM started with your show Aap Ki Adalat'.
Again, in humility, I told him: 'Atal Ji, you have a 50-year-long 'tapasya' behind you, and you are speaking of one TV show?' He replied: 'I have seen change in the eyes of people' (after they watched the show).
I replied: 'Atal Ji, you have something very big. I have nothing more to say'.
He said: 'No, I have two more things to tell you. And today you shall not talk, you shall hear me. The second thing I want to tell is that, I was PM for 13 days but I did not meet you'.
I said: 'Atal Ji, How many people could you have met in those 13 days?'
He replied: 'No, I should have met you. And the third thing: Hum aapse mitrata karna chahte hain' (I seek your friendship).
I returned home and could not sleep well for the next two or three days. I thought, a big politician like him should not have said such a big thing to me, nor was there any need to thank me, nor should he have expressed gratitude. Moreover, there was no need for him to say, I seek your friendship.
Soon thereafter, there were general elections, and I used to sometimes praise Atal Ji while anchoring my show. I used to make these comments from the depths of my heart.
One day, I got a call from Ranjan. "Atal Ji is calling you. He is at the airport, and will be there for two hours. He has come from Chennai and will be leaving for Patna", he said.
I called on Atal Ji at the airport. The moment we met, he said: "Aajkal bahut kripa ho rahi hai hum par?" (You have been favouring me too much nowadays?)
I replied: "Atalji, we do this somewhat in our shows."
He replied gravely: "Yeh theek nahin hai. Rajatji aapki taaqat aapki vishwasniyata me hai. Sab dalon me aapke dost hain. Sabse mitrata hai. Sab aapki baat sunte hain. Ismey koi samjhauta nahin hona chaiye. (This is not good. Rajatji, your strength lies in your credibility. You have friends in all parties. You are friends with them. They listen to you. There should be no compromise on this).
I replied: "Atalji, this is after all election time. Let the elections be over, then I will think".
His reply: "Prime Ministers will come and go. Governments will come and break. But as a journalist, your credibility should not go. Once your credibility goes, you won't get it nack."
Can an individual think so high? Such a towering personality, and his great thoughts. There can be no politician or statesman like him, who can think and speak like this.
This, in essence, was our Atal Ji. Such men do not disappear. Atal Ji shall always remain in the core of our hearts. His life was an open book. He was a 'faqir' (mendicant), he was 'faqqad mijaaz' (mind of a vagabond). He never compromised in life. I learnt a lot from his life, his personality and his closeness.
Once I told him: "Atal Ji, I want to learn the art of delivering a speech."
His reply: "Humse bolne ki kalaa mat seekho. Agar kuch seekhna hai, toh seeko, ki chup kab rahna hai" (Don't learn the art of oratory from me, if you want to learn, then learn the art of when to remain silent).
It was a brief reply, but loaded with endless possibilities. I fail to understand what to recount now, and what to omit. I only have his face in front of eyes, as I watch his lifeless body disappearing into oblivion. And my heart cries out in anguish: "Atal Ji, wake up just once, and say – Panditji, hum kahin nahin gaye, hum yaheen hain, tum sabke beech, tum sabke saath (I haven't gone anywhere, I am here, amongst you, with you, always).
जब मैंने अटलजी से कहा, मुझे भाषण देने की कला सिखा दीजिए
August 17, 2018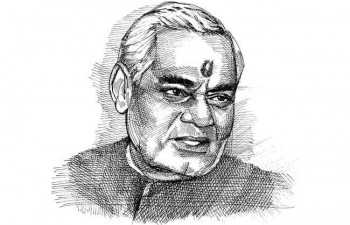 कभी इस दिन के बारे में सोचा नहीं था…. ये ख्याल दिल दिमाग में कभी नहीं आया कि एक दिन अटल जी को विदा करना पड़ेगा…अटल जी का निष्प्राण शरीर मन को विचलित कर रहा है…दिल ये मानने को तैयार नहीं है कि अटल जी अब इस जहां से दूर अनंत की यात्रा पर निकल गए हैं…आंखों के सामने अपनी भीड़ का जनसैलाब है…ऐसा सैलाब तो अटल जी को सुनने के लिए हर बार उमडता था….लेकिन आज उनका नेता खामोशी से सो रहा है…सिर्फ नारे सुनाई दे रहे हैं…अटल जी अमर रहें…जब तक सूरज चांद रहेगा…अटल तेरा नाम रहेगा…जो दिख रहा है वो सच है…ये दिल जानता है…लेकिन मन हकीकत को मानने के लिए तैयार नहीं है…क्योंकि मेरे लिए अटल जी सिर्फ नेता नहीं थे…..मेरे लिए …अभिभावक… टीचर… दोस्त…और सबसे बड़ी बात मागदर्शक थे….अटल जी के जाने से मैंने सबकुछ एक साथ खो दिया…अटल जी अपनी अन्तिम यात्रा पर निकल पड़े हैं….उनके साथ लाखों की भीड़ है…लेकिन इस भीड़ में हर शख्स खुद को अकेला महसूस कर रहा है….मेरे हृदय में भी वही खालीपन है…वो घर भी सूना है…जिस घर में मैंने अटल जी के साथ बहुत सारा वक्त बिताया…उनकी कविताएं सुनी…जो घर उनकी हंसी से गूंज उठता था….आज उसी घर में सन्ना है….वहां सिर्फ अटल की तस्वीर है…और उनकी यादें हैं…आज अटल बिहारी वाजपेयी के साथ बीते दिन….उनकी बातें….उनकीं हंसी…उनका गुस्सा…उनकी सलाह….सब याद आ रहा है….वास्तव में आज एक युग का अंत हो गया….अटल जी सिर्फ नाम से अटल नहीं थे….व्यक्तित्व से भी अटल थे….जीवन भर विचारधारा पर अटल रहे….जीवन भर ईमानदारी पर अटल रहे….जीवन भर सच्चाई की कसम पर अटल रहे….अटल जैसा व्यक्ति युगों में धरती पर आता है….ओजस्वी वक्ता…कवि….प्रखर राजनेता…साठ साल तक काजल की कोठरी में रहकर बेदाग व्यक्तित्व…राजा होकर भी फकीर….ऐसा इंसान अब कहां…..
बार बार लग रहा है कि जो अटल जी ने अपनी कविता में कहा वो सच हो जाए….उन्होंने अपनी कविता में लिखा था लौटकर आऊंगा..कूच से क्यों डरूं…अटल जी का कविता पाठ अब सुनने को नहीं मिलेगा….अब उनकी डांट…उनकी सलाह नहीं मिलेगा….मुझे वो सौभाग्य प्राप्त था कि मैं अटल जी से अपने मन की बात कह सकता था…वो भी अपने मन की बात मुझे बताते थे….अटल जी का बहुत स्नेह मुझे मिला…बुल्कुल बच्चे जैसा साफ दिल का इंसान अब कहां….छोटी छोटी बात पर रूठ जाना फिर उन्हें मनाना…अब न अटल जी रूठेंगे…न उन्हें मनाना पड़ेगा….बहुत सारी यादें हैं…मैं चाहता था अटल जी आपकी अदालत में आएं…लेकिन मनाना मुश्किल था…आपकी अदालत में आने के लिए कहता…अटल जी हंसकर टाल देते थे…एक बार मैं बहुत सारी चिट्ठियां ले गया कि देखिए लोगों ने आपको बुलाने के लिए इतने सारे लैटर्स लिखे हैं….जोर से हंसे , कहा कि आप जिसके पास जाते हैं उसीकी चिट्ठियां ले जाते हैं….आखिरकार वो तैयार हो गए…लेकिन जिस दिन शो की रिकॉर्डिंग थी…उस दिन फिर मना कर दिया…मैं घर पर पहुंचा…उनको मनाया…उन्होंने कहा कि हमें पार्टी ने मना किया है…मैंने कहा कि मैं पहली बार देख रहा हूं कि आप पार्टी की बात मान रहे हैं…थोड़े गुस्सा भी हुए लेकिन जब नमिता ने इंटरवीन किया…अटल जी की बेटी नमिता को मैं कॉलेज के जमाने से जानता था…और रंजन भट्टाचार्या मेरे साथ कॉलेज में थे…उस वक्त नमिता ने अटल जी से कहा कि बाप जी आपने वादा किया था…तो फिर एकदम खड़े हुए कि चलो….
अटल जी वाकई में विरले इंसान थे…न हल्की बात सोचते थे..न हल्की बात करते थे….आपकी अदालत का जब ये शो रिकार्ड हुआ तो उसके बाद अटल दी प्रधानमंत्री बने..तेरह दिन सरकार रही और सरकार गिर गई.. देवेगौड़ा प्रधानमंत्री बने….राष्ट्रपति भवन में डिनर था ….वहां अटल जी ने कहा कि आप से बात करनी है….मैं समय लेकर अगले दिन उनके पास गया….तो उन्होंने कहा कि मुझे आपसे तीन बात करनी है…मैंने कहा कि आप बड़े हैं..कुछ भी कह सकते हैं….उन्होंने कहा कि मेरे दिल पर बोझ है..ये आज उतारना चाहता हूं ..पहली बात हम आपके आभारी हैं ..हमारे प्रधानमंत्री की प्रक्रिया आपके अदालत के कार्यक्रम से शुरु हुई ..मैंने कहा कि अटल आपकी पचास साल की तपस्या है..एक कार्यक्रम ..उन्होंने कहा कि हमने लोगों की आंखो में परिवर्तन देखा…तो मैंने कहा कि इसके बाद मुझे कुछ नहीं सुनना है..इतनी बड़ी बात आपने कह दी है…उंन्होंने कहा नहीं.. हमें दो बातें और कहनी हैं…आज आप बोलेंगे नहीं सुनेंगे…दूसरी बात ये कि हम क्षमाप्रार्थी हैं कि हम 13 दिन प्रधानमंत्री रहे और आपसे मिले नहीं…तो मैंने कहा कि अटल जी कितने लोगों से आप मिल सकते थे उस समय…नहीं नहीं मिलना चाहिए था…और तीसरी बात ये कि हम आपसे मित्रता करना चाहते हैं…इन तीन बातों का मेरे दिल पर इतना असर हुआ…मैं जब घर वापस गया तो मैं दो तीन दिन सो नहीं सका…मुझे लगा कि इतने बड़े आदमी को इतनी बड़ी बात कहने की कोई आवश्यकता नहीं थी…न उन्हें धन्यवाद करने की जरूरत थी…न आभार प्रकट करने की जरूरत थी..ना उन्हें ये कहने की जरूरत थी कि उन्हे दोस्ती करनी है…उसके बाद फिर चुनाव आए….मैं अपने शो में अटल जी की तारीफ में दो चार बातें कह देता था..मेरे दिल से ये बात निकलती थी…तो एक दिन मुझे रंजन का फोन आया…उसने कहा कि अटल जी बुला रहे हैं…एयरपोर्ट पर हैं…दो घंटे के लिए रुके है…चैन्नई से आए हैं..पटना जा रहे हैं…एयरपोर्ट पर मैं गया तो मुझे कहा आजकल बहुत कृपा हो रही है हमारे ऊपर…महानता की पराकाष्ठा देखिए..मैंने कहा कि अटल जी…थोड़ा बहुत तो शो में करते हैं…उन्होंने कहा कि ये ठीक नहीं है…उन्होंने कहा कि रजत जी आपकी ताकत आपकी विश्वसनीयता में हैं…सब दलों में आपके दोस्त हैं…सबसे मित्रता है…सब आपकी बात सुनते हैं…इसमें कोई समझौता नहीं होना चाहिए…तो मैंने कहा अटल जी इलैक्शन हैं…इलैक्शन हो जाएंगे उसके बाद हम चिंता करेंगे..तो अटल जी ने कहा कि प्रधानमंत्री आएंगे…जाएंगे..सरकारें बनेंगी.. बिगड़ेंगी…लेकिन पत्रकार के तौर पर आपकी जो विश्वसनीयता है…ये नहीं जानी चाहिए..ये गई तो फिर वापस नहीं आएगी…क्या कोई आम इंसान इतना बड़ा सोच सकता है…इतना बड़ा व्यक्तित्व..इतनी बड़ी बात सोचने वाला…शायद कोई दूसरा नहीं हो सकता..ऐसे थे हमारे अटल जी…क्या ऐसा इंसान कभी दिल से विदा हो सकता है….अटल जी हम सबके दिलों में हमेशा रहेंगे…
अटल जी का जीवन खुली किताब की तरह रहा…वो फकीर थे..फक्कड़ मिजाज थे…लेकिन जिंदगी में कभी समझौता करना तो शायद उन्होंने सीखा ही नहीं था…उनके जीवन से…व्यक्तितव से…उनके सान्निध्य से मुझे बहुत कुछ सीखने को मिला….एक बार मैंने अटल जी से कहा कि मुझे आपसे भाषण देने की कला सीखनी है….अटल जी ने बहुत बड़ी बात कही….उन्होंने कहा कि हमसे बोलने की कला मत सीखो…अगर कुछ सीखना है…तो ये सीखो कि चुप कब रहना है…बात छोटी थी…लेकिन सबक गहरा और ये जीवन भर काम आता है….आज क्या क्या याद करूं, क्या क्या भूलूं…कुछ समझ नहीं आ रहा है…सिर्फ अटल जी का चेहरा सामने हैं…उनके निष्प्राण शरीर को जाते हुए देख रहा हूं…और बार बार मन में एक हूक सी उठती है….अटल जी एक बार उठ जाओ…और कहो… पंडित जी हम कहीं नहीं गए….हम यहीं हैं…तुम सबके बीच…तुम सबके साथ….
Centre must enact strict legislation to curb vandalism by kanwariyas, rioters
August 11, 2018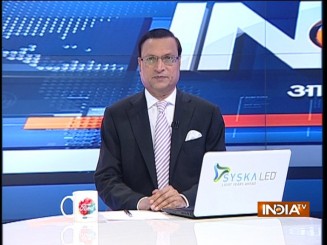 With reports coming in of Kanwariyas indulging in hooliganism at different places, the Supreme Court on Friday came down hard on what it called "gave incidents of vandalism" and said it would not wait for the Centre to enact a law to curb such acts of violence, and would soon issue guidelines. The judges gave specific instances of how kanwariyas blocked off half of the national highway between Varanasi and Allahabad and there were random road blockades.
Kanwar Yatra is a pilgrimage undertaken every year during the monsoon month of Sawan, when devotees march to Haridwar, Gangotri and other places to fetch Ganga water in pots and then walk to their respective temples to pour holy water on Shiva lingams.
During this period, they are supposed to practise austerity and walk barefooted. Because of their austerity, people and authorities en route pay respects to these devotees, and erect tents to provide them food and water. But, in recent years, most of the kanwariyas have been found consuming liquor, smoking hashish and cigarettes, and vandalizing properties.
Even police officials admit that many of the local criminals join these kanwariyas to save themselves from arrest. It was in this context the Supreme Court took a hard view of the situation. Of course, there were other issues of arson and violence by protesters and rioters, which were linked to this. The Attorney General of India K K Venugopal told the court that every week, there was rioting in some parts of the country, sometimes in the name of Maratha reservation, or in the name of unrest over SC/ST order.
In view of the Supreme Court's observations, the Centre should now seriously think about enacting a stringent law to prevent such acts of vandalism by rioters, in whatever garb they may be.
Click Here to Watch Full Video | Get connected on Twitter, Instagram & Facebook