How Army Nailed Doubts Raised by Some Leaders About Last Year's Surgical Strikes
September 29, 2017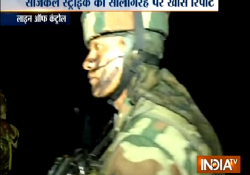 The Indian army carried out hugely successful surgical strikes inside Pakistan occupied territory in Kashmir on the night of September 28, 2016, eliminating many terrorists and destroying several terrorist launch pads. You may remember, soon after the surgical strikes were announced, leaders in the opposition like Congress vice-president Rahul Gandhi and Delhi Chief Minister Arvind Kejriwal had raised doubts about whether the strikes took place at all. The opposition leaders had sought evidence about the surgical strikes. Pakistan, on its part, flatly denied that there was no such surgical strike.
Exactly one year later, Lt. Gen. (retd) D S Hooda, former GOC-in-C, Northern Command, on Thursday revealed for the first time to India TV how our commandos meticulously planned and carried out the surgical strikes, right from Jammu region to northern Kashmir area, after crossing the Line of Control. The retired army commander also revealed for the first time how our commandos were sending live stream videos about their action to army headquarters in Udhampur and Delhi.  Lt. Gen. Hooda also revealed how the government had decided in advance to announce the surgical strikes to the world at large, in order to convey a strong message to Pakistan. He also revealed how our brave commandos completely smashed four terrorist launch pads inside Pak territory, killing more than 70 terrorists.
I hope all those naysayers must have got their answers from what Lt Gen Hooda revealed. And I also hope these leaders will not surely raise doubts whenever our brave armymen conduct such surgical strikes in future too.
Click Here for the Video
Pakistan Stands Isolated on Issue of Terrorism
September 28, 2017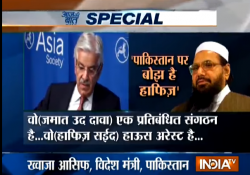 The statement by Pakistan Foreign Minister Khawaja Mohammed Asif at the Asia Society event in New York that (Lashkar-e-Tayyaba chief) Hafiz Saeed and Haqqanis have become liabilities for his country clearly underscores the fact that Pakistan stands isolated in the world arena on the issue of terrorism. Khawaja Asif admitted by saying, "I accept that they are liabilities, but give us time to get rid of these liabilities". He was also on the defensive, when he said, "Don't blame us for Haqqanis, don't blame us for Hafiz Saeeds. These were the people who were your darlings, 20 or 30 years back. They were being dined and wined in the White House."
The Pakistani leadership is clearly finding itself isolated in the whole world on the issue of terrorism. On one hand, India is putting relentless diplomatic pressure, notably through the fine speech made by External Affairs Minister Sushma Swaraj at the UN General Assembly and our Prime Minister Narendra Modi at almost all international gatherings, and on the other hand, the Donald Trump administration in the US has also started to tighten up the screws on Pakistan.
Ostensibly, Pakistan is showing to the world that it has put Hafiz Saeed under house arrest, but in reality, the Lashkar and Jamaat ud Dawah led by Saeed continue to run terror training camps without fetters inside Pakistan. Until and unless the Pakistan army and the political leadership realize that elimination of all brands of terrorism is in the interest of Pakistan, no serious action will be taken on the ground level against terror outfits, whether on the India-Pak border or on the Pak-Afghan border.
Click Here for the Video
Honeypreet Must Surrender
September 27, 2017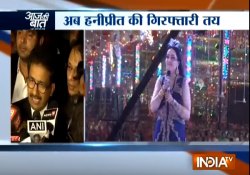 Honeypreet Insaan, the 'adopted' daughter of Dera Sachha Sauda chief Gurmeet Ram Rahim, has been living the life of a fugitive since the day Gurmeet was sent to Rohtak jail to serve 20 years' sentence in prison for raping two of his female followers. She was last seen accompanying the fake godman in a chopper to Rohtak, and after Gurmeet was taken into judicial custody, she suddenly vanished. Honeypreet's name is at the top of the list of Dera followers, who have been accused of sedition and inciting people to resort to violence in Panchkula and other places. Despite a nationwide search for Honeypreet that extended to neighbouring country Nepal, police failed to catch her, and on Monday, her lawyers suddenly filed an anticipatory bail petition before the Delhi High Court. The high court judge on Tuesday rejected the petition citing jurisdictional reasons and asked Honeypreet to approach the Punjab and Haryana High Court. The lady judge also remarked that it would be advisable for Honeypreet to surrender before the police. Honeypreet should have filed her anticipatory bail petition before the Punjab and Haryana High Court in the first place, but she was afraid of being arrested en route. Now there is no way out for her. There is little chance for her to get relief from the Punjab and Haryana High Court too. It would be better if she surrenders to the police, cooperates in the investigation, and answers all questions.
Click Here for the Video
Lathicharge on BHU Students is Condemnable
September 26, 2017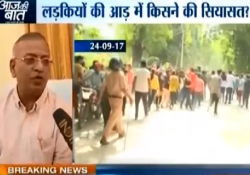 Undoubtedly the lathi-charge on female students of Benares Hindu University by policemen on Saturday night was a wrong step and it needs to be condemned. The UP government has done the right thing in transferring three magistrates and two police officials after the incident. But we are yet to get the answer to the question: if there were anti-social elements, how did they enter the BHU campus? If you look at the sprawling BHU campus, you will find a hospital functioning inside, with roads open and no bar on entry of outsiders into the campus. Any outsider can enter the campus and create a ruckus leading to law and order problems. Such things happened in the past too. The Vice-Chancellor cannot escape the blame by saying that he was helpless. A prestigious university like the BHU must have a quiet campus located in an isolated area. That will be the biggest guarantee of safety for students studying there.
Click Here for the Video
Fake Godmen are Enemies of Society
September 23, 2017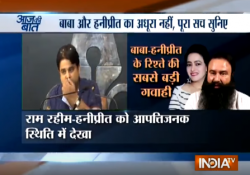 With billionaire fake godman Gurmeet Ram Rahim cooling his heels inside jail for the next 20 years, and another one, Falahari Baba arrested by Rajasthan police on Saturday in a rape case, the time has now come to awaken the society about the evils of such fake babas.
Fake godmen are enemies of society. These criminals, in the guise of religion, fool gullible people and get themselves photographed with influential political leaders to insulate themselves from the hands of the law. People start fearing these babas, and the babas, in turn, start exploiting them.
Had the brave ex-sadhvis not come forward to expose Gurmeet Singh alias Ram Rahim in court, with the support of a courageous CBI officer, the baba would have continued to rule his vast ill-gotten empire, raping women and getting his opponents killed. With the sentencing of Gurmeet Ram Rahim, people who have been duped and tortured have regained the courage to speak up against the babas. We should now hope that more and more fake godmen, from all religions, are exposed before the people and their real face should be seen by all.
Click Here for the Video
How Calcutta High Court Foiled Mamata's Muslim Vote Bank Gambit
September 21, 2017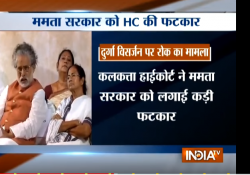 The Calcutta High Court on Thursday revoked West Bengal government's notification prohibiting Durga idol immersions from 10 pm of September 30 till midnight of October 1, the day of Muharram, citing law and order reasons. The earlier prohibition was from 6 pm of September 30 till October 1. The High Court has now permitted idol immersion on all days till midnight and has directed police to ensure that the routes of idol immersions and Muharram processions do not clash. The Acting Chief Justice Rakesh Tiwary clearly said that a mere assumption that a law and order situation might arise, owing to Vijaya Dashami and Muharram falling on the same date, cannot be the basis for imposing curbs on idol immersion timings. The Acting Chief Justice said, "let Hindus and Muslims live in harmony, do not create a line between them". This is clearly a slap in the face of Mamata Banerjee government which was trying to appease Muslim vote bank by imposing restrictions on idol immersions. Her government had imposed similar prohibitions last year too, and also prevented Hanuman Jayanti processions and worship of arms by Hindu organizations. The state government's actions have caused serious apprehensions in the minds of Hindus in West Bengal. The action of Calcutta High Court is welcome and timely. It is time for Mamata Banerjee to understand the feelings of people, but, as Union Minister Babul Supriyo said, Mamata 'didi' will not try to understand because she cares more for her Muslim vote bank, and not the interests of the state.
Click Here for the Video
The Sad Case of Cricketer Sreesanth
September 20, 2017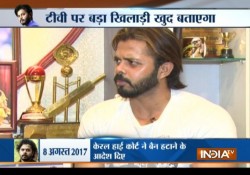 Cricketer S. Sreesanth, on whom the BCCI had clamped a lifetime ban in the wake of IPL spot-fixing scandal in 2013, has been cleared of all charges by a Delhi sessions court. The Kerala High Court, in August, ordered BCCI to lift the life ban imposed on him, but the BCCI has filed an appeal in the same High Court against the single judge bench order. The board has told the high court that it cannot withdraw the ban merely because of the fact that he was exonerated by a Delhi sessions court. Sreesanth had to spend time in Tihar jail soon after his arrest in 2013, and since then he has been banned from cricket. He is now 34. In an interview to India TV, Sreesanth has said 'I am not begging, I only want my livelihood back… People know what type of cricket I play and what type of a cricketer I am'.
In short, Delhi police failed to prove spot-fixing charges against Sreesanth, and the man who was part of two World Cup winning teams, the T20 World Cup in 2007 and ODI World Cup in 2011, is completely out of the cricket scene. His entire career has been ground to dust because of a single incident. This loss to his career and fame cannot be compensated, but it should be investigated as to who were the police officers who conspired against him, if he was innocent. Who were the enemies of cricket who destroyed Sreesanth's career and his reputation?
Click Here for the Video
Rohingya Muslims Should Not be Allowed to Settle in India
September 19, 2017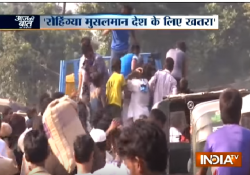 Already the jihadi groups in Pakistan are girding up their loins to take 'revenge' for the atrocities committed on Rohingya Muslims in Myanmar. Hate speeches are already being made at mosques in Pakistan and terror conspiracies are afoot. I had made it very clear that there are some extremists among Rohingya Muslims, who have contacts with terrorists in the subcontinent. Already we, as a nation, have many problems, and we need not add one more problem from our neighbors. It is also true that the issue of stateless Rohingyas needs to be seen through the prism of humanity, and every country should help these unfortunate people. But helping them does not mean that Rohingya Muslims should be allowed to settle in India. Our first attempt should be: to speak to the Myanmar government to ensure that conditions improve in Rakhine state, where most of the Rohingyas live. We can provide them humanitarian aid like food, medicines, etc, but allowing them to settle in India will not be a wise step. I, therefore, support our government's stand which was amply made clear by the Home Ministry in its affidavit before the Supreme Court on Monday.
Click Here for the Video
Virender Sehwag to India TV: I Was Never Interested in Coaching the Indian team
September 15, 2017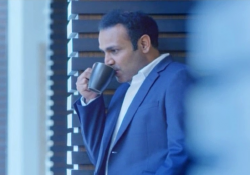 New Delhi, Sept 15: Former India opener Virender Sehwag has revealed that he was never interested in coaching the Indian cricket team and he would not have applied for the job had he known Ravi Shastri would also file his application.
The 38-year-old player – one of India's greatest game changers – was touted as one of the top contestants for the Indian Cricket Team coach's post after the resignation of Anil Kumble, who stepped down citing differences with captain Virat Kohli.
However, Sehwag missed out to Ravi Shastri, who was chosen after much drama and days of speculation post a turbulent phase which saw the rift between Kohli and Kumble come out in the open.
Shastri, however, had initially not applied for the post, but did it only after the BCCI extended the deadline to accept applications.
Sehwag, who has joined India TV as a cricket expert on its hugely popular show "Cricket Ki Baat", said he was not interested in the job and was convinced only after the BCCI top brass requested him to apply.
"I never thought of coaching the Indian cricket team. I was given the offer… BCCI secretary Amitabh Chaudhury and MV Sridhar came to me and requested me to think on the offer. I took my time and then applied for the position," Sehwag told India TV. The show will be telecast today at 7 pm.
Sehwag, who doesn't have any prior coaching experience apart from mentoring IPL franchise Kings XI Punjab, said he also had a word with Kohli before sending his application and was asked by the captain to go for it.
"I also had a word with Virat Kohli, he asked me to go for it. It was only then that I applied. If you ask for my opinion, I would say that I was never interested," he said.
Sehwag, one of India's biggest match-winners and a part of the 2011 World Cup winning team, said he thought of helping the BCCI when they came to meet him. He also said that he will never ever apply for the coach's job in future.
"I thought since they are requesting me, I should help them. I never thought of applying on my own nor I will ever apply in future."
When asked why he was not chosen for the job, Sehwag gave a tongue-in-cheek reply: "See, I didn't have any setting."
Sehwag, who played 104 Tests and 251 ODIs for India scoring 8586 and 8273 runs respectively, said had he known that Shastri would apply, there would not have been any chance of him applying for the post.
"When I was in England during the Champions Trophy, I had asked Ravi Shastri that why he hasn't applied for the post? Shastri then told me that he will not repeat the mistake which he had already made once.
"If Ravi Shastri had applied earlier, then I don't think there would have been any chance of me applying for the post. I would have never applied," he said.
Need for Social Awareness Against Fake Godmen
September 15, 2017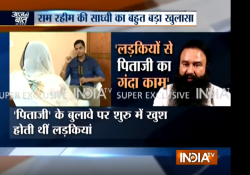 The chilling account of sex pervert Gurmeet Ram Rahim narrated on India TV on Wednesday night by a former sadhvi brings out the weaknesses inherent in our society. The sadhvi alleged that the baba used to rape a woman every six hours and he must have raped nearly 2,000 women till date. One thing is clear: Gurmeet Ram Rahim was a criminal disguised as a fake godman. His followers knew about his shenanigans and dark secrets, but Gurmeet Singh had created an atmosphere of terror among his followers and nobody dared to speak out. Anybody who did so was liquidated. One question arises: when followers knew that the baba was a serial rapist, a criminal and a murderer, why did more than a lakh people gather in Panchkula in a show of solidarity? Why did these followers tell the media that they had come to have a 'darshan' (glimpse) of the baba, whom they called 'pita' (father)? What can one say about such blind devotion? The moot question is: what can we, as a society, can do to save people from blind devotion? How can we create awareness in our society against such fake godmen?
Click Here for the Video
Japanese Bullet Train Will Be a Boon for India
September 14, 2017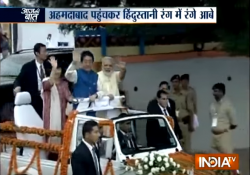 Prime Minister Narendra Modi and the visiting Japanese PM Shinzo Abe took out a roadshow from the airport in Ahmedabad yesterday and were greeted by thousands of admirers. Those who understand politics know that Abe's visit will prove to be beneficial to BJP in the forthcoming Gujarat assembly elections. But what happened in Ahmedabad on Wednesday was a trailer. The real picture was unveiled on Thursday, when Abe and Modi laid the foundation for the bullet train project. The date for launching the first bullet train between Mumbai and Ahmedabad has been fixed at August 15, 2022. Since the Japanese have taken up the project in their hands, one hopes the project will be completed on time. Japan has been running its bullet train for the last 50 years. It is so punctual that any body can coordinate one's watch with its arrival and departure timings. In its 50-year-long history, the Japanese bullet train was seldom delayed by barely one minute. Japan will be giving a soft loan of Rs 88,000 crore to India for this Rs 1,10,000 cr project. The loan will be repaid in fifty years, and the repayment will begin after 15 years. The interest rate is at its lowest 0.01 per cent. Naturally, the bullet train will not be a drain on the nation's treasury or on public finances. The bullet train will take two hours to cover the distance between Ahmedabad and Mumbai. The project will provide jobs to more than 20,000 people.
Click Here for the Video
Motive still not clear about Pradyumna's killer
September 13, 2017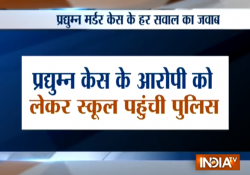 Many of the questions relating to the brutal murder of Pradyumna seem to have been resolved as of now. There was only one killer, the child's neck was slashed twice with a knife, the victim could not scream because his vocal chord was bleeding, and the killer helped in taking the child to the hospital in order to show that he had nothing to do with murder. The killer was caught, but one vital question begs an answer. What was the motive? Why did the murderer kill the child? He had no enmity with the child, nor was there any sign of sexual assault. The accused had no previous criminal record. What was the reason that triggered the attack? What did the victim see which the killer did not want the world to know. Police is still trying to find the real motive, and we hope the answer will come soon.
Click Here to watch Full Episode of Aaj Ki Baat | Follow on Twitter | Like Facebook Page