Safety of Children in Schools is the Prime Concern of All
September 12, 2017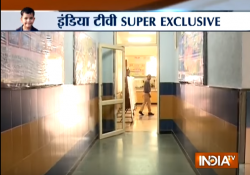 The brutal murder of seven-year-old Pradyumna in Ryan International School, Bhondsi near Gurugram is a stark reminder of the dangers lurking before our school going children across India. There have been many reports of murders, unnatural deaths and sexual assault of minors in schools and other institutions. After nationwide outrage on the streets and in media, the Haryana police has constituted 14 teams to investigate the gruesome murder. Two officials of Ryan group have been arrested. One team has reached Mumbai to question the promoters of the group.
As more revelations are awaited, this reminds us of the infamous Ayushi murder case in Noida several years ago. Ayushi was at her home with parents. She was murdered in cold blood in her bed, but nobody knew. Her body was found the following morning. Till date, the circumstances leading to that murder remain a mystery.
Similarly, facts leading to the murder of Pradyumna seem to be shocking. There were nearly 1,000 students and teachers along with non-teaching staff in the school that day, but nobody heard or saw the boy's throat being slit inside a washroom. Haryana police have arrested a bus conductor, but police in our country have created such an image about themselves that people seldom trust their investigation. In this case, the conductor was charged with murder within hours and sent to custody. It seems the police hurried up its investigation without tying up all the loose ends. This has raised doubts in the minds of parents. It is not the question of a mother. Every mother has a question about her children studying in schools. Safety of students in schools must be of prime concern to all.
Click Here for the Video
Justice Delayed in Mumbai Serial Blasts Case
September 08, 2017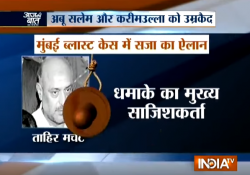 On Thursday, the TADA court in Mumbai sentenced two accused Tahir Merchant and Firoz Khan to death, two others Abu Salem and Karimullah Khan to life term imprisonment and a fifth accused Riyaz Siddiqui to 10 years imprisonment. One accused Abdul Sheikh was acquitted of all charges. I have one comment to make in this regard. It took 24 long years to convict criminals accused of killing 257 innocent people. Those who have been given death sentences have the options to move the High Court and the Supreme Court, and later seek clemency from the President. It is really shameful that the due process of law took such a long time to punish the guilty. Justice delayed is justice denied is an oft-quoted saying. In this case, justice has been delayed for an inordinately long period. This could have been avoided.
Click Here for the Video
How a Dera Doing Social Work Was Converted by Ram Rahim Into a 'Wonderland'
September 07, 2017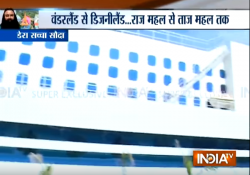 Surprises never cease when one enters Ram Rahim's sprawling 'dera' (ashram) in Sirsa, Haryana. India TV reporter Abhishek Upadhyay was the first to sneak into the dera on Tuesday and Wednesday, even before police and the High Court-appointed team was to enter. After careful study of the visuals of the dera, one arrives at a conclusion that there were two main faces of Ram Rahim's dera. One: when Ram Rahim's predecessors opened school, college, hospital, eye bank and meditation centre to provide succour to their followers, and Two: the swanky 'wonderland' where cheap replicas of Eiffel Tower, Taj Mahal, St. Peter's Basilica and Disneyland were erected, along with a huge cricket stadium, a shopping mall and a cinema theatre, among other such luxuries. Ram Rahim spent billions and amassed all the luxuries of life to dazzle the world, particularly his followers. He also built a mysterious cave, a place where he indulged in carnal pleasures, that included rapes and sexual assaults. In short, Ram Rahim converted an ashram doing social work into a vast, sprawling space to mint millions of rupees. Simple, gullible followers went to the dera in search of spiritual enlightenment and education for their offspring, took patients there for treatment, but were befooled in return by their guru. With the masses at his beck and call, Ram Rahim considered himself God, or Messenger of God, and the anti-climax came when the guardians of law caught up with him. He will now have to spend twenty years behind bars.
Click Here for the Video
India's Diplomatic Pressure on Pakistan
September 06, 2017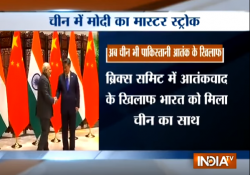 The naming of Lashkar-e-Taiyyaba, Jaish-e-Muhammad, Haqqani network, Tehrik-e-Taliban Pakistan and sundry other terror groups operating from Pakistani soil in the joint declaration adopted at the BRICS summit recently in Xiamen, China, is another blow to Pakistan's image on the world stage. But it needs to be pointed out here that the very same terror groups were named identically in a similar paragraph in the Amritsar declaration issued at the Heart of Asia Conference last year, soon after the Uri attack. And the signatory to that declaration also included Pakistan. If one compares the two declarations, the paragraph on terrorism looks almost identical. Nevertheless, terror outfit leaders in Pakistan are worried over Pakistan's "all-weather friend" China not backing its "trusted" neighbor on the issue of terrorism.
Not only terror outfits, but most of the Pakistan media have now begun to worry over the dent in the country's image. It was only three weeks ago that Pakistan had been crowing about its friendship with China during the Doklam standoff. The Pakistani media was singing hosannas to Sino-Pak friendship, and the Pakistani leaders were expecting China "to teach India a lesson". But the situation has changed 360-degree within a span of 24 hours. Chinese President Xi Jinping seems to have realized that this is not the India of 1962 which can be browbeaten by shrill war cries.
The Chinese leadership has begun to accept that India's cooperation was necessary if their nation wants to dominate world economy. If terror outfits are a threat to India, they cannot be angels towards China. Chinese President Jinping has spoken about the Panchsheel principles of peaceful co-existence, but India will have to be on its guard.
There is an oft-repeated observation among Indians that Chinese products are normally neither reliable nor durable. So is China's policy towards India. On one hand, it issues the joint declaration against Pakistani terror groups and on the other hand, China refuses to acknowledge Masood Azhar as a terrorist.
Click Here for the Video
Kangana Ranaut Exposed the Dark Secrets of Bollywood
September 02, 2017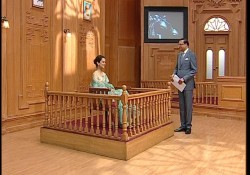 In her explosive interview on my show Aap Ki Adalat (telecast Saturday 10 pm), film actress Kangana Ranaut has hit out at Bollywood biggies in a manner which normally film stars avoid. You will be surprised to know that Kangana spoke for nearly 40 minutes about Hrithik Roshan and disclosed several details, hitherto not known. To be fair, if Hrithik desires to reply to Kangana's questions, he should also appear in Aap Ki Adalat to put the record straight. If he thinks he had been fair, he should come forward and reply to Kangana's charges. This is what honesty demands.
Kangana has also hit out at Bollywood heavyweight Karan Johar in my show. Karan had hit out at Kangana several times on television, through social media, and on stage shows. At times, he made fun of her English diction, her rise from an obscure village in Himachal Pradesh to the tinsel world of Bollywood. I would also publicly request Karan Johar to appear in my show Aap Ki Adalat and reply to Kangana's charges if he has the courage. Is it Kangana's fault that she has no godfather in the film industry? That she does not hail from a 'big' family? Is it is her fault that she comes from a small village? Is it her fault that she did not study in a reputed English medium public school? Kangana replied bravely to all these questions, by winning laurels from the public for her superb acting in superhit films like 'Queen' 'Tanu Weds Manu'. Kangana proved to the world that she could become a star on her own by making her films click at the box office.