Rahul Should Be Careful About Religion While Campaigning
November 30, 2017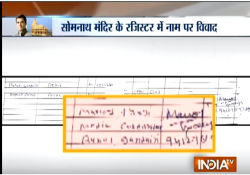 On Wednesday, Congress vice-president Rahul Gandhi along with senior party leaders Ahmed Patel and Ashok Gehlot went to the historic Somnath temple to pray. In the entry register kept for non-Hindus at the temple, the names of Rahul, Ahmed Patel, Gehlot and others were written. This created a furore in the already surcharged poll atmosphere in Gujarat. Nobody, as such, is questioning whether Rahul is Hindu or not, but the Congress leadership had to clarify to say that Rahul was a "Shiv-bhakt" and old photographs of Rahul wearing the sacred thread were circulated. The question is: who was responsible for this faux pas during elections? Naturally, neither Rahul nor Ahmed Patel would have committed such an error. A small-timer Congressman could have committed this mistake. But the party may have to bear serious consequences for this minor error because the matter is related to religion. Voters in Gujarat are very much sensitive to the issue of religion, and BJP is bound to take advantage out of it.
Click Here for the Video
How PM Modi Demolished Rahul's Charges in Gujarat
November 28, 2017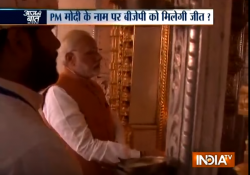 Prime Minister Narendra Modi on Monday launched his election campaign in Gujarat addressing four rallies. Judging by the crowds at these rallies, BJP poll managers seem to be confident about the assembly poll outcome.
In Hindi, there is a proverb: a goldsmith uses his small hammer a hundred times to beat a metal, while a blacksmith uses his hammer only once. Congress leader Rahul Gandhi had made six trips so far in Gujarat. He had levelled many charges against Prime Minister Modi and his government. Rahul describes Modi government as anti-farmer. He also alleged that Modi had been favouring a handful of industrialists. He also criticized the government on issues like GST and demonetization. Prime Minister Modi remained silent for the last two months. He did not respond to these charges. But, on Monday, Modi turned the tables on Rahul Gandhi. He raised issues which touched the sentiments of Gujaratis. It will be difficult for Congress to reply to Modi's charges.
So far, the Congress tried its best not to make the poll campaign in Gujarat, a Modi versus Rahul battle, but on Monday, Modi demolished their strategy. The Prime Minister described all charges levelled by Congress as allegations levelled against Modi. And the Congress is now searching for answers to counter the Modi juggernaut.
Click Here for the Video
Owaisi questions Supreme Court over Ayodhya dispute
November 24, 2017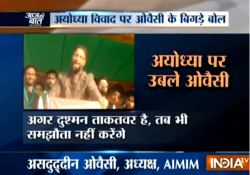 All India Majlis Ittehadul Muslimeen (AIMIM) chief Asaduddin Owaisi has warned sections of Muslim society who are in favour of out-of-court settlement of Ayodhya dispute. In his latest speech, Owaisi has vowed not to give a single inch of the disputed land to Hindus, and has warned Shia Central Waqf Board not to offer building of a mosque outside Ayodhya.
Owaisi is a good orator. He uses logic while speaking, but this time he has questioned the Supreme Court over the Ayodhya dispute. The MIM chief said that he was waiting to see if the apex court gives its verdict "on the basis of faith or on the basis of Constitution". This statement is objectionable. If the apex court gives its verdict in favour of Hindus, he will say the court decided on the basis of faith, and if the court decides to the contrary, he will say the court followed the Constitution. Now that both the sides have left it to the Supreme Court to decide, Owaisi's remark has created a piquant situation. Clearly, the MIM leader is trying to polarize Indian society on the lines of religion, which is unacceptable.
Click Here to Watch Video | Get connected on Twitter & Facebook
Pakistan is Not Going to Act Against Hafiz Saeed
November 23, 2017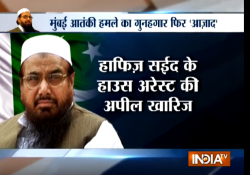 Lashkar-e-Taiba and Jamaat-ud-Dawa chief Hafiz Saeed, who has been designated a global terrorist by the US and UN, has been set free by a Judicial Review Board of Lahore High Court on Wednesday.
The Pakistan Punjab government had sought a further three-month extension for Saeed's detention, but it was rejected on grounds that no sufficient evidence has been provided by the authorities. Here, in India, nobody expected Pakistan to punish Hafiz Saeed, nor was it expected that the Pakistani authorities would submit any concrete evidence against him in court. There was no such hope, nor should we hope.
Pakistan had put Hafiz Saeed under house arrest after considerable pressure from the US. Pakistan's foreign minister Khawaja Asif had himself said 'Hafiz Saeed and Lashkar-e-Taiba are a liability for us', but these same leaders will now say that they have no control over courts which have released the terror mastermind of 26/11 Mumbai attacks. Pakistan government will never disclose what evidences, that have been received from India had been submitted before the board. The core question that remains is related to Pakistan's intention. Until and unless Pakistan's intentions are clear, no solution can be achieved.
Click Here for the Video
Chief Ministers Should Watch Film Padmavati First
November 22, 2017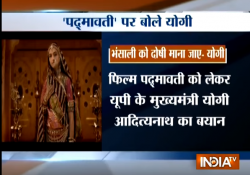 The chief ministers of Madhya Pradesh, Rajasthan and Uttar Pradesh have opposed Sanjay Leela Bhansali's film Padmavati, with some of them declaring that they would not allow the film to be released in their states. Punjab Chief Minister Capt Amrinder Singh has also joined the chorus saying nothing objectionable should be shown. The problem is: none of these chief ministers have seen the film themselves, but have jumped to the conclusion that there are objectionable scenes in the film. It appears that these chief ministers have been swayed by angry protests which are purely based on imaginary issues. There have been calls to attack the film artists and the director, but action has been taken in only a few cases by the police.
I can say with full confidence that if all the chief ministers watch the film themselves, they will themselves feel ashamed about their unwarranted remarks about the film. I repeat: there is not a single scene in which Queen Padmavati and Alauddin Khilji appear together. All the talk about love scene and dream sequence are mere rubbish and baseless. There has been no compromise on the issue of Rajput pride in this film. On the contrary, the valour and sacrifice of the Rajputs have been portrayed in an effective manner.
I will once again appeal to Sanjay Leela Bhansali to arrange a screening for those who are protesting, and I would request chief ministers Yogi Adityanath, Vasundhara Raje and Shivraj Singh Chouhan to first watch the film personally and then make remarks. A leader is one who leads, not the one who is led by the mob and follows the mob meekly.
Click Here for the Video
My Appeal to Militants in Kashmir: Return Home
November 21, 2017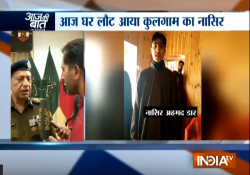 In the past few days, two militants in Kashmir valley have returned home, while parents of several other militants have issued appeals to their sons to come back. Some of the appeals that I have seen on video are really touching. One feels sorry for the parents, sisters and wives of these youths who have taken up the gun and vanished. A mother or a father can understand the pain when their son leaves them suddenly in old age to join militancy.
In Jammu and Kashmir, any militant who wishes to come back can ring up this phone number: 14411. Our security forces will help them in returning home. I am proud that India TV was the first news channel which showed to the world the cry and pain of Majid's mother. After her emotional appeal, Majid came back to his family. I hope the appeals of these parents will not go waste and their sons will surely return to a peaceful life.
Click Here for the Video
ITM University, Gwalior confers honorary D.Litt on India TV chairman Rajat Sharma
November 20, 2017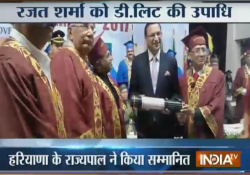 Gwalior, Nov 18: The Haryana Governor Kaptan Singh Solanki on Saturday conferred ITM University's honorary D. Litt. degree on India TV chairman and editor-in-chief Rajat Sharma at a convocation ceremony.
Addressing students and professors of the university, Rajat Sharma stressed on the need to strive hard to achieve goals in life.
"In life, you can dream while sleeping, and you can also dream while you are awake. It is easy to dream in sleep, but one has to strive very, very hard to fulfill dreams when one is awake."
Governor Solanki lauded Rajat Sharma's achievements and exhorted students to follow his ideals.
There is not a single dialogue or sequence in Padmavati that hurts Rajput pride
November 18, 2017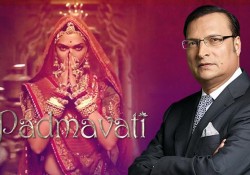 For the last two weeks there have been angry protests by Rajput outfits over Sanjay Leela Bhansali's period drama film 'Padmavati'. Threats have been made against the director and lead actress Deepika Padukone. There have been debates in TV studios, but one thing was missing: none of those who were protesting or debating had seen the entire film. I saw the entire film minutely on Friday, keeping in mind the objections that had been raised. I had also some own questions in mind. I hail from Rajasthan, my ancestors were from Chittor. Since childhood we knew (more…)
Ayodhya issue is a matter of faith
November 17, 2017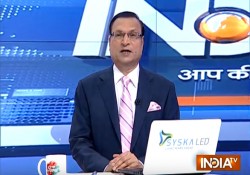 Except for MIM chief Asaduddin Owaisi and some leaders of his own ilk, most of the leaders, both Hindu and Muslim, have welcomed Sri Sri Ravi Shankar's Ayodhya initiative. They respect his stature and sincerity. The Ayodhya dispute is almost 500 years old. Legal cases have been pending since last 150 years. There have been hundreds of incidents of violence. There have been thousands of rounds of negotiations. A solution should have come out through negotiations by this time. This is not an issue that concerns some individuals or organisations. This is an issue of faith. Most of the Hindus want that a Ram temple should be built. But there is no unanimity among Muslims. It is true that most of the peaceloving Muslims want this festering dispute to end and a temple be built, but some Muslim individuals and organisations are not in favour of an out-of-court settlement. Many of these individuals are rich and influential. Since one side is opposing out-of-court settlement, the final decision will now rest with the court, and the court's decision shall be final and binding. The only way out now is for all sides to wait for the apex court's judgement. Sri Sri Ravi Shankar's efforts will at least help to tone down tempers and narrow down the gulf that exists between both sides on this vexed issue.
A Maulana claims, Badrinath belongs to Muslims
November 16, 2017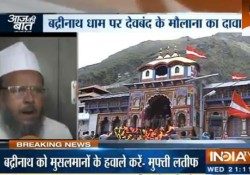 Maulana Abdul Latif Qasmi, a cleric of Madarsa Darul Uloom Nishwah, has recently stated that the holy Hindu shrine at Badrinath belongs to Muslims. The cleric claims, the place was earlier called Badruddin Shah or Badri Shah. According to him, it was a Muslim shrine several centuries ago and it should be handed back to Muslims. The maulana has written letters to the Prime Minister and UP chief minister. The cleric should know that Darul Uloom literally means a Place of Learning. Darul Uloom of Deoband is respected all over the world, but clerics like Abdul Latif have opened similarly sounding institutions to fool gullible people. I would appeal to all Muslim scholars and clerics to pay attention to this aspect. Such objectionable comments tarnish the image of the entire Muslim society at large and raises questions.
Click here to Watch Video | Get connected on Twitter & Facebook
First watch the film Padmavati, and then decide
November 15, 2017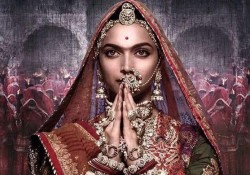 Rani Padmavati of Chittor has been, for centuries, the symbol of Rajput pride, not only in Rajputana, but almost the whole of India. The legend of the 'johar' (self-immolation) committed by the queen has been the staple of stories recounted in the homes and hearths of Rajasthan. In my childhood, I used to listen at home stories of valour by Rani Padmavati and other brave queens. One should have a sense of pride when a classic film is being produced on the life and times of Rani Padmavati.  Our young generation will learn a lot from this film. Without viewing this film, one should not pass comments to say that the film portrays the Rajput community and their brave queen in a negative light. My advice to all those who are protesting: please have patience, watch the film and then react. Circulating rumours about the film creates a negative atmosphere, and this is what has happened with this film. To give due credit to the painstaking efforts put in by the artistes and makers of this film, one should first watch the film and then decide.
Click here to Watch Video | Get connected on Twitter & Facebook
NGT caps number of pilgrims to Vaishno Devi shrine
November 14, 2017
The N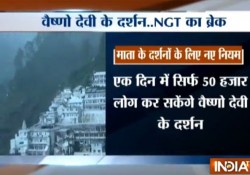 ational Green Tribunal on Monday capped the number of pilgrims visiting the famous Mata Vaishno Devi shrine daily to 50,000. Additional pilgrims will be stopped at Ardhakuwari or Katra town, the NGT said. The tribunal said that Vaishno Devi Bhavan cannot accomodate more than 50,000 pilgrims at a time.
It also directed that horses or mules should not be allowed on the new route to the shrine, and they should be removed gradually from the old route as well. Mata Vaishno Devi shrine is visited by lakhs of pilgrims every year. During peak season, the number reaches 40,000 to 50,000, while during lean season, it hovers around 6,000. Crores of Hindus revere this shrine. The path to the shrine was modernized during the tenure of Jagmohan, the then Governor of Jammu and Kashmir. Horses or mules are used for the benefit of old and infirm pilgrims who find it difficult to walk, and the NGT should reconsider its order. Hundreds of porters and mule owners make their living by transporting old and infirm pilgrims to the shrine. It seems nobody has thought about putting their livelihood in jeopardy. Moreover, the influx of tourists and pilgrims provides employment to thousands of people who are residents of Kashmir.
One should understand that the Mata Vaishno Devi Trust not only looks after the shrine, but also runs Mata Vaishno Devi University, nursing college, gurukul and Vaishno Devi Narayan Hospital. The daily earnings amount to Rs 40 lakhs and the annual earnings go up to Rs 500 crore. If the number of pilgrims is capped, it will adversely affect the earnings. Probably the NGT was not told that the Trust itself stops issuing entry permits when there is a large influx of pilgrims, in order to ensure safety for all. The NGT should holisitically re-examine its directions.
Click here to Watch Video | Get connected on Twitter & Facebook