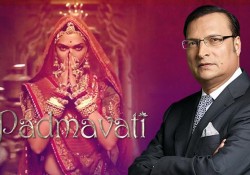 For the last two weeks there have been angry protests by Rajput outfits over Sanjay Leela Bhansali's period drama film 'Padmavati'. Threats have been made against the director and lead actress Deepika Padukone. There have been debates in TV studios, but one thing was missing: none of those who were protesting or debating had seen the entire film. I saw the entire film minutely on Friday, keeping in mind the objections that had been raised. I had also some own questions in mind. I hail from Rajasthan, my ancestors were from Chittor. Since childhood we knew the glorious history of Chittor and had heard and read stories of valour by Maharana Pratap and Rana Sanga. I also know about the valour and supreme sacrifice made by the Rajput queens and princesses. With all these in mind, and out of utmost curiosity, I watched the entire film and was stupefied. The film is simply gorgeous and there has been no distortion of history, nor does it hurt Rajput pride in any manner.
The Rajput outfit Karni Sena has alleged that there has been distortion of history in this  film and the pride of Rajputs has been hurt, that Queen Padmavati has been shown in a negative light, that Alauddin Khilji was shown as great, that Maharaja Ratan Singh was shown bowing to him, and that the valour and sacrifice of Rajput community have been portrayed in a negative light.
After seeing the entire film, I can say with full authority that there is not a single scene, not a single sequence and not a single dialogue that hurts Rajput pride. On the contrary, I can say that all Rajputs will feel utmost pride on seeing the entire film that has been made after exhaustive research by Bhansali. I can also say that the director had kept the rich heritage of Rajasthan and India in mind while making this film. There has been no distortion of history. I can say with confidence that the film portrays the bravery and valour of Maharaja Ratan Singh and the strategic skill of Maharani Padmavati.
Lokendra Singh Kalvi, the Rajput leader spearheading the protests, belongs to the clan of Maharaja Ratan Singh and Rani Padmavati. His anger may be justified, but the fact is: he has not seen the entire film, and all his allegations are based on hearsay. After watching the entire film on Friday, I felt truly proud of the bravery and sacrifice of our ancestors, who took on the might of a brutal aggressor in order to defend their motherland. There has been no deviation from, nor any distortion of history.
About the Ghoomar song sequence in the film, there has been allegation that Rajput queens do not dance in public and that Rajput traditions have been portrayed in an objectionable manner. It has been alleged that the attire worn by the queen while dancing is normally the attire worn by maids, who perform such dances. It was also alleged that Rajput women do not perform 'ghoomar' dance, and the 'ghoomar' dance shown in the film was performed by the 'kaalbeliya' community.
I am pretty much aware of Rajasthani culture and traditions. I know that queens do not dance in public, but the song sequence was set inside the 'Ranivaas', the female quarters of the palace, where only women are allowed, and only the king can watch such dances. This was exactly portrayed in the 'ghoomar' song sequence. Looking at the promo of the film's song sequence, one may have felt that the queen was performing in a public place, but this is not so. The entire setting was the Ranivaas where only women watched the dance.
I fully understand the feelings of those who are hurt and angry because of this film, but their anger is based on hearsay. I appeal to all Rajput brothers and sisters to watch the entire film once and then decide. I can say with full confidence that they will come out of the cinema theatres brimming with pride and with their heads held high. After watching this film, the nation will come to know about the bravery and supreme sacrifice of Rajputs. I can say that after watching this film, these people who are presently protesting, will feel that they have been unfair to Bhansali, Deepika Padukone, Ranveer Singh and Shahid Kapoor.
I appeal to the Rajput community to deputy five of their respected leaders, like Maharaja Gaj Singh, Maharaja Arvind Singh of Mewar and others to watch this film. I will request Bhansali to arrange a special screening for them. I can definitely say that these Rajput leaders will come out in praise of the film which has portrayed Rajput pride, valour and sacrifice in a correct and befitting manner.