Manmohan Singh, Hamid Ansari Should Have Avoided Attending Dinner with Pakistanis
December 12, 2017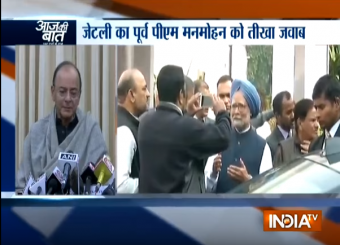 At a time when India is fighting a proxy war carried out by Pakistan in Kashmir, senior leaders of the Congress attended a dinner hosted by party leader Mani Shankar Aiyar in which former Pakistan Foreign Minister Khurshid Mahmud Kasuri and the Pakistani High Commissioner Sohail Mahmood participated. At the dinner, according to Dr Manmohan Singh, India-Pakistan relations were discussed, while Prime Minister Narendra Modi has alleged that the Gujarat election prospects also formed part of the discussion. In a statement on Monday, former Prime Minister Dr Manmohan Singh demanded an apology from the Prime Minister alleging that "falsehoods and canards" were spread against him about these discussions.
India's policy towards Pakistan does not belong to one party or one government. The policy reflects the overall mood and sense of the nation. The former Prime Minister and the former Vice-President are responsible dignitaries. Nobody objects if they attend Mani Shankar Aiyar's dinner, meet Pakistani leaders and officials and return. But the matter does not end here. Issues connected to foreign policy, India-Pakistan relations and Gujarat were discussed at the dinner. One expects experienced administrators like Dr Singh and Hamid Ansari to avoid getting caught in such a trap, and if they unintentionally fell into the trap, they should admit the same.
The question also arises whether Prime Minister Modi should have made such allegations during the Gujarat poll campaign, but the answer lies with Mani Shankar Aiyar, who gifted this issue on a platter to Modi on the eve of polling.
Click Here for the Video
Congress on Defensive in the Face of an Aggressive Modi
December 11, 2017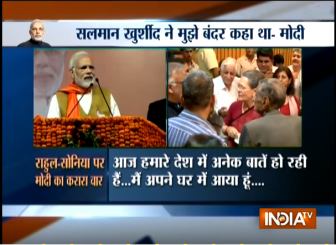 On Friday as Prime Minister Narendra Modi reeled out names of Congress leaders who had hurled abuses at him in the past, the main rival party appeared to be on the defensive. Right from the time when Sonia Gandhi used the phrase 'maut ke saudagar' to the 'khoon ki dalali' remark by Rahul Gandhi, Modi read out names of almost all senior Congress leaders who had hurled abuses at him.
Never in the past were such remarks made against a single individual who rose from a 'chaiwala' to the exalted post of Prime Minister of India. With Modi adopting an aggressive stance on the eve of Gujarat polling, the Congress leadership has asked its leaders not to react to Modi's speeches. Congress leaders may well question why the BJP did not take action against its own leaders who had hurled abuses at Sonia and Rahul Gandhi in the past. All in all, people expect their leaders to exercise restraint while making remarks about their rivals.'
Click Here for the Video
Mani Shankar Aiyar's Atrocious Remarks
December 08, 2017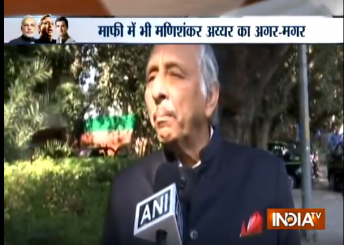 Listening to Mani Shankar Aiyar's atrocious remarks, I sometimes wonder whether he is in the Congress or with the BJP. Before the 2014 Lok Sabha elections, Aiyar had made the 'chaiwala' remark for Narendra Modi, and the BJP went to town over it. Everybody knows the result. The day Rahul Gandhi filed his nomination for Congress President, Aiyar told the media that dynastic succession was there since the Mughal period. Aiyar mentioned the names of Jehangir, Shah Jahan and Aurangzeb. On Thursday, Aiyar used the "neech" word for Modi. When Prime Minister Modi raised this issue at an election rally in Gujarat, Aiyar was forced to apologise, but he gave a lame defence that he did not know the exact Hindi word for 'low'. But in doing so, he reminded how he used the word 'naalayak' for Atal Bihari Vajpayee. The Congress leadership did the right thing in first asking him to apologize, and later suspending him from the primary membership of the party. Had the party taken such a step against Aiyar for his 'chaiwala' remark during the 2014 Lok Sabha elections, or when he described Vajpayee as 'naalayak', the situation would not have arisen now. It is also true that had there been no Gujarat elections at this point in time, Rahul Gandhi would not have asked Aiyar to apologize, nor he would have been suspended from the party.
Click Here for the Video
Why Did Sunni Board Distance Itself from Kapil Sibal's Stand on Ayodhya?
December 07, 2017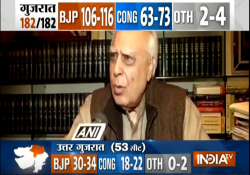 On Wednesday, the UP Sunni Central Waqf Board officially dissociated itself from lawyer Kapil Sibal's stand in Supreme Court that the hearing on Ayodhya issue should be deferred till 2019. The Board chairman Zufar Ahmed Farooqi clarified that Sibal was not the advocate for the board, which is the original litigant in the title suit, and that he was representing one of the private parties involved in the suit. The Board also clarified that it wanted the Ayodhya case to be decided at the earliest, and that other litigants from the Muslim side, too, supported the board's view.
Earlier in the day, the Prime Minister Narendra Modi while addressing an election rally in Gujarat, congratulated the Sunni Waqf Board for dissociating itself from Sibal's statement on Ayodhya, and lashed out at Sibal for politicizing this sensitive issue.
The question now is under whose pressure did Kapil Sibal tell the Supreme Court that he wanted the hearing to be deferred till 2019? Since the Muslim side has made its stand clear that it wants an early hearing, Sibal's motive seems to be clear. Sibal was making this demand because of political reasons. Since the election campaign in Gujarat is in full swing, the Ram temple issue is connected with the feelings of the voters in the state. BJP has now raised this issue in order to corner its main rival Congress. Clearly, Sibal alone is responsible for creating this mess for his own party.
Click Here for the Video
India TV-VMR opinion poll predicts clear majority for BJP in Gujarat polls
December 07, 2017
New Delhi, December 6: The BJP in Gujarat is projected to get a record sixth consecutive term in Gujarat with the latest India TV-VMR (Votersmood Research)  Final Opinion Poll predicting a clear majority for the ruling party in the forthcoming assembly polls.
The opinion poll projects BJP to win 111 out of a total of 182 assembly seats, while the main rival Congress is projected to win 68 seats, with three remaining seats going to 'Others'.
BJP is expected to get seats within a range of 106-116, while Congress is expected to get seats within a range of 63-73, says the IndiaTV-VMR opinion poll. Vote percentage wise, BJP is projected to get 45 per cent, Congress 40 per cent and 'Others' 15 per cent, according to the opinion poll.
In the 2012 Gujarat assembly elections, the BJP had won 116 seats, the Congress 60 and 'Others' six seats.
According to Votersmood Research (VMR), the agency that conducted the opinion poll, a total of 6,000 interviews were conducted in 684 polling booths across all four socio-economic regions of Gujarat.
The eligible voters covering all age groups, gender and rural-urban divide were conducted house-to-house and face-to-face. The opinion poll was conducted from November 23 to 30, and an error margin of plus/minus 3 per cent has been kept.
Regionwise, the BJP is projected to win 32 seats (30-34 range) in North Gujarat, 29 seats (27-31 range) in Kutch-Saurashtra, 25 seats (23-27 range) in Central Gujarat, and 25 seats (23-27 range) in South Gujarat, making a total of 111 seats, says the opinion poll.
The Congress is projected to win 25 seats (23-27 range) in Kutch-Saurashtra, 20 seats (18-22 range) in North Gujarat, 15 seats (13-17 range) in Central Gujarat, and only 8 seats (6-10 range) in South Gujarat, making it a total of 68 seats. 'Others' are projected to win two seats in South Gujarat, and one seat in North Gujarat.
Voteshare wise, the BJP is projected to get 46 per cent each in South Gujarat and Central Gujarat, 45 pc in North Gujarat and 44 pc in Kutch-Saurashtra. The main rival Congress is projected to get 42 pc in North Gujarat, 41 pc in Kutch-Saurashtra, 40 pc in Central Gujarat and 39 pc in South Gujarat.
The Congress is projected to get a 4 per cent positive swing in Kutch-Saurashtra, while the BJP is projected to suffer a 6 pc negative swing in South Gujarat and 4 pc negative swing in North Gujarat.
For Opinion Poll details, pl contact Anita Sharma, Managing Editor, India TV on +91 98111 99344
Congress Must Clarify Its Stand on Ram Temple in Ayodhya
December 06, 2017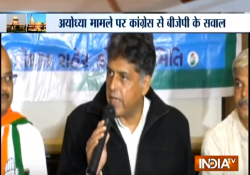 On Tuesday, senior Congress leader Kapil Sibal, appearing in Supreme Court on behalf of Sunni Central Waqf Board in the Ayodhya title dispute case, requested the judges to begin hearing only after the 2019 Lok Sabha elections, but this was promptly turned down by the bench. The apex court fixed February 8 next year for the commencement of the hearing.
After the court proceedings were adjourned, BJP president Amit Shah demanded that the Congress should clarify its stand on whether it wanted the Ram temple built in Ayodhya or not. The Congress stuck to its old stand that it would abide by the court verdict. In recent years, the Congress had been regularly making fun of the BJP and Sangh Parivar alleging that they had no interest in building the Ram temple and that the BJP was only interested in using this issue for electoral gains. Congress leaders like Manish Tewari and Digvijaya Singh used to remark "Mandir wahin banayengey, lekin taareekh nahin batayengey". Now that the BJP leadership wants the temple to be built after an early apex court verdict, Kapil Sibal wants the matter to linger on till the 2019 Lok Sabha polls.
The intention is clear. If the Ram temple is not built by the time 2019 Lok Sabha elections are held, Rahul Gandhi and other Congress leaders will go to town to tell the public that the BJP failed to build the temple despite being in power at the Centre and in UP. The present problem relates to timing. Kapil Sibal made this request in Supreme Court on the eve of polling in Gujarat, where the party is trying to prove Rahul's identity as a devout "janeu" (sacred thread) wearing Hindu by saying that he was a devotee of Lord Shiva. Amit Shah has now queered the pitch for Congress by asking the party to clarify whether it wants the temple to be built or not.
Click Here for the Video
Rahul Must First Take Care of His Leaders Who Make Funny remarks
December 05, 2017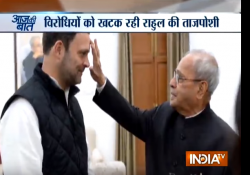 On Monday, as Rahul Gandhi went to file his nomination for the post of Congress president in Delhi, one party leader Mani Shanker Aiyar told media outside the Congress office that dynasty succession has been the norm during Mughal period too, like Jehangir followed Akbar, Shahjehan followed Jehangir and Aurangzeb followed Shahjehan. More than a thousand kilometres away, Prime Minister Narendra Modi mentioned this in an election rally in Gujarat and said, if Congress believes in 'Aurangzeb raaj', so be it.
I have two observations to make. One, whatever opinion Congress leaders may voice in public, they know in their heart of hearts that in order to keep the party united, the post of president should be kept with the Nehru-Gandhi family, since there is no way out. Two, which is more interesting: Mani Shanker Aiyar has this knack of making a funny remark at the wrong time. He sought to compare Rahul's ascension with Aurangzeb. Before the 2014 Lok Sabha polls, he had remarked during an AICC session, that Modi would lose and he should better put up a tea stall at the next AICC session. The Congress is yet to recover from that fatal 'chaiwala' remark about Modi, who went to town over this. After taking over as the new Congress president, Rahul Gandhi must first take care of his leaders who excel in putting their foot inside the mouth.
Click Here for the Video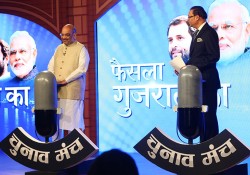 Political bigwigs attend India TV's conclave Chunav Manch in Ahmedabad
December 04, 2017
Ahead of Gujarat assembly elections, India TV organised its daylong mega conclave, Chunav Manch in Ahmedabad on November 28, 2017. The objective was to offer a platform wherein all the political parties could discuss and put forward their stakes and claims to help the voters in the state make an informed decision at the polling booths. The top line politicians were probed on the entire gamut of topics ranging from their manifestos, track records, public grievances, promises, and political alliances. Political stalwarts from all major political parties participated and judging by the massive response from the audience, the event was a grand success.
The conclave began with Jan Vikalp Party chief, Shankersinh Vaghela stepping on the dais to present a political alternative to the people of Gujarat and concluded with Bharatiya Janata Party President Amit Shah expressing his confidence about his party's winning streak in the state.
Gujarat Chief Minister Vijay Rupani outlined his government's achievements while firebrand youth leader of Patidar movement,Hardik Patel was grilled about his political future. Other leaders who attended the conclave included Union Law Minister Ravi Shankar Prasad, BJP spokesperson Sambit Patra, Gujarat deputy chief minister Nitin Patel, BJP MP Kirit Solanki, state BJP chief Jitu Vaghani, Congress leaders Sanjay Nirupam, Randeep Singh Surjewala, and Arjun Modhwadia.
Gujarat will go to the polls in two phases on 9th and 14th December 2017 and the results will be declared on 18th December. These elections will prove to be a litmus test for BJP as the party is all set to contest this time without Narendra Modi as its face in Gujarat. In 2012, BJP under the leadership of Modi had won 115 out of 182 seats in the assembly and had garnered 47.85% of the total vote share.
Yogi Deserves Credit for UP Civic Polls Victory
December 02, 2017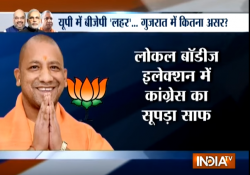 On Friday, the BJP recorded a landslide win in 14 out of 16 municipal corporations of Uttar Pradesh. It also scored a convincing victory in municipalities and nagar panchayats, decimating the Samajwadi Party and Congress. The credit rightly goes to chief minister Yogi Adityanath, who addressed most of the election rallies during the civic elections. Though Yogi has given credit to the "vision" of Prime Minister Narendra Modi and the "strategy" of BJP chief Amit Shah, the credit rightly goes to him. It was he who went before the electorate and told them the work that his government had done in the last eight months. The people in the cities and towns of UP trusted his words and voted overwhelmingly for the party. Yogi will now be concentrating on 2019 Lok Sabha elections in India's most politically crucial state. The results of UP civic polls are bound to have an impact on Gujarat assembly elections this month, and already Congress vice-president Rahul Gandhi is under pressure within his own party.
Rahul is going to be elected Congress president next week, but questions are going to be raised as to why the party lost badly in his parliamentary constituency Amethi. Questions will be raised about his leadership qualities and Rahul will have to be ready with answers.
Looking at the civic poll results in UP, four things are now clear. One, there has been no negative impact of GST on people living in UP cities and towns; Two, the Modi and Amit Shah magic continues in UP and the poor response to Congress has raised questions about Rahul's leadership abilities; Three: the Samajwadi Party has been almost decimated and questions are being raised about Akhilesh Yadav's capabilities and his friendship with Rahul; Four: BSP is back in the reckoning after grabbing second position, and the party has done well only in those pockets which are Muslim dominated. It is now clear that the Muslims of UP have shifted their allegiance from SP to BSP.
Click Here for the Video
GDP Growth Has Silenced Critics of PM Modi, Jaitley
December 01, 2017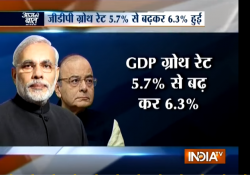 On Thursday, the Central Statistics Office reported that GDP growth rate during the second quarter from July to September this year has recorded 6.3 per cent compared to 5.7 pc in the previous quarter. The notable fact is that this growth was recorded under the new GST regime which was ushered in from July 1. GDP growth in the manufacturing sector has been commendable, and Finance Minister Arun Jaitley has predicted that the upward trend will now continue.
One may remember when the GDP recorded a slump in the last five quarters, former finance ministers Yashwant Sinha and P. Chidambaram, and former PM Dr Manmohan Singh had stridently criticized Centre's economic policies, and they made it appear as if Jaitley's handling of GST has badly damaged the economy. Some of these leaders predicted that darkness was now looming on the horizon. At that time, Prime Minister Narendra Modi and Arun Jaitley had assured the nation that this was a temporary phase and there was no need for a knee-jerk reaction. Both Modi and Jaitley have now been proved right. Whenever big reforms are carried out in an economy, such temporary shocks do occur. GDP statistics now make it clear that the economy is presently on the right path. This should give a sense of relief to the nation at large and the Finance Minister should be complimented for this.
Click Here for the Video