PM Modi's Red Fort Speech
August 16, 2017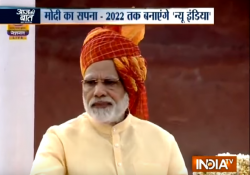 This year Prime Minister Narendra Modi dwelt on most of the issues agitating the minds of people while speaking from Red Fort on Independence Day. He responded to most of the questions raised about his three-year-old government. In his 55-minute speech, he spoke about the policies and intentions of his government.
Here I would mention three big issues. People wanted to know how the situation would improve in Kashmir valley. Modi said, his government would continue to deal firmly with terrorists but would opt a conciliatory approach towards common Kashmiris (not gaali or goli, but embrace).
The second question that is often asked is what happened to his promises to check black money. Modi disclosed that his government has so far detected Rs 1.25 lakh crore black money.
The third question that is often asked is about the benefits of demonetization. Modi said, people in the tax net are now twice than earlier and Rs 3.5 lakh crore black money has come into circulation. The Prime Minister replied to most of the questions. This is what a democracy should be about.
Click Here for the Video
The Sordid State of Affairs
August 12, 2017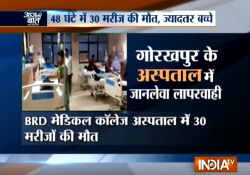 The death of 30 kids undergoing treatment in Gorakhpur medical college hospital, due to disconnection of oxygen supply, highlights the sordid state of affairs prevailing in our public health care system. The deaths took place within a span of 48 hours and the hospital administration is now busy in an elaborate cover-up. The deaths occurred three days after the Uttar Pradesh chief minister Yogi Adityanath visited the hospital to supervise all arrangements. The oxygen supplying company had threatened to discontinue the supply of oxygen due to non-payment of dues, and the hospital authorities were assuring the district administration that they had an alternate mechanism in place. Naturally, the deaths will now be investigated into, the company will say it did not get its dues in time, the hospital staff will say that it had already alerted the authorities about the dangerously low level of oxygen, the district administration will say that it had been assured by hospital authorities that adequate alternative mechanism was in place, and the doctors will say that such deaths are normal occurrences and were not due to lack of oxygen. In all, every stakeholder will have an alibi in place. The fact remains that the criminal negligence behind the abrupt discontinuation of oxygen supply is unpardonable. Will the lives of 30 kids be restored if the company gets its dues now? Time has come to consider all aspects of this incident and the government should ensure that such crass negligence never takes place in future.
Click Here for the Video
Hamid Ansari's Statement Has Political Connotations
August 11, 2017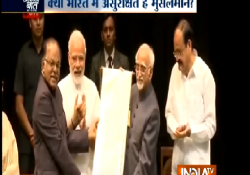 Hamid Ansari has been a distinguished diplomat, Vice-Chancellor of Aligarh Muslim University, a scholar in his own right, and he adorned the post of Vice-President of India for 10 long years. On his last day in office as Vice-President, he decided to give an interview in which he clearly remarked that there is a "sense of growing unease" among Muslims in recent years. The question is: if he knew that Muslims were feeling insecure, what did he do? Maybe his remark was correct. There are sections of people in every religious community who think they are living in a state of fear and unease, but when individuals in high positions make such statements, one is surprised. If Hamid Ansari felt that fear and unease was rising in the minds of Muslims, he should have taken steps. Making such a remark on the last day in office clearly shows he is indulging in politics and trying to corner the government. This needs to be addressed.
Click Here for the Video
An Election Result Beyond Everybody's Imagination
August 10, 2017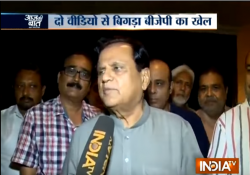 BJP President Amit Shah never dreamed that his party's third candidate Balwantsinh Rajput would lose the Rajya Sabha poll in Gujarat despite carefully orchestrated micro-level management. Congress leader Ahmed Patel never dreamed that he would win the RS poll despite 13 out of 57 Congress MLAs ditching him and the party. Both the Congress MLAs who voted for BJP never dreamed that their votes would be invalidated. The Election Commission never dreamed that seven Union Ministers and senior Congress leaders would come to its door thrice in a span of three hours in Delhi, and it would have to take a midnight decision after watching video footage of the polling. Nobody imagined all such things would happen for a single Rajya Sabha seat. In all, neither Amit Shah's tricks succeeded, nor did Ahmed Patel's man management. The single thing that clicked at the last moment was Ahmed Patel's fate. The only consolation is that democracy ultimately triumphed. In political circles, the general belief is that this Rajya Sabha poll result will not affect Amit Shah's Plan 150 for the forthcoming assembly polls, but the fact remains that Ahmed Patel's win could act as a morale booster for the Congress, though the party is still presently far behind in the assembly poll stakes in Gujarat.
Click Here for the Video
Battle Over Gujarat Rajya Sabha Seat Was Unprecedented
August 09, 2017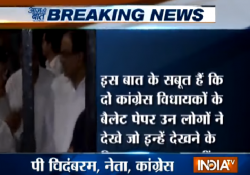 I have never seen such a battle over a single Rajya Sabha seat in my entire professional career. The manner in which Congress MLAs were first herded to a resort in Karnataka, and then confined to a resort in Gujarat, and later brought in a bus to Gandhinagar for polling, makes people wonder whether the future of a government was at stake. Even during polling, both parties, BJP and Congress, made it an issue of prestige, and when the counting was to begin, Congress demanded disqualification of two votes, because these two MLAs had flashed their ballots towards BJP leaders sitting in the room. And then started the trips to the Election Commission. Senior legal luminaries, including Arun Jaitley and P. Chidambaram,  from both parties along with other party leaders, went to the Election Commission thrice in succession. The Election Commission made a late night decision disqualifying both the votes paving the way for Congress leader Ahmed Patel's victory. Elections are part of life of any political leader, but the manner in which both parties jostled for a single seat does not send the right message to the people in the 70th year of India's independence. It could have been avoided.
Click Here for the Video
Impartial Action in Chandigarh Stalking Case Needed
August 08, 2017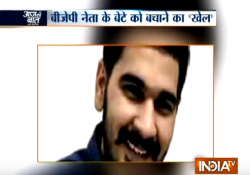 The case involving the midnight stalking of an IAS officer's daughter Varnika Kundu by two youths, including the son of Haryana state BJP chief, raises several questions. These questions need to be addressed. One, why were lighter IPC sections included in the original FIR against Vikas Barala and his associate, two, why did Chandigarh police trust the statements of the accused more, instead of relying on the victim's statement, and three, how did the CCTV footages of all cameras on the route found missing. It must be understood that Prime Minister Narendra Modi had launched 'Beti Bachao, Beti Padhao' campaign from Haryana, and the son of the BJP chief in that very state tried to stalk and kidnap a woman in the middle of the night. If the police is found shielding the culprits, a wrong message will go out. There must be impartial action in this stalking case.
Targeted Killings in Kerala Must Stop 
August 05, 2017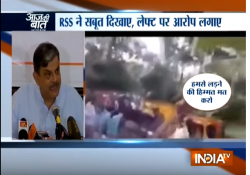 Normally senior RSS leaders do not hold press conferences to level serious charges, but on Friday, senior RSS Leader Dattatreya Hosabale alleged that killings of political workers, mostly from the RSS, have increased in Kerala since the CPI(M)-led Left Democratic Front came to power in May last year. He alleged that 14 RSS workers have been killed since October last year by CPI(M) supporters and demanded that the Centre must intervene.
The Centre, on its part, has decided to send Defence Minister Arun Jaitley to Kerala on Sunday. One should hope that political killings in Kerala will stop after Jaitley's visit. This is necessary because such killings are not a good omen for democracy.
The CPI(M), on its part has said that nearly 300 political workers have been killed in 'reciprocal killings' in the last 17 years in Kerala, out of which 69 murders were in Kannur alone. CPI(M) general secretary Sitaram Yechury has alleged that 13 of his party workers were killed by RSS activists. If his allegation has any basis, the question arises: why didn't his party's government take action? There should be no scope for 'political Talibanism'. The RSS has alleged that its workers are being targeted through open intimidation, and house marking by CPI(M) supporters. Hosabale has shown videos to buttress his charge. The moot point is: targeted political killings in Kerala must stop.
Click Here for the Video
Why did army first ask Abu Dujana to surrender?
August 04, 2017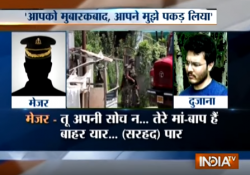 Listening to the 8-minute long audio of the final telephonic talk between an Indian army major and terrorist Abu Dujana during the last hours of the encounter, one cannot but admire the sincerity and humane side of our army.  The army major tried his best to persuade Abu Dujana to come out and surrender. He implored him by reminding him about his wife and his parents in faraway Gilgit-Baltistan of Pak Occupied Kashmir. The terrorist refused and was killed ultimately along with his associate. India then approached the Pakistan High Commission and offered to hand over his body, but I do not think Pakistan will agree. You may remember when nearly 450 Pakistani soldiers (official estimate) died while fighting the Indian army in Kargil, Pakistan refused to take their bodies. It pointedly refused to accept them as Pakistani soldiers. The audio conversation between Abu Dujana and the army major is a stinging slap in the face of those holier-than-thou human rights activists, who cry murder whenever a terrorist is killed. The audio tape makes it clear that the Indian army always gives the chance to surrender to such outlaws first, asks them to lay down their arms, and when they refuse and begin firing, it retaliates. One cannot expect our army to stand silently when terrorists rain bullets. The army will return fire and will blow up the houses where these terrorists hide.
Click Here for the Video
China Has Tried All Its Tricks on Dokalam Issue
August 03, 2017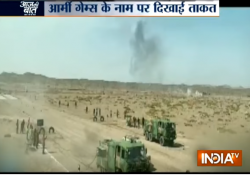 On Wednesday, the Chinese foreign ministry issued a lengthy press note detailing its stand on the Dokalam issue, and also attached maps and pictures to bolster its stand. The Chinese foreign ministry claimed that only 40 Indian troops along with a bulldozer now remain at the spot, whereas in June, when the standoff began, there were more than 350 Indian troops and three bulldozers. China was trying to send a message to its people that Indian troops have been more or less withdrawn. But the cat was soon out of the bag. The Indian army tersely said that there has been no reduction of its troops in Dokalam. In other words, India has not withdrawn its troops. China, till now, has tried all the tricks. Its official media openly issued threats of war against India, its army conducted a major war exercise in Tibet to showcase its might, its President Xi Jinping openly said that his army was ready to defend its sovereignty. But India was not browbeaten by such aggressive postures. It stuck to its stand that the standoff can be called off only when China agrees to sit at the negotiation table. China must talk and explain why it started to build a road in the disputed area at the tri-junction of India-China-Bhutan border despite India's objections.
Click Here for the Video