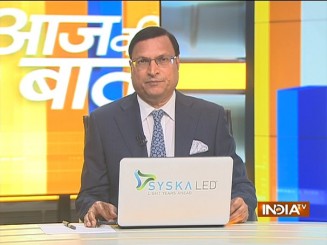 Two weeks after gangster Atiq Ahmed was brought in a convoy of UP police vehicles from Ahmedabad to Prayagraj and taken back, a repetition took place on Tuesday. Atiq was again taken in a convoy to Prayagraj, where he will be produced in court. There were signs of fear evident on his face. While speaking to reporters, the gangster said, "I am safe because of you people." The man, who was behind the murders of dozens of people, brazenly said, "The government has already decimated me…My family is ruined. I am safe because of you." Atiq will reach Naini Jail near Prayagraj by Wednesday evening, but till then, he is on razor's edge, fearing death due to accident. Fear of law and police in the minds of criminals is essential. It goes to the credit of Yogi Adityanath who has struck fear in the minds of mafia gangs in UP. This is his biggest achievement. During previous regimes in UP, action against criminals used to be taken on the basis of caste and religion. These gangsters were used to corner votes by spreading fear. Gangsters like Atiq Ahmed and Mukhtar Ansari, used to always side with the party in power to avail protection. Now that the files of all criminals, whether big or small, have been opened, several of them have started going to police stations to surrender, or cross over to neighbouring states. UP police has been given a free hand to deal with criminals. In the last six years of Yogi's rule, there have been 10,713 encounters till March 23. One hundred and seventy eight dreaded criminals were killed and 23,069 criminals were arrested. Atiq Ahmed is afraid because of these telling figures. Such fear among criminals is good for the state and its people. People in Uttar Pradesh are now safe. The credit goes to Yogi.
SACHIN PILOT: IS PATIENCE RUNNING OUT ?
Dissident Congress leader Sachin Pilot sat on a day-long fast in Jaipur on Tuesday demanding action against alleged corruption during Vasundhara Raje's regime. On Wednesday he reached Delhi for talks with party leaders. Pilot avoided using Congress symbol in the backdrop of the dais. Pilot got support from Rashtriya Loktantrik Party MP Hanuman Beniwal, who advised him to leave Congress and form a new party. Beniwal is an old rival of Chief Minister Ashok Gehlot. The paradox is that Sachin Pilot is naming ex-CM Vasundhara Raje, but his barbs are actually meant for Ashok Gehlot. The reason is quite clear. Pilot wants to become the CM at all costs. He doesn't trust Rahul or Priyanka Gandhi any more for fulfilling their promise. This is Pilot's last gamble before Rajasthan goes to assembly elections later this year. His message is clear: Declare me as the chief ministerial candidate or I will go my own way. The posters that Pilot used at his dharna site, do not mention Congress party or its leaders. On the other hand, Ashok Gehlot is a wily, experienced politician. Sachin Pilot is a kid compared to Gehlot's innings in politics. In September last year, Pilot tried his best to dislodge Gehlot's government, but the wily chief minister nipped his move in the bud. Pilot is losing patience and he is on the brink of open revolt. In politics, experience matter more than impatience. Ashok Gehlot has been in politics for five decades. He will try to prove that Pilot is working at the behest of BJP. In such a case, Pilot will find it difficult to defend himself. Presently, both Rahul and Priyanka Gandhi are not focussed on Rajasthan. They are busy facing other challenges.
RAHUL AND SAVARKAR, AGAIN
After losing his Lok Sabha membership, Rahul Gandhi took out a roadshow with sister Priyanka, in Wayanad, Kerala on Tuesday. Addressing a rally, Rahul said, 'for me, MP is just a tag, BJP can take away that tag, it can take away my home, but I am not afraid, I will continue to raise people's issues'. Priyanka praised her brother as a 'warrior, full or courage and honesty'. She said, 'government may throw Rahul out of his home, but it cannot throw him out of the hearts of people.' Anil Antony, son of senior Congress leader A K Antony, who joined BJP last week, said, 'Rahul's roadshow will not have any impact, because like other states, people in Kerala have realized that only Modi can take the country forward.' In Wayanad, there were thousands of welcome posters on which was written, "I am not Savarkar, I am a Gandhi, Gandhis never apologize". These posters caused consternation in Maharashtra. Congress leader Prithviraj Chavan quickly clarified that the posters were put up by local residents in Wayanad, and not by Congress party. Chavan said, 'Congress leadership stands by its assurance to allies (read Shiv Sena) on the issue of Savarkar.' It seems the Savarkar issue is going to nag Rahul Gandhi again. Rahul Gandhi had described famous revolutionary Veer Savarkar as 'maafiveer', who sent several mercy petitions to the British. Savarkar is considered an icon in Maharashtra. NCP chief Sharad Pawar and Shiv Sena (Uddhav) chief Uddhav Thackeray have clearly told Congress leaders that Savarkar is not only the pride of Maharashtra, but the whole of India. At the opposition leaders' meeting, where Shiv Sena was a notable absentee, Sharad Pawar told both Sonia and Rahul Gandhi that Congress must avoid speaking on such an emotional subject. 'We should avoid emotional and emotive issues and stick to real issues', Pawar reportedly told Rahul. Congress agreed to tone down its criticism of Savarkar, but it appears the message is yet to reach Kerala.