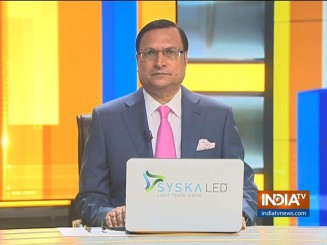 The Prayagraj Development Authority (PDA), on Wednesday and Thursday, used bulldozers to demolish properties of Safdar Ali and Khalid Zafar, two close aides of UP mafia don Atiq Ahmed, presently in Sabarmati jail of Ahmedabad.
This was part of a major crackdown following the February 24 killing of Umesh Pal, a key witness in BSP MLA Raju Pal's murder case. UP Police has announced a bounty of Rs 50,000 for the arrest of Atiq Ahmed's son, who along with his mother, has gone underground.
Police says, Atiq Ahmed's son and three others were involved in the broad daylight killing of Umesh Pal. Police and PDA have identified at least 20 persons, said to be close to Atiq Ahmed and his gang, whose properties have been listed for demolition. These properties are in Chakiya, Teliyarganj, Dhumanganj, Salemsarai, Harwara, Jayantipur, Sadiapur, Mindera, Jhalwa and Atala of Prayagraj city. One of the four accused, Arbaaz, was gunned down by police in an encounter on February 27.
On Wednesday, in Chakiya locality of Prayagraj, the illegal constructions at Zafar Ahmed's house were razed with the help of bulldozers. Aitq Ahmed's wife Shaista Parveen was staying in this house with her two sons. She had taken this house belonging to Zafar Ahmed on rent. Police officials allege that this was the house, where the plot to kill Umesh Pal was hatched, and Shaista Parveen met the killers. The building built on 200 sq. metre area costs between Rs 2.5 crore and Rs 3 crore. Before demolition, police, during search, found two rifles and swords. Utmost care was taken to demolish the house because it was in a congested locality.
Last year, Atiq Ahmed's house was razed to the ground. Zafar Ahmed, who is close to Atiq Ahmed, hails from Banda, UP. He had bought this house two years ago. The day Umesh Pal was gunned down, Shaista Parveen held a press conference and claimed that she had no role in the murder, but after her name was mentioned in police FIR, she went underground. While fleeing, she left her education documents, her children's birth certificates and driving licences in the house. Zafar Ahmed's lawyer Khan Saulat Hanif alleged that the demolition was illegal and it was not a benami property. Hanif alleged that no notice was issued by PDA prior to demolition.
Some other associates of Atiq Ahmed, like Guddu Muslim, Nafeez, Armaan, Sadaqat and Ghulam may also face demolition action. The vehicle used for gunning down Umesh Pal belonged to a woman named Rukhsana. Her house may also be demolished. Atiq Ahmed's son Asad used to stay in Universal Apartments of Lucknow. He along with his associate had come to this flat on February 24 (the day Umesh Pal was killed), and since then, they have all gone underground. Special Task Force of UP police has sent teams to different places to nab the accused. Asad's flat has been sealed by police and his two luxury cars have been seized.
On Wednesday, in the UP assembly, chief minister Yogi Adityanath lambasted the Samajwadi Party for, what he said, introducing 'one district, one mafia', unlike BJP government's 'one district, one product' policy. Yogi said, "Akhilesh Yadav (SP chief) tries to find out the caste of criminals and victims in every case. I want to ask, to which castes did Raju Pal and Umesh Pal belonged? There is a photograph of one of the accused shaking hands with Akhilesh Yadav. Instead of clarifying, Akhilesh is trying to beat around the bush." Akhilesh Yadav, who had gone to Tamil Nadu, later tweeted: "Those who pardon themselves in cases by giving 'maafi', should not talk about mafia".
Yogi Adityanath is right. Even today, castes of criminals and victims in UP are taken note of. For decades, mafia leaders and gangsters in UP got political protection because of their castes and communities. Political parties took the help of mafia leaders to garner support from certain castes and communities. Later gangsters became politicians and contested elections to become MPs and MLAs.
Over the years, these mafia dons wielded tremendous clout in UP politics. Nobody had the courage to stop them from committing crimes which included land grabbing, extortion and murders. In the last six years, Yogi Adityanath changed this trend. Because of his zero-tolerance policy towards criminals, police officials gained confidence and courage. Earlier, policemen used to fear mafia dons, but now gangsters tremble at the sight of UP police.
On Wednesday, Atiq Ahmed, from Sabarmati jail, filed a petition before Supreme Court, seeking protection for his life. In his petition, he claimed that there is a "genuine and perceptible threat" to his life and his family members. In his petition, he alleged that
his two minor sons have been taken into "illegal custody" by police and kept in an undisclosed location. Atiq has sought a direction from the apex court restraining UP police from taking him from Sabarmati central jail to Prayagraj or any other part of Uttar Pradesh. The petition says, "Petitioner genuinely apprehends and believes that he may be killed in a fake encounter on one pretext or the other by UP police".
Questions are now being raised about encounters. But remember the dark days when mafia dons ruled the roost in UP. It is true that innocent people must not become victims, but it is also true that had not bulldozers been used to strike fear among the mafia dons, the overall law and order situation could not have improved.