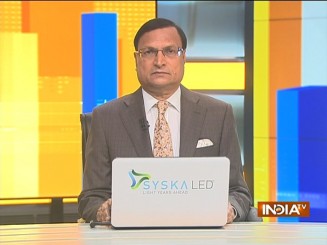 India displayed both its soft and hard power in Australia on Tuesday, when Prime Minister Narendra Modi addressed a mega gathering of Non-Resident Indians at the Qudos Bank Arena in Sydney. The event was watched by most of the Australian politicians and the Australian PM Anthony Albanese, while addressing the gathering, said: "Prime Minister Narendra Modi is The Boss", eliciting resounding applause. In his speech, Modi did not speak about politics, nor did he criticize anybody. He only spoke about India and Indians. He explained why the world today salutes India for its humanitarian work during the Covid pandemic. He also outlined his vision and his government's achievements. Modi, in effect, placed the report card of his nine-year-old rule. Huge crowd of Indians assembled both inside and outside the arena in Sydney's Olympic Park. They had come with drums to welcome their prime minister. Some Indians hired a chartered plane and named it Modi Airways. When Modi became Prime Minister in May, 2014, most of the people in India and abroad used to ask how he would conduct India's foreign policy, how he would develop relations with world leaders. Such people should watch the entire Sydney event and watch why the Aussie PM described Modi as The Boss. They will realize why US President Joe Biden said last week that Modi's popularity is so high that he should take his autograph. They should watch why the prime minister of a small group of islands Papua New Guinea touched Modi's feet, when the Indian PM landed on his soil. These are not minor developments. Narendra Modi has raised India's prestige across the world during the last nine years. He developed personal relations with world leaders. There is not an iota of doubt that the entire world has now changed its view about India. Whenever I speak to Indians living in foreign lands, they tell me how they daily feel the change that has come in their lives. Whether it is the US, or Europe or African countries, India and Indians are looked with respect by people in foreign lands. The credit for ensuring this change should go to Narendra Modi. Modi toiled hard, and used his brains, he kept track of the minutest details, took big decisions, and this is not an easy job. Today if there is any country that can speak to both Russia and Ukraine, by looking into their eye, it is India. In times of crisis like pandemic and natural catastrophe, other countries today expect help from India. The country which takes care to protect its citizens trapped anywhere in the world is India. This identity of a new India took shape during Modi's rule. Today Narendra Modi is regarded as a world leader. This prestige and affection is not limited to pictures, videos or speeches. The entire nation gets the advantage in the fields of business, tourism, investment and in other spheres. When the image of the leader of a nation becomes big, the world eyes that country with respect. This results in overall development of the nation. On one hand, while the world is looking at Modi with respect, there are political parties who are exploring formulae to defeat Modi in next year's general elections.
Why Congress is unwilling to support AAP
Delhi chief minister Arvind Kejriwal, along with Punjab CM Bhagwant Singh Mann and other Aam Aadmi Party leaders, met West Bengal CM and Trinamool Congress chief Mamata Banerjee in Kolkata. Kejriwal sought her support in the fight against the Centre's Delhi-related ordinance. Mamata Banerjee, while lashing out at BJP, promised full support to AAP on this issue in Parliament. But in Delhi, Congress leaders Ajay Maken openly backed the ordinance and ruled out any support to AAP. Another Delhi Congress leader Sandeep Dikshit also ruled out any help for AAP. Congress general secretary K C Venugopal clarified that the party has not decided its stand on the ordinance, and will take a view after consulting its state unit. In Punjab, Congress leaders Sukhjinder Singh Randhawa and Pratap Singh Bajwa also opposed any collaboration with AAP saying the party cannot be trusted. The concerns of Congress leaders are justified because Kejriwal's party has created its base only in those states where the Congress was strong, and formed governments in Delhi and Punjab. Congress slid to third position in Punjab. Similarly, in Gujarat, Uttarakhand and Goa, where Congress was in a direct fight with BJP, AAP fought elections and the Congress lost polls in these states. Rajasthan, MP and Chhattisgarh will be going to polls by the end of this year and Haryana will go to the polls next year. In all these states, Congress is in direct fight with BJP, but Kejriwal has declared that AAP will contest elections in these states. Congress leaders say that when Kejriwal is working on strategies to cause losses to Congress in state assembly elections, how can he expect to join hands with Congress for Lok Sabha elections. This is not confined to AAP alone. Whenever the question of seat allocation will arise for LS elections, opposition unity will get a battering in other states too. Already signs are showing in Maharashtra, where the fight for seats has begun in Maharashtra Vikas Aghadi, in which Congress, NCP and Shiv Sena are constituents.