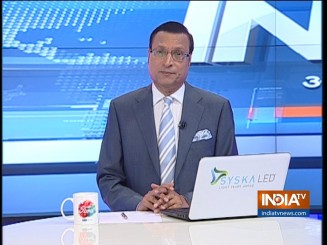 The BJP announced its first list of 184 candidates for Lok Sabha elections on Thursday and the most important announcement was: Party president Amit Shah will contest from veteran leader L K Advani's Gandhinagar constituency in Gujarat. Amit Shah is not new to Gandhinagar because he had been looking after Advani's election for the last many years.
The suspense remains about another veteran leader Dr Murli Manohar Joshi. The candidate from Kanpur seat was not named on Thursday because there are reports that Dr Joshi wants to contest elections, and the party leadership does not want to tell 'no' to its veteran leader. Dr Joshi has not spoken to anybody so far, but there are indications that he may be persuaded to accept a Rajya Sabha seat, and excuse himself from the rough and tumble of Lok Sabha polls.
The list of 184 candidates clearly indicates the meticulous planning that went into deciding the names of contestants. Party chief Amit Shah obtained performance report cards for each and every MP, and this exercise was done in secrecy by professionals. These secret reports formed the basis for selection of candidates. I have seen a copy of the reports that give a clear indication of how the winnability factor of a candidate was decided.
The party leadership clearly went by the winnability factor and it cared the least about whether those who were denied tickets would become dissident or leave the party.
The second factor that worked behind preparation of the list was the clear division in the ranks of opposition. In UP, the SP-BSP alliance has kept the Congress out, in Bihar the 'mahagathbandhan' is still struggling to decide about the seats to be contested, in West Bengal, the Trinamool Congress has already declared its list of candidates and the Left-Congress alliance too has collapsed.
Clearly, the first round has gone to the BJP, and the Lok Sabha poll campaign may revolve only around the persona and achievements of Narendra Modi.
Click Here to Watch Full Video  | Get connected on Twitter, Instagram & Facebook