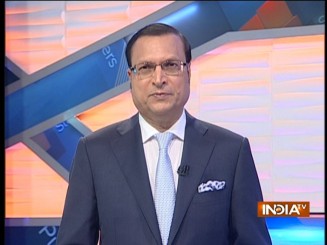 Uttar Pradesh chief minister Yogi Adityanath, for the second year in a row, organized a fabulous Diwali celebration in the holy town of Ayodhya on Tuesday. The difference this year was: South Korean First Lady Kim Jung-Sook took part in the celebration, dressed in a gorgeous saree. More than three lakh diyas were lighted on the banks of the holy river Saryu, and the entire town of Ayodhya wore a festive look, with roads cleaned up and widened, and the entire town was illuminated, with a water laser show thrown in.
Addressing a gathering on the occasion, Yogi Adityanath announced the setting up of an airport in Ayodhya to be named after Lord Ram, a medical college to be named after Lord Ram's father King Dashrath, and renaming of Faizabad district as Ayodhya. He did not speak about the installation of Ram statue, but on the issue of building a temple on the disputed site, he spoke in measured tone.
Yogi Adityanath said, everybody knows what the entire nation wants (a Ram temple at his birthplace), and no force on earth can do injustice to Ayodhya.
Yogi is a constitutional functionary, and he spoke to the extent he was expected to, in his constitutional capacity. Yogi maintained the gravity of his position, but the most important part of his speech was that he has sought to bring Ayodhya on the world tourist map.
If the streets of Ayodhya are cleaned up every year before Diwali, grand Diwali celebrations are held every year, if there are good hotels and a world-class hospital and an airport, nobody can stop Ayodhya's march towards progress and modernity. There could be no bigger gift than this for the people of Ayodhya. Let there be good governance on the lines of Ram Rajya. The building of Ram temple at his birthplace is a foregone conclusion, which nobody can prevent, and that is what the chief minister wanted to convey.
Happy Diwali!
Click Here to Watch Full Video | Get connected on Twitter, Instagram & Facebook