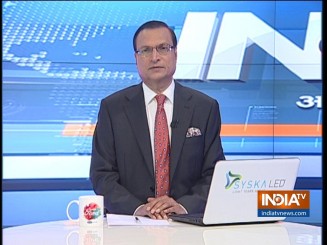 The BJP in Haryana, led by Chief Minister Manohar Lal Khattar, on Thursday got a shot in the arm when the party for the first time in the state's history won the Jind assembly seat in a three-cornered  battle, relegating the Congress candidate Randeep Surjewala to third position.  
Though the results are out, there is a question lurking in the minds of most of the people as to why Surjewala, who was part of the core team of party president Rahul Gandhi, was made the scapegoat by fielding him in an assembly byelection, at a time when there are hardly nine months left for the Haryana assembly elections. Surjewala is already the Congress MLA from Kaithal, and yet he was fielded in Jind bypoll.  
Surjewala heads the media department of Congress in Delhi and he has carefully cultivated his image on the national level by forcefully presenting the party's views on major issues. He is supposed to be close to Rahul and Priyanka Gandhi, and at a crucial time, when the nation is at the crossroads, waiting for the general elections, he was suddenly fielded in a byelection in Haryana.  
After his defeat in Jind, the former chief minister of Haryana Bhupinder Singh Hoods reacted by saying that normally ruling party win byelections. The question is: then why was Surjewala fielded in Jind bypoll? 
Several Congress leaders attribute this to the internal strife going on in the Haryana unit of the party. They say that the BJP is well entrenched in power, with all the 10 Lok Sabha seats and majority of the seats of the state assembly in its kitty, and Hooda was hardly being noticed at the Centre. On the other hand, the rise of graph in Surjewala's career was becoming an eyesore for Hooda, who is trying to groom his son Deepender Hooda.  
It was Hooda who gave Rahul Gandhi the idea to contest the Jind byelection by fielding a heavyweight like Surjewala, who had a track record of defeating former CM Om Prakash Chautala (now in jail after being convicted in a scam) twice in the past. Surjewala, being a loyal soldier of the party high command, could not refuse and he was thus made a scapegoat. This begs another question: why couldn't Rahul Gandhi understand the apparent gameplan behind this idea?
Click Here to  Watch Full Video | Get connected on Twitter, Instagram & Facebook