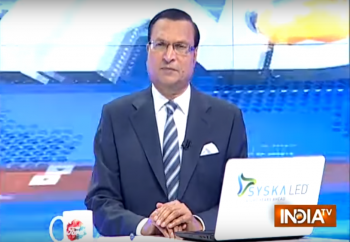 On Friday, the Defence Minister Nirmala Sitharaman in an exclusive interview on my show 'Aaj Ki Baat', clearly said that the more Congress President Rahul Gandhi levels baseless and false charges on Rafale deal, the more common people will support Prime Minister Narendra Modi in the forthcoming general elections.
The reasons are simple: Modi himself replied to all charges on Rafale deal in Lok Sabha, Defence Minister Sitharaman herself gave out a detailed reply in Parliament, Finance Minister Arun Jaitley wrote several blogs describing the manner in which Rafale deal was finalized, the Supreme Court in its verdict clearly said there were no irregularities in the selection and pricing process, the apex court even went to the extent of questioning senior Indian Air Force officers who were part of the negotiating team, but Rahul Gandhi is harping on a single theme: that PM Modi gave away Rs 30,000 crore from the deal to industrialist Anil Ambani"s group. Rahul could not come forward with a single piece of concrete evidence nor any witness to corroborate his charges.
Now that the election season is on, the rounds of accusations will multiply.
I will now turn to a Defence Ministry file noting dated 24th November, 2015 in which the then Defence Secretary had objected to the Prime Minister's Office carrying out "parallel negotiation" on Rafale deal, and had written that this had "weakened the negotiating position of the MOD and Indian negotiating team".
The page from the file notings, was published incomplete by a newspaper on Friday morning, and immediately Rahul Gandhi called the media to show the noting page. It was left to the Defence Ministry to show the complete page from the notings file, in which the then Defence Minister Manohar Parrikar had clearly responded to his Defence Secretary saying that " it appears that the PMO and the French President Office are monitoring the progress ..which was an outcome of the summit meeting . Para 5 (in which the objection was raised) appears to be an over reaction. Defence Secretary may resolve the matter in consultation with the Principal Secretary to the PM."
It would be advisable for Rahul Gandhi to be careful before jumping to conclusions on the basis of an incomplete noting page. He should also refrain from dragging Indian Air Force officers into the debate by addressing them directly to say that money meant for their safety was being given away to industrialists. This will cause incalculable harm to the discipline and integrity of our valiant Armed Forces officers.
Click Here to  Watch Full Video | Get connected on Twitter, Instagram & Facebook