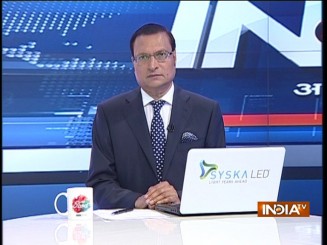 Three days ago, terrorists released 11 relatives of Kashmiri policemen whom they had abducted 24 hours earlier from Anantnag, Pulwama, Shopian and Kulgam. This happened only after there was a major outcry in the media from the common man in the Valley. People who are in the know about ground realities say, the common man in Kashmir is fed up of being caught in the crossfire and sincerely wants peace.
On Monday, India TV reporter Manish Prasad interviewed Mohammed Maqbool, a father, who had three sons, of whom two are working in J&K Police and the third Zubair was abducted. Zubair was released 24 hours later after public pressure. He described how Zubair was kept blindfolded alongwith 10 other captives on an open ground. Maqbool pointed out how it was a big challenge for his two sons who are working in the police.
If one listens to the family members of those who are at the receiving end of the attacks from terrorists, one thing is clear: the common man does not want his son to become a terrorist. Security forces have been conducting operations in several of the militant-infested pockets, and have so far killed 142 terrorists. The remaining terrorists are now desperate, and they want to forcibly recruit more by abducting and brainwashing youngsters.
With the state panchayat bodies elections slated to begin soon, security forces have intensified cordon and search operations, and terrorists are now clearly on the run.
Click Here to Watch Full Video | Get connected on Twitter, Instagram & Facebook