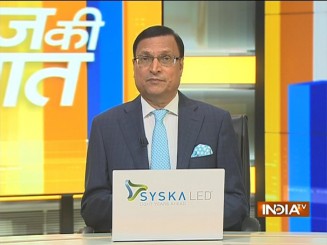 A day after suspending his 'Bharat Jodo Yatra' alleging security lapse, Congress leader Rahul Gandhi on Saturday resumed his walk, with People's Democratic Party chief Mehbooba Mufti joining him from Awantipora.
The yatra halted in Pampore for tea break, and it will proceed towards Pantha Chowk on the outskirts of Srinagar for night halt. Priyanka Gandhi also reached Srinagar and she will join her brother's Yatra. On Sunday, the Yatra will resume from Pantha Chowk and reach Nehru Park on Boulevard Road.
Rahul Gandhi, who had begun his Yatra from Banihal in Jammu region on Friday, crossed the Jawahar Tunnel into the Valley in Qazigund in a bulletproof vehicle and afterwards he could barely walk for another 500 metres due to surging crowd. National Conference leader Omar Abdullah had come with a huge crowd of supporters to join the Yatra.
Security forces found it difficult to control the crowd of supporters, and the yatra had to be cancelled for the day. The outer security cordon broke down due to the pressure of the crowd and people entered the inner security ring of Rahul Gandhi.
Later, Rahul Gandhi said, his security team asked him to halt the yatra, in the absence of adequate police force to manage the crowd. Rahul alleged that "policemen who were supposed to manage the crowd were nowhere to be seen.. It is the administration's responsibility to provide security….I had to call off my yatra because I can't go against the advice of my security personnel."
Congress leaders alleged that the administration is "playing" with the security of Rahul Gandhi. Yatra manager and party leader Jitu Patwari said, he and his partymen had met the Lt. Governor for ensuring adequate security arrangements, but "this seems to be a deliberate action on part of the administration."
Congress general secretary Jairam Ramesh tweeted, "To engage in politics is one thing, but by playing with Rahul Gandhi's security in Kashmir Valley, the government has hit a new low. Already, India lost Indira Gandhi and Rajiv Gandhi, and any government or administration must desist from doing politics in such matters."
Congress President Mallikarjun Kharge in a letter to Home Minister Amit Shah requested him to intervene and provide adequate security to Bharat Jodo Yatra. "I shall be grateful if you could personally intervene in this matter and advise the officials concerned to provide adequate security till the culmination of the Yatra and the function on January 30 at Srinagar", he wrote.
Additional Chief Secretary (Home) of Jammu and Kashmir, R K Goyal blamed the Yatra organisers for the sudden emergence of surging crowds. He said, 15 companies of central paramilitary force and 10 companies of J&K police were deployed for the Yatra, but the organisers had no prior information that a huge crowd will gather at Banihal to join the Yatra. He said, the Yatra was abruptly halted without informing security officials, adding to confusion.
Goyal said, the crowd swelled because supporters who were expected to stay back after the Yatra entered the tunnel, also continued to walk, adding to the break of security cordon. On the other hand, J&K BJP chief Ravindra Raina claimed that the Yatra was called off because of lack of response from people in the Valley.
Political allegations aside, security is a serious issue. There should have been tight security for Rahul Gandhi. Security agencies had advised Rahul not to walk on foot in the Valley, but Rahul insisted. Security officials cannot shun their responsibility by saying that there were not told about the huge crowds by the organisers. The work of security agencies is to provide full protection. As far as following security protocol is concerned, breach of protocol by Rahul Gandhi is not new.
On December 24, when a security breach occurred in Delhi, CRPF officially said that Rahul Gandhi had done security violations 113 times. Security agencies should have been more cautious, when the Yatra reached the Valley. Anti-national elements are waiting for the opportunity to strike, so that Kashmir may become headlines again for the wrong reasons.
On Friday, NC chief Omar Abdullah said,as the Yatra will progress through the Valley, it will attract more crowds. Omar Abdullah alleged that "Modi government has deprived Muslims of their rights. Despite being 15 per cent of the population, there is not a single Muslim in the Union Council of Ministers. Nor is there a single Muslim MP in the ruling party. Modi government has snatched away the partnership of Muslims from power."
Omar Abdullah is speaking about dividing people on Hindu-Muslim lines, and yet he claims this is Bharat Jodo Yatra. One must remind Omar Abdullah and Mehbooba Mufti how both of them tried to create divisions among Hindus and Muslims in the Valley, and how they deprived Hindus of their rights in Jammu region despite Hindus and Sikhs being in the majority.
Omar Abdullah should check how many Hindu ministers were there in the governments led by his father (Farooq Abdullah) and grandfather (Sheikh Abdullah). Omar must also disclose whose government was there in the Valley, a day before thousands of Kashmiri Pandits were forced by zealots and jihadi mobs to leave their homes and shops, and start an exodus.
Whether it is the PDP, or National Conference, or the Congress, their politics in J&K had always centred around dividing Hindus and Muslims, creating divide, and cling to power. But times have now changed. Kashmir has changed. All are Kashmiris in Kashmir, having equal rights. Leaders like Omar Abdullah or Mehbooba Mufti cannot digest this. The wall of Article 370 has been demolished.
That is why these leaders are desperately trying to create wall between Hindus and Muslims. The people of Kashmir now know the realities. Whenever the next election takes place, governments may not be formed as they used to be formed before. Omar Abdullah has realized this.