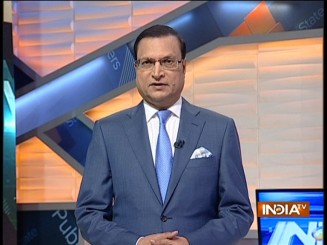 In my journalistic career spanning 35 years, I have seen many Finance Ministers presenting the Union Budget and their Prime Ministers complimenting them. But, for the first time I watched a Prime Minister giving a 25-minute long speech in praise of his Finance Minister's budget. Dr. Manmohan Singh was a great economist, but he never praised his Finance Minister's budget so effusively. While praising the budget, Prime Minister Narendra Modi detailed every scheme, mentioned fund allocations for every major sector and explained the logic behind them.
For the first time in my 35-year-long career, I watched the tallest leader of the Opposition walk away without saying a word, after the budget was presented. Congress President Rahul Gandhi may be knowing the reason behind his silence and it is for him to decide in which way he should react.
During all previous budgets, the general discussion used to centre around which goods and services have become cheaper or costlier. This time it was not. Only policies and projects were discussed after the presentation of budget. Finance Minister Jaitley outlined the government's plans for agriculture, health, education, infrastructure and social welfare. The stamp of "Sabka Saath, Sabka Vikaas" was clearly discernible in this budget. That is why PM Modi said this budget has laid the foundation of a New India. Overall, the budget has passed the stringent test with flying colours.
Former Finance Minister P. Chidambaram has questioned the manner in which the government proposes to fund the National Health Protection Scheme which will cover over 10 crore poor and vulnerable families providing coverage upto Rs 5 lakhs per family per year. Finance Minister Arun Jaitley has clearly mentioned that this will be the world's largest government funded health care programme, and adequate funds will be provided for smooth implementation of the same. The scheme is big, the aim behind the scheme is truly big, but it will not be so easy to implement. I however do not agree with Chidambaram's query as to from where government will provide funds. The Centre has adequate funds at its disposal. The problem may arise with the availability of doctors. The government has announced it will open 24 medical college hospitals, but it will require at least five years to be opened. Medical education will then start, and doctors will pass out after another five years. Till then, the government will have to manage with the available infrastructure, and this is not an easy task.
Particular attention has been paid to farmers in this budget. In the 2014 Lok Sabha elections, BJP had secured the votes of farmers, who had great expectations from Modi. But the overall conditions of farmers have not improved. Agrarian distress clearly expressed itself during the recent Gujarat assembly polls. The Congress made the prices of groundnuts and cotton an election issue. Farmers and fishermen in Banaskantha, Amreli, Junagarh, Gir Somnath and Morbi distanced themselves from the BJP, and supported Congress. This was a lesson for Modi, and that is why farmers, fishermen and livestock owners were paid special attention in the budget this time.
Click Here to Watch Video | Get connected on Twitter & Facebook