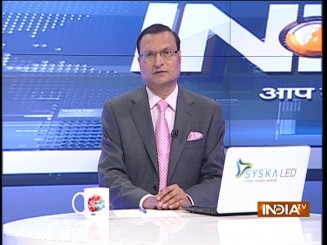 It was a major scam that had been going on for the last 10 years. Jewellery merchant Nirav Modi's companies had been taking undue advantage of the banking system to swindle away Rs 11,400 crores from Punjab National Bank. Senior banking officials were conniving with the swindlers and the can of worms opened up early this year.
Till now, nearly 150 fraudulent Letters Of Undertaking have been traced. Nirav Modi, his wife and brother left India in January. The speculation is that they are staying in Antwerp, Belgium. As CBI and ED carried out raids today at 20 locations across India, Nirav Modi's group sent a letter to PNB stating that it was willing to repay the entire sum. But PNB officials are wary about this offer, and the ball is now in CBI's court.
As reports of the scam snowballed across the country, the Congress came out with a January 23 official photograph of Nirav Modi standing with Indian CEOs and Prime Minister Narendra Modi at the Davos summit. The Congress went to town with the photograph, and charges flew thick and thin between the BJP and the Opposition.
In public life, dignitaries and politicians get their photographs taken with thousands of people, and it is next to impossible for any dignitary to check the credentials of each and every individual. It is not proper to make an issue out of this. Even Congress President Rahul Gandhi had attended a jewellery exhibition of Nirav Modi in a Delhi hotel, and pictures of Rahul with Nirav Modi may surface too. What wlll the Congress do in such a situation?
Secondly, Nirav Modi left India on January 1. At that time, there was no case against his company. Even on January 23, when Prime Minister Narendra Modi met the Indian industrialists, there was no case against his company till then, nor was he an accused. The CBI registered a case on January 31. Therefore, it is not proper to make his picture with the PM a controversial issue.
After the scam came out in the open, the shareholders of PNB will be the biggest losers. Within two days, the PNB stock price fell from Rs 160 to Rs 127 at the stock markets. The investors lost nearly Rs 6,000 crore. But the investigation agencies have speeded up their work in the last two days, and till today, they have seized Rs 6,400 crore worth assets belonging to Nirav Modi. One should hope that the loss would be recouped by the PNB, sooner or later, but it will be difficult to compensate the losses faced by investors.
Overall, the trust reposed by the people in PNB now lies in shambles. Though Nirav Modi has fled India, and the government will be taking action to extradite him, the legal tangle may linger on. Till the time Nirav Modi is not brought back to India, politicking on this issue will continue.
Click Here to Watch Video | Get connected on Twitter & Facebook