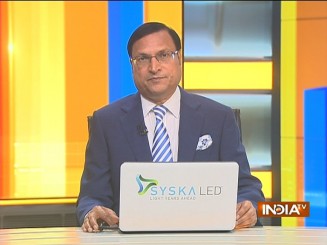 Radical Sikh preacher Amritpal Singh, who is on the run for over 10 days now, fled again in a car on Phagwara-Hoshiarpur road on Wednesday. Punjab Police has spread a dragnet to nab him, with drones also being used to trace him. On Wednesday, Amritpal Singh released a video calling on the 'Sikh sangat' to come together and join the 'Sarbat Khalsa' campaign. He claimed that he has not been arrested and added, "nothing can harm me". The date and location of the video could not be ascertained, but it was found that the video was circulated from three IP addresses from Canada, UK and Dubai. There were reports that Amritpal could surrender at any big gurudwara, including the Golden Temple on Wednesday. There was heavy deployment of police but the fugitive did not appear. Four points are clear. One, Amritpal knows that he will be arrested, sooner or later, and that is why he circulated his video. Two, on the first day when police went to arrest him, Amritpal looked afraid, and he was heard saying 'police aa gayi, police aa gayi'. The latest video was circulated in order to dispel the impression that he is a coward. Three, Amritpal went scot-free in the past because there were some senior people in Punjab establishment who were covertly helping him. He changed his looks, vehicles and shelters, and yet, he got all information about police movements. This would not have been possible without help from insiders. Four, Amritpal and his handlers are worried that there has been no major reaction among the people of Punjab against police action. In his video, Amritpal was trying to incite the people of Punjab to fight in the name of religion and Sikh 'qaum'. I feel, the people of Punjab have seen similar things in the past, and they want to live in peace. Amritpal's malicious intentions will be nipped in the bud. The problem is with those who want to grind their political axe. I would like to praise Punjab Chief Minister Bhagwant Mann who was not afraid in taking action against Amritpal Singh and his followers. The Punjab chief minister carried out coordinated action with help from the Centre. When the Jathedar of Akal Takht tried to extend support to Amritpal Singh's outfit, Bhagwant Mann gave the Jathedar a strong reply. This was important because in the beginning an impression was sought to be created that the ruling Aam Aadmi Party was extending covert support to pro-Khalistan activists. It was also alleged that separatist elements sitting in Canada had connections with AAP. However, Bhagwant Mann dispelled this impression by taking action against Amritpal and his supporters. Experienced leaders like Capt. Amarinder Singh felt that Mann may not be able to govern a sensitive border state like Punjab. But I would like to say emphatically that Bhagwant Mann showed exemplary courage, irrespective of the fact that he had no prior experience in governance. When the time came to take action against anti-nationals, Bhagwant Mann did not back out. I hope Mann will not come under any pressure in the coming months and he will surely teach the enemies of Punjab a lesson.
CRIMINALS TREMBLE IN U.P.
While UP criminal don Atiq Ahmed has been lodged in Sabarmati jail, his brother Ashraf, who was acquitted in Umesh Pal kidnapping case, was taken to Bareilly jail. In an interview, Ashraf said, a senior UP police officer in Prayagraj told him he would be killed in two weeks, when he will be taken out of jail again. He did not name the officer, but was looking afraid. Ashraf was using words like 'mukhyamantri ji' and imploring the UP chief minister Yogi Adityanath to save him. Ashraf said, he has been in jail for the last three years, that Atiq's wife Shaista Parveen wanted to contest Mayor elections, but she was trapped and has gone underground. The interview clearly shows how top criminals in UP now fear the law. It is really sad that people who indulge in murder, extortions, land grabbing, claim that they are not criminals, but legislators. Ashraf's words that 'my brother has been an MP and MLA, and I was also an MLA', are dark spots on our political system. It amounts to abusing the political brotherhood. This is the consequence of mistakes committed in the past by political parties who took help from criminals in their quest for votes and power. Now is the time for all political parties to shun criminals and gangsters.
WILL YEDIYURAPPA LEAD BJP IN KARNATAKA?
When the BJP began preparations last year for the assembly polls in Karnataka, it took two important steps: One, veteran leader B S Yediyurappa was sidelined and Basavaraj Bommai was entrusted with the responsibility of leading the campaign. Two, wearing of 'hijab' by Muslim girls was made an issue and Hindutva agenda was sought to be highlighted. When election dates for Karanataka assembly were announced on Wednesday, BJP appears to have changed its stand on both counts. Bommai continues to be chief minister, but Yeddyurappa has been entrusted with the task of leading BJP to retain power. Yediyurappa has already played his political innings and he wants to establish his son in Karnataka politics. It appears that the BJP leadership has accepted Yeddyurappa's condition. Secondly, Hindutva and 'hijab' are no more burning issues in Karnataka, and reservation policy has taken centre stage. BJP has taken a big gambit by removing reservation for Muslims, and enhancing the reservation quotas for Vokkaliga and Lingayat communities. On the other hand, Congress is facing the same problem it had encountered earlier. Leaders are many and workers are few in the party. The tussle for the post of chief minister has sunk the party in the past too. This time, Congress has decided not to project anybody as chief ministerial candidate.