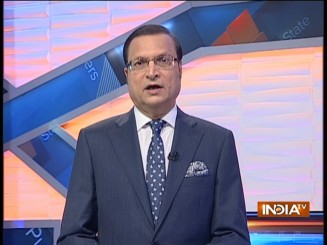 Pakistan Information Minister Fawad Chaudhry has said that his country was planning to provide visa-free access to Silk pilgrims from India to visit Gurdwara Kartarpur Sahib. In an interview to BBC, the minister said that a special corridor will be built from the Indian border to the gurdwara to enable Sikh pilgrims to visit the gurdwara. "They will have to buy a ticket to go back", he added.
It is not yet clear whether this facility will be a permanent one or is only meant for the 550th birth celebrations of Guru Nanak Dev . It was at Kartarpur that the founder of Sikh religion breathed his last and a gurdwara was built in 1559 on the banks of Ravi, hardly three km away from the border.
If Pakistan opens the corridor and provides visa-free access to Indian pilgrims, it will surely be a welcome step. Guru Nanak Dev stayed in Kartarpur for nearly 18 years. This holy gurdwara is visible from the border, and thousands of Sikh pilgrims pay obeisance every day from this side of the border. BSF jawans, who are posted there, regularly clear long grass near the border to enable pilgrims to watch the gurdwara clearly. If visa-free access is allowed it will be a first welcome step towards normalizing bilateral relations by the Imran Khan government.
It was Pakistan army chief Gen. Qamar Javed Bajwa who had promised Punjab minister Navjot Singh Sidhu at Imran Khan's swearing-in ceremony that his country was planning to open the Kartarpur corridor. However, on Thursday, Gen Bajwa, while addressing a Defence Day ceremony warned that his army would "avenge the blood that has been spilled on the border". He was referring the casualties near the Line Of Control.
For the last several days, there had been media reports that Gen Bajwa was in favour of resuming dialogue with India, but his remark about "revenge" gives a totally different impression. The General may have said this in order to boost the morale of his troops, but this remark certainly does not augur well for normalizing relations between both countries.
There have been media reports about the army and the Pakistan Prime Minister Imran Khan having a cosy relationship, and these appear to be true. Imran Khan had said at the same ceremony that Pakistan was not going to fight any other country's war. His reference was to Pakistan providing help to the US in fighting its war in Afghanistan. The Pakistani leader might have made this remark for domestic consumption, but the fact remains that the country is fast sliding into a terrible economic crisis and is in dire need of international financial assistance.
Click Here to Watch Full Video | Get connected on Twitter, Instagram & Facebook