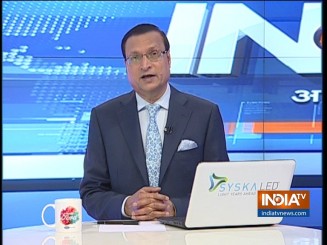 Pakistan Prime Minister Imran Khan's video speech telecast on Tuesday clearly shows that his government is desperate after Pulwama killings, mostly due to international pressure and domestic fiscal crisis.
Imran Khan has been visiting many capitals, seeking foreign aid to tide over the present financial crisis. He managed to get a promise of $22 billion investment from Saudi Crown Prince Mohammed bin Salman, but by then, Pulwama killings had already taken place and there was international pressure from several quarters on Pakistan to take action against terrorists.
According to sources, the Pakistani PM pleaded with the Saudi Crown Prince to speak to Prime Minister Narendra Modi in Delhi to mediate and help in easing tensions on the border. Clearly, with a depleting treasury, Pakistan cannot afford to face a conflict with neighbouring India.
India's stand is crystal clear: There can be no third party in any negotiation on the issue of Kashmir, which is clearly a bilateral issue. After the Pulwama killings, Prime Minister Modi has emphatically said that the time for talks is over. It is now time for action.
It is in this context that Imran Khan gave his video speech exuding false bravado on Tuesday and said, his country "will not think about retaliation, but will retaliate". This was purely for his country's domestic consumption, and the ground reality is that Pakistan is desperately seeking a way out of the present mess.
Imran Khan even offered to probe if India gave "actionable evidence" on his country's role in Pulwama killings. The answer was given on Tuesday evening itself by Finance Minister Arun Jaitely. He said, the evidence (Jaish chief Masood Azhar) is sitting inside Pakistan, and there was no need to give evidence.
Imran Khan, clearly under pressure from his army, said in his video speech that "we know it is easy to start a war. It is in the hands of humans to start a war, however, to end the war isn't in our hands. In which direction this will go, Allah knows better."
I want Imran Khan to look at the pictures and videos of 92,000 Pakistani army soldiers surrendering to Indian army after the 1971 Bangladesh war. I want to tell Imran that our army knows better how to end a war.
In 1971, Pakistan started the war, and the end result was: Pakistan was cut into half. In 1999, Pakistan started the Kargil conflict, and the result was: Pakistani army had to withdraw from all the heights it surreptitiously occupied, after suffering heavy casualties. Till date, since independence, India never waged war against Pakistan, but ended all wars by scoring victories.
India presently faces two challenges, one, China, and two, Pakistan's nuclear power. It is easy to make big statements on television, but entirely different when we face ground realities. And yet, we all have full faith in the capability, valour and strategy of our armed forces. It is the army, which will decide how, when and where to strike. It may be that our army may manage to regain Pak Occupied Kashmir.
I want to issue an appeal to all: Kashmiris are our brothers and sisters. Some Kashmiris may have taken up the gun, but to view every Kashmiri student and trader in different parts of India with suspicion is uncalled for. It is our duty to protect our Kashmiri brothers and sisters in this hour of crisis and tension.
Click Here to  Watch Full Video | Get connected on Twitter, Instagram & Facebook