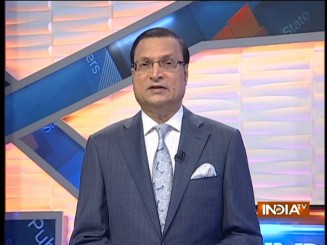 You must have noted that whenever there is heavy downpour in a metropolis, whether Delhi, or Mumbai, or Chennai, or Kolkata, or in a state like Kerala, the entire civic system collapses. You might be wondering why?
Today, I will touch upon the sorry state of affairs in Bihar's capital, Patna. On Saturday, a 10-year-old boy Deepak fell into an open drain, and for the last four days, NDRF and SDRF staff are trying their best to trace the missing boy. The boy has just vanished. The rescue staff is unable to enter the drain, because it has come to light that the drain was never cleaned, even once, in the last 35 years. Moreover, no map of the drain is available with the civic authorities. The drainage pipe is almost five feet in diameter, but it is chock-a-bloc with four feet width of garbage. Over the years, broken liquor bottles seized during prohibition raids and dead animals have been stuffed inside this drain.
This raises serious questions about our entire civic system. The drain has been in existence for 50 years, but in official records, there is no mention of the drain, nor any map available. The NDRF and SDRF rescue staff fail to understand in which direction they should proceed to rescue the boy.
India TV reporter Gonika Arora traced Rajeshwar Prasad, the engineer under whose supervision the drain was built. He has now retired, but says that the drainage system was built by the Public Health Engineering department. Nobody can say authoritatively in which direction the drain falls into the river Ganga that flows near Patna.
If the boy had not fallen into the drain, nobody would have bothered about this 50-year-old drain. Bureaucrats are now busy pinning blame on each other, but we surely need to cleanse up and restore the system. We may have to do basic restructuring and fix accountability. Otherwise the system can collapse any day because of ignorance and negligence.
Meanwhile, our hearts go out to Deepak's father, who is a fruit vendor, and his mother, who still believes that her son is alive. But the system appears to be helpless in tracing her son.
Click Here to Watch Full Video | Get connected on Twitter, Instagram & Facebook