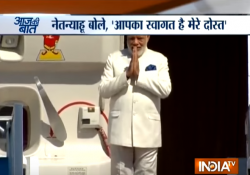 "Today is July 4, exactly 41 years since Operation Entebbe. The day when your Prime Minister, and my friend, Bibi, lost his older brother Yoni, while saving the lives of so many Israeli hostages. Your heroes are an inspiration for the younger generations."
PM Modi made a special reference to Operation Entebbe in his arrival speech in Tel Aviv, Israel. The Raid of Entebbe is considered a landmark rescue operation in the history of counter-terrorism. 41 years back, on 27th June 1976, a flight from Tel Aviv to Paris was hijacked by members of Popular Front for the Liberation of Palestine and German Revolutionary Cells. More than 100 Israeli passengers were captured by the militants in the hijack.
The hijackers diverted the plane to Entebbe in Uganda, where it was welcomed by the Ugandan dictator Idi Amin. The defence forces of Israel with the help of Israeli intelligence agency Mossad, executed a meticulous operation to rescue its citizens.
On 4th July 1976, a team of 100 Israeli commandos landed 5000 kilometres away to launch the raid. Within a time span of 90 minutes, the plane passengers were rescued. The operation witnessed one casualty, that of, Benjamin Netanyahu's elder brother, Yonatan Netanyahu .
Prime Minister Modi mentioned this operation in his speech because India wants cooperation with Israel to fight terrorism. The manner in which the entire Israeli political leadership welcomed our Prime Minister was historic. You will be surprised to know that Israel was formed in 1948, but India had no diplomatic relations with the Jewish state for 44 years. It was in 1992 that the first diplomatic relation was established. No Indian PM visited Israel for the last 70 years. It now seems as if Israel was waiting for the Indian Prime Minister to visit their country all these years.
Click Here for the Video