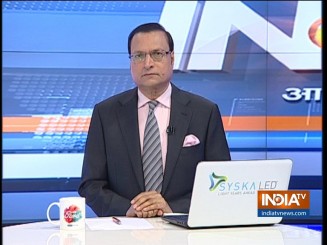 History was rewritten in the sleepy town of Mainpuri in Uttar Pradesh on Friday, when Bahujan Samaj Party supremo Mayawati appeared on the dais with Samajwadi Party founder Mulayam Singh Yadav and asked voters to elect her former sworn enemy to Parliament.
In her speech, Mayawati did refer to the infamous Lucknow guest house incident of 1995, when Mulayam's supporters had mobbed her and she had to shut herself inside a room to protect herself.
This incident led to a bitter political feud that lasted 24 years. Mulayam and Mayawati were considered two extreme poles in UP politics
On Friday, Mayawati said in the presence of Mulayam and his son Akhilesh: "I know people must be wondering why I have come here despite the state guest house incident..Sometimes in the public interest ('jan hit') and our party's movement, difficult decisions have to be taken."
I think the 'namumkin' (impossible) became 'mumkin'(possible) because of the common desire of SP and BSP leaders to oust Prime Minister Narendra Modi from power. Akhilesh Yadav acted as the catalyst in forging SP-BSP alliance and on Friday, he acted as master of ceremonies to deftly handle any leftover sparks that may have been there among the crowds .
It is true Akhilesh put in his best to forge the alliance and on Friday. He repeatedly told his supporters to give "due respect" to the BSP supremo. He also made his father Mulayam speak in the same tone, and that mattered. But the crux of this SP-BSP alliance is completely based on the convergence of Muslim, Dalit and OBC votes.
Akhilesh may be speaking about electing a new Prime Minister at the Centre, but his party is contesting only 37 seats in UP. There is no common agenda or minimum programme that is being reflected in the speeches of the SP and BSP supremos. Their unity is only aimed at ousting Modi from power.
The question is: why Akhilesh joined hands with Mayawati to oust Modi from power? Why Mayawati decided to forget the shameful guest house incident of 1995?
The answer is clear. Mayawait is presently fighting for the very existence of BSP. In the 2014 elections, her party failed to win a single seat in Lok Sabha, and she knows that if the same result is repeated this time, she may have to wind up her party. Both Akhilesh and Mayawati have joined hands because they fear that Prime Minister Modi may again retain power this time.
Click Here to Watch Full Video | Get connected on Twitter, Instagram & Facebook