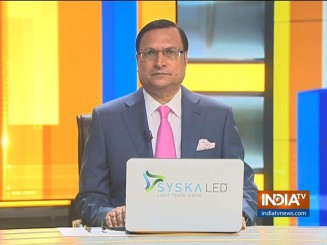 With pro-Khalistan preacher Amritpal Singh still in hiding, Punjab Police has issued a Look Out Circular and a non-bailable warrant against him. It has released seven pictures of him in different looks. Punjab and Haryana High Court lashed out at the state government and asked, 'What were 80,000 police personnel doing when they were roaming about with weapons?' Justice N S Shekhawat's remark is not against Punjab Police but it is about the political will of the AAP government in Punjab. Delhi CM Arvind Kejriwal's remark that 'anybody who raises his eyes against Bharat Mata will not be spared' sounds fine, but questions have been raised by Congress party. When did Amritpal come to Punjab and who made him a big figure? When Amritpal and his followers laid siege to Ajnala police station, injured policemen and got his associate freed last month, why was the Punjab government sleeping? It took one month for Punjab Police to take action against Amritpal. The pro-Khalistan preacher and his followers were not working underground in Punjab for the last seven months. They were openly holding public meetings, speaking about Khalistan, distributing leaflets and posters and inciting Punjabi youths. Why didn't senior AAP leaders listen to the slogans against Bharat Mata at that time? These are questions that need answers. This is not the time for political wrangling. The first priority is to nab the nation's enemy Amritpal Singh. Punjab police and state government must put their full weight for achieving this objective. I spoke to several people in Punjab. Most of them said, the situation in Punjab is normal, because the people of the state are patriots, they love India and they will never allow enemies to rear their head again in Punjab.
CONTROVERSY OVER DELHI BUDGET
The Delhi budget was placed in Assembly by Finance Minister Kailash Gahlot on Wednesday after it was postponed for a day due to political wrangling. Chief Minister Arvind Kejriwal blamed the Lt. Governor and Union Home Ministry for the delay, but BJP blamed Kejriwal for the delay in replying to queries from the Centre. Whether it is Delhi budget, or election of MCD Mayor, or appointment of officials, both Delhi government and the Centre are always at loggerheads. Kejriwal blames the Centre for 'harassing the people of Delhi'. One reason could be that Kejriwal is unwilling to accept Delhi as a Union Territory having an elected legislature. It is not a full-fledged state. This is the core problem. It is not the first time that Delhi government's budget was sent to the Centre for approval through the Lt. Governor. The budget is placed in assembly after the LG signs it. In the past, Arvind Kejriwal sent Delhi budget eight times to the Centre for approval, and every time Narendra Modi's government approved it. There was no controversy. Why was the delay in approval this time? In fact, there is a trust deficit between the Centre and Kejriwal's government. Both do not trust the other. Whenever there is lack of trust, allegations fly thick and thin.
'MIR JAFAR AND JAI CHAND'
Parliament is also facing a trust of deficit between the ruling BJP and the opposition. The logjam continued on Tuesday due to slogan shouting. BJP spokesperson Sambit Patra described Rahul Gandhi as a present-day 'Mir Jafar' of Indian politics for allegedly seeking foreign intervention. Congress leaders, in return, described BJP leaders as 'Jaichand'. Mir Jafar was the commander who betrayed the Nawab of Bengal Siraj ud-Daullah in the Battle of Plassey and helped East India Company to gain foothold in India. In retaliation, Congress spokesperson Pawan Khera described BJP as Jaichand, who helped Muhammad Ghori in the battle against Prithviraj Chauhan. Political parties may gain some advantage in this battle of words, but the common man will benefit only when Parliament resumes work. For now, the chances are bleak.
MEHUL CHOKSI AND INTERPOL RED CORNER LIST
There was political slanging between BJP and the opposition, after it was revealed that Commission for Control of Interpol Files (CCF) has removed fugitive Indian businessman Mehul Choksi's name from the Red Notice list in November, 2022. Choksi is wanted in the Rs 13,000 crore Punjab National Bank fraud and is presently hiding in Antigua and Barbuda after fleeing from India in 2018. A CBI statement said, "It was clarified that the desperately wanted criminal Mehul Choksi has been making all possible attempts to derail ongoing extradition proceedings in Antigua and Barbuda, to evade the process of law in India. However, based on mere imaginary conjectures and unproven surmises, a five-member CCF chamber has taken a decision on the deletion of Red Notice, communicated in November, 2022…. CBI has taken up with CCF the serious shortcomings, procedural violations, overreach of mandate and mistakes committed by CCF in the manner of reaching this unfounded and perfunctory decision." CBI statement is in itself contradictory. On one hand, it says that it is in talks with the government of Antigua and Barbuda for the extradition of Choksi, and on the other hand, it has asked Interpol body to put Choksi's name again in the Red Corner list. CBI must admit its mistake and take immediate remedial action. When investigative agencies and their officers make mistakes, it is the government which has to bear the brunt.