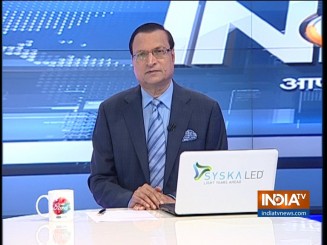 On Wednesday, India successfully tested an anti-satellite (ASAT) missile to target a live satellite on low earth orbit (300 km), thus joining the exclusive elite club of three nations, US, Russia and China, which have this capability. The three-stage interceptor missile was fired from APJ Abdul Kalam Island off Odisha coast, and soon after Prime Minister Narendra Modi, in a televised address, announced the success of 'Mission Shakti'.
The nation salutes its scientists in DRDO (Defence Research & Development Organisation) for giving India this capability. This is surely a defining moment in our historyl. However, this test in space set off a ground war in the Indian political arena with the opposition questioning its timing.
Trinamool Congress supremo Mamata Banerjee went to the extent of complaining to the Election Commission alleging violation of Election Code of Conduct. Congress president Rahul Gandhi accused Modi of indulging in, what he called, "political theatre".
Finance Minister Arun Jaitley promptly hit back at the Congress president making a caustic comment with the proverb "when a finger points to the moon, the idiot points to the finger". Jaitley said the opposition was only making "clerical objections".
Opposition leaders have praised our scientists for this achievement, but they are worried because Prime Minister Modi has changed the electoral narrative by announcing this historic anti-satellite missile test.
The most worried politician seems to be Rahul Gandhi, who had been going to town with his ambitious Rs 72,000 a year minimum income guarantee promise for the last two days. The Congress president probably thought that his NYAY (minimum income) scheme would overshadow the narrative worked out by the BJP after the IAF air strike and Kisan Samman Nidhi plan, implemented by the Modi government.
While addressing his party workers on Wednesday, Rahul Gandhi said that the Prime Minister "was looking worried" in his televised address because of the minimum guarantee scheme.
The Congress president is free to make his own assumption but the fact remains that it was Prime Minister Modi, who had the political will to approve this missile test that has made India a world space power. The lesser we politicize this issue, the better.
Click Here to Watch Full Video | Get connected on Twitter, Instagram & Facebook