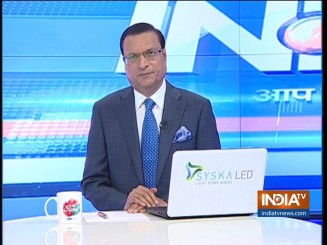 Prime Minister Narendra Modi, in an interview to Doordarshan on Monday exuded full confidence and said that there is "an unprecedented wave of support" for BJP, the like of which, he says, he has not seen even in 2014.
Modi mentioned Uttar Pradesh in particular, where, he said, the opposition parties are so much afraid of an electoral rout that the Congress President Rahul Gandhi had to opt for contesting Wayanad seat in faraway Kerala, as he was unsure of his victory from their family borough Amethi.
The Prime Minister was highly optimistic about results from West Bengal, where, he claimed, the people of the state have made up their mind to support BJP.
Modi also spoke on Rafale aircraft deal, on nationalism, on dynastic politics and on charges of politicization of army. He said, he can understand people opposing him personally, but it is unacceptable if while opposing him they start working against national interests and speak out against the country.
The PM said, he could understand the lies being dished out on the Rafale deal, but was at a loss to find why a 134-year-old party like the Congress had to resort to this.
Modi said martyrdom of soldiers and nationalism are as much an election issue like the suicides of farmers.
He said, "the nation is suffering because of terrorism for the last 40 years, and I do not see why we cannot raise this issue in the elections. If we don't tell the people what our views are on this issue, then what is the logic behind this?.."
"Can any country move ahead without a sense of nationalism? In a country where thousands of soldiers have been martyred, shouldn't that be an election issue? If farmers die, it is an election issue, and if soldiers die, it should not be an election issue? How can it be so?"
On Rafale, Modi said, the people now know the truth and the lies have been exposed. "He (Rahul) is raising the Rafale issue, in order to "wash off the sins" of his father (in the Bofors issue). "
The PM also pointed out that by raising the issue of dynastic politics, he was trying to convey to the people of India that dynastic politics was dangerous for Indian democracy.
Modi, as I have already said earlier, has already felt the voters' pulse by consistently raising the issue of nationalism in his rallies. He hopes that his party will repeat , if not better the 2014 LS poll result. We shall have to wait for the verdict on May 23.
#ResultsWithRajatSharma| Get connected on Twitter, Instagram & Facebook