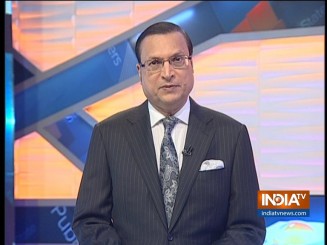 The Delhi Assembly on Thursday was witness to a sorry spectacle when Sikh MLA Manjinder Singh Sirsa was forcibly marshalled out from the House and his turban was forcibly removed. Sirsa alleged that Aam Aadmi Party MLAs egged on the marshals to manhandle him. Sirsa had given notice for removal of the Assembly Speaker, which the latter had rejected.
In his notice, Sirsa alleged that the assembly had on December 21 passed a resolution calling for withdrawal of Bharat Ratna from former PM Late Rajiv Gandhi for giving support to the 1984 anti-Sikh riots. Sirsa alleged that the sentence was later removed by AAP from the resolution. The Sikh MLA, who belongs to Akal Dal, but has won the Rajouri Garden seat on BJP symbol, yesterday demanded that the names of Gandhi family members be removed from all institutions, schemes and roads, and the House should adopt a resolution stating that "the late Rajiv Gandhi was an accused of 1984 carnage".
You might wonder why Chief Minister Arvind Kejriwal and his party men did this. Till last year, the AAP leaders had been demanding removal of Rajiv Gandhi's name from institutions, schemes and roads, but now time has changed. Kejriwal wants to ally with Congress in Delhi and Punjab, since he and his associates have realized that they cannot win elections without Congress support.
Kejriwal and his associates know fully well that if they denounce Rajiv Gandhi, there will be no chance of forging an alliance with the Congress. Morality and principles have no place in such matters. It is a clear case of political opportunism propelled by the lust for power.
In a related development, senior Supreme Court advocate and AAP's former leader of opposition in Punjab assembly H. S. Phoolka resigned from the party on Thursday opposing Kejriwal's move for a tie-up with the Congress. Phoolka was the person who doggedly fought in courts for 34 years to give justice to the victims of 1984 carnage. The senior advocate had earlier believed that Kejriwal had sympathy for the 1984 riot victims, but he has now realized that the AAP supremo is guided only by the lust for power. He has now decided to part ways.
You may recall how Anna Hazare, Shanti Bhushan, Prashant Bhushan, Yogendra Yadav and Kumar Vishwas left AAP one by one because of Kejriwal's arbitrary style of functioning. H.S.Phoolka is the latest addition to the list. It will not be difficult any more for Kejriwal to join hands with Congress at the hustings.
Click Here to Watch Full Video | Get connected on Twitter, Instagram & Facebook