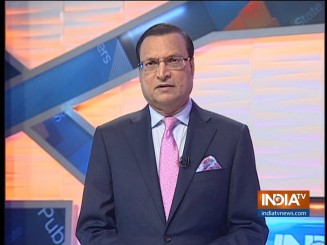 Long queues of farmers outside urea distribution centres since early dawn have become a common feature in large parts of Madhya Pradesh and Rajasthan. India TV on Monday night in Aaj Ki Baat, did a reality check through its reporters in Raisen, Rajgarh and Ashok Nagar, and found that while farmers were lining up for urea, profiteers and black marketers are making a quick buck by selling urea in black.
The result: farmers who are returning disappointed are staging protests and blocking roads. Farmers say, they have already sown their 'rabi' crops and if urea was not made available in time, their crops would just wither away this season. There was a demand for 3.70 lakh metric tonnes of urea in MP in December, but only 2.25 lakh tonnes have been supplied so far. With a shortage of 1.45 lakh tonnes of urea, political parties, fresh from recent electoral battles, are engaged in accusations and counter-accusations.
The Congress, fresh in power after a 15-year break, is alleging that the BJP government at the Centre is deliberately creating shortage to antagonize farmers. BJP leaders in the state allege that there is rampant black marketing of urea in connivance with local Congress leaders.
Farmers in Raisen, after making futile rounds of farmers' cooperatives and marketing federation centres, are alleging that urea stocks have vanished from godowns, but are openly being sold in the black. At several places, farmers gheraoed offices of Markfed, engaged in distribution of urea. Local officials had to open godowns and show to agitating farmers that there was not a single stock of urea left.
In Rajgarh, farmers returning empty-handed after queuing since 5 am in biting cold, blocked highway traffic in protest. In Ashok Nagar, angry farmers gheraoed the district collectorate and blocked traffic. Local officials have rationed the issue of urea, two bags each for a farmer, in order to stem hoarding.
Former chief minister Shivraj Singh Chouhan has alleged that there was no shortage of urea. He claimed that supplies of urea this year have been more compared with last year, and that profiteers were taking advantage of shortcomings in the system. He also alleged that the shortage was man made.
The crisis could have been avoided through timely forward planning, which was non-existent. The state administration was busy in conduct of assembly elections for the whole month, and the Code of Conduct was in place. The problem with our politicians is: they may excel in levelling allegations, but they spend less time on providing solutions.