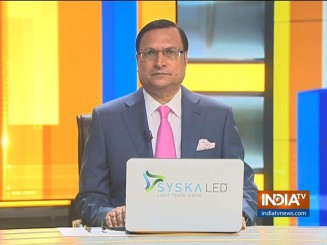 Congress leader Rahul Gandhi suffered a setback on Friday when Gujarat High Court refused to stay his conviction in a defamation case filed against him for casting slur on the surname Modi at a rally four years ago in Karnataka. Justice H M Prachchak said, "as many as 10 criminal cases are pending (against him).. The present conviction is a serious matter affecting a large segment of society and needs to be viewed by this court with the gravity and significance it demands." The judge also said, Rahul Gandhi belongs to the oldest political party in India….being a public personality, he is vested with the duty to exercise the vast power at his disposal with caution.." While BJP hailed the high court ruling and described Rahul as a "chronic offender", Congress described the ruling as "disappointing but not unexpected". Rahul Gandhi will now file appeal before the Supreme Court. It is correct that Rahul Gandhi has been given maximum punishment in this defamation case which is unprecedented, but one must not forget that in most of the defamation cases, the accused withdraw their offending remarks and tender apology, and the case is put at rest. Delhi chief minister Arvind Kejriwal tendered apology in three such defamation cases and was not punished. Rahul Gandhi himself tendered apology before the Supreme Court in writing for making allegations in Rafale case. Everybody makes mistakes. In this case, the sessions court in Surat had given Rahul the option to withdraw his remarks and apologize, or face trial. Rahul remained adamant and said he was willing to go to jail but will not withdraw his remark that "people with the surname Modi are all thieves". When the sessions court sentenced him to two years' imprisonment after convicting him, Rahul said, 'I am not Savarkar who will apologize, I am a Gandhi, and Gandhis never apologize'. Because of Rahul's obdurate stand, the matter has now lingered on. Some senior Congress leaders advised him saying that by withdrawing his remark and tendering apology, the matter can end, but Rahul dug in his heels. As a result, the entire Congress party is now bearing the burden of his mistake.
MODI IN CHHATTISGARH
Prime Minister Narendra Modi visited Chhattisgarh and eastern UP on Friday. At a rally in Raipur, Modi lashed out at the Congress alleging that "corruption is its biggest ideology". Modi said, "if Congress can guarantee corruption, I can give the guarantee that I will crack down on corruption." Modi alleged that "for the Congress, Chhattisgarh has become an ATM". Modi reminded voters that Congress had promised to implement prohibition in Chhattisgarh, but instead it strengthened the liquor syndicate active here. The PM alleged that Congress leaders made money from liquor scam. While Modi was busy addressing his rally, Congress chief minister Bhupesh Baghel was busy in a rally to support Rahul Gandhi Later, Baghel denied allegations and said, Modi was telling lies and it was his habit to mislead people. Deputy CM T S Singhdeo said, nobody has stopped Modi from taking action against Congress leaders if they have indulged in corruption. Reactions of Congress leaders make it quite clear that they do not have any logical reply for Modi's allegations. Modi never speaks hollow, he does his home work and shows the mirror to his rivals. While CM Baghel claimed that the foundation stone for projects inaugurated on Friday, were laid 17 years ago during the then PM Dr Manmohan Singh's rule, and Modi should not take credit. BJP leaders said, if the projects were approved and initiated during Congress rule, what stopped them from completing those projects. They say, if Modi has completed those projects, he deserves to take credit. As far as corruption charges are concerned, liquor scam and coal scam have been in the news in Chhattisgarh. Several accused are in jail and Modi mentioned those scams. Congress leaders, while reacting, did not say anything about those scams. From Modi's tone and tenor in Raipur rally, one thing is clear: BJP is going to make corruption a big issue in the forthcoming assembly elections.
VIOLENCE MARS BENGAL PANCHAYAT POLLS
Twelve persons were killed in rampant violence across West Bengal on Saturday during polling for panchayat elections. Among those killed were five supporters of Trinamool Congress, and one each of BJP, Congress , Left and an independent candidate. Nearly 5.76 crore people were supposed to decide the fate of nearly 2.06 lakh candidates for 22 zilla parishads, 9,730 panchayat samitis and 63,229 gram panchayat seats, but violence marred polling in many places. Considered as a litmus test for next year's Lok Sabha elections, the panchayat polls saw a fierce tussle between Trinamool Congress, BJP and Indian Secular Front consisting of Congress, Left and a Muslim outfit. Reports of looting of ballots came from South Dinajpur, while a ballot box was set on fire in Dinhata, Cooch Behar, and another ballot box was thrown into a pond in Deganga, North 24-Parganas. BJP leader Suvendu Adhikari described the polling as "not election, but death". He alleged that central forces were not deployed in most of the polling stations. A Congress leader has appealed to the Chief Justice of Calcutta High Court to hold an urgent hearing and declare the entire panchayat election as null and void. It is a matter of concern because so far 31 people have been killed during the entire panchayat election process. Trinamool Congress leaders claim that violence during elections is not a big issue, but I think the West Bengal Governor C V Ananda Bose is right when he says that ballot, not bullet, must win. People expected that deployment of central paramilitary forces could stall violence, but on Saturday, most of the voters alleged that central forces were not deployed in most of the places, giving a free hand to hoodlums.