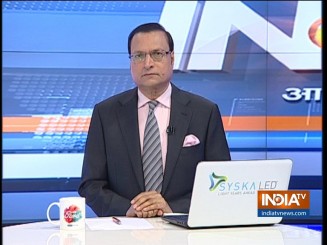 I was in Mumbai on Wednesday and Maharashtra Chief Minister Devendra Fadnavis was the guest in our show 'Aap Ki Adalat'. Fadnavis is young and dynamic. He has definite views about current affairs and none of his replies were evasive. He clearly said that the BJP-Shiv Sena alliance will "sweep" all Lok Sabha seats from his state and will also "sweep" the assembly polls due this October.
On J&K leader Mehbooba Mufti's threat that if Article 35A was removed, Kashmir will sever its links with India, Fadnavis said, "we have been hearing similar threats for the last 50 years. Kashmir shall always remain part of India, and like Sardar Patel who merged 542 princely states into the Indian Union, Prime Minister Narendra Modi will definitely put an end to the Kashmir question."
Fadnavis also spoke on saffron terror and said that "a Hindu can never become a terrorist, because the very essence of Hindutva is tolerance. Hindustan has given asylum to people of various religions who fled their countries because of persecution."
The Maharashtra Chief Minister, who will be completing five years of rule this October, spoke extensively about his ally Shiv Sena, and made the audience guffaw when he made sarcastic remarks about NCP chief Sharad Pawar. He also spoke about MNS chief Raj Thackeray.
Fadnavis also pointed towards a new trend among younger generation hailing from traditionally political families of Congress and NCP in Maharashtra. He said, the younger generation from these political families is detaching from tradition and getting more and more attracted towards Prime Minister Narendra Modi. You can watch the Aap Ki Adalat show with Devendra Fadnavis on India TV on Saturday night at 10 pm and on Sunday at 10 am and 10 pm.
Click Here to Watch Full Video | Get connected on Twitter, Instagram & Facebook