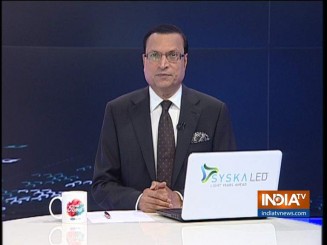 BJP leadership has decided to field Sadhvi Pragya Thakur as its candidate to take on senior Congress leader Digvijay Singh in the prestigious Bhopal parliamentary constituency. The saffron-robed sannyasin was earlier made accused in Sunil Joshi murder case and Ajmer blast, but was later acquitted. She is currently an accused in Malegaon blast case, which is presently in trial stage.
Sadhvi Pragya Thakur joined BJP on Wednesday and within hours it was announced that she would be the party candidate from Bhopal. She may be a greenhorn in politics, but if she manages to defeat former Chief Minister Digvijay Singh in the state capital, the latter will have much to answer for.
Sadhvi Pragya was and is still a saffron-robed sannyasin, but her name cropped up in national political discourse, when Digvijay Singh and several other Congress leaders coined the term "saffron terror" during UPA rule. Sadhvi Pragya was incarcerated in jail for ten years and she has last year alleged in my show "Aap Ki Adalat" how she was brutally tortured in custody, both physically and mentally.
It was Digivijay Singh who had blamed the BJP and RSS for encouraging "saffron terror" during UPA regime, but the courts acquitted Sadhvi Pragya in cases where she was charged under the dreaded MCOCA Act.
On Wednesday, BJP President Amit Shah told an election rally in Odisha that "after the Samjhauta Express blast, Congress had alleged that Hindu terrorists were behind it and sadhus were put in jail. Therefore the BJP has decided to field Sadhvi Pragya against Digvijay Singh, the person who coined the term 'saffron terror'".
It is an irony of fate that Digvijay Singh will now have to face the lady, whom he had blamed as a terrorist and anti-national, while for the BJP, the Sadhvi has become a symbol of nationalism and patriotism.
I may mention here that Swami Pramod Krishnan is the man who had advised Digvijay Singh to coin the term "saffron terror". Pramod Krishnan is not a sadhu himself, but he claims to have control over several pro-Congress sadhus. He has now been fielded as Congress candidate against Home Minister Rajnath Singh in Lucknow.
Click Here to Watch Full Video | Get connected on Twitter, Instagram & Facebook