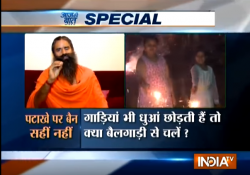 Close on the heels of Supreme Court imposing a ban on the sale of firecrackers in National Capital Region, ten days before Diwali, the Bombay High Court on Wednesday refused to grant permission to the Maharashtra government to allow Bullock cart races anywhere in the state during Diwali on grounds of cruelty to animals.
Earlier this year, there were massive protests in Tamil Nadu against the Supreme Court ban on 'Jallikattu', a traditional bull support during Pongal, following which the state assembly had to pass a bi-partisan bill to allow the sport.
The judiciary similarly imposed restrictions on Dahi Handi pyramids in Maharashtra during Janmashtami, wherein the height was fixed at 20 feet and the age of participants was fixed at not less than 14 years.
Last month, the West Bengal government led by Mamata Banerjee imposed restrictions on immersions of Durga idols on Vijayadashami, as the date clashed with Muharram. The Calcutta High Court had to intervene and remove the restrictions.
If bullock cart race amounts to cruelty towards animals, then slaughtering of goats, sheep and other animals during Eid ul Azha should also be declared cruel. Naturally, questions are being raised on the ground of religion.
Questions are being raised as to whether the Hindu festivals are being targeted only because Hindus, as a community, are tolerant and do not come out on the streets to oppose such interference in their traditions and festivals. This matter needs to be considered.
It is nobody's case that there should be no curbs on pollution or animal cruelty. But traditions, culture and festivals have their own significance, which cannot be overlooked.
On the firecracker ban issue, the Supreme Court must review its order. The order raises two important questions: one, that of timing, i.e. Diwali eve. The ban was lifted a month ago and nearly 500 licences were issued following which shopkeepers invested nearly Rs 500 crores, and then the sale was suddenly banned 10 days before Diwali. If firecrackers were to be banned, then why were licences issued?
Two, bursting of firecrackers during Diwali night is more than a thousand year old tradition and it cannot be stopped at the stroke of a pen. There is no ban on bursting firecrackers, and so, the aim of controlling pollution will not be achieved. One cannot send policemen to each household to question from where the firecrackers were procured. The SC order surely needs to be reviewed.
Click Here for the Video