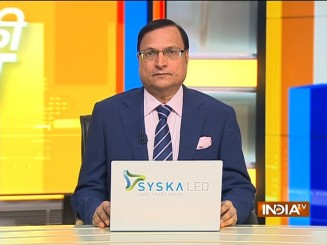 India's top wrestlers called off their protest post Friday midnight, after the Sports Ministry agreed to set up an Oversight Committee to look into allegations of sexual harassment levelled by female wrestlers.
Sports Minister Anurag Thakur announced after a marathon meeting that "it has been decided that an oversight committee will be formed. The committee will complete its investigation within four weeks. It will thoroughly probe all the allegations, be it financial or sexual harassment, that have been levelled against WFI and its chief."
A statement issued by the Sports Ministry said, "the committee will enquire into allegations made by prominent sportspersons of sexual misconduct, financial irregularities and administrative lapses; undertake day-to-day administration of the WFI, revisit the issues raised by players. The Oversight Committee will complete the enquiry in four weeks and till them, WFI President (Brij Bhushan Sharan Singh) will step aside from the day-to-day functioning and he has assured to cooperate in the investigation."
The dramatic three-day-long dharna by wrestlers were called off late on Friday night after the government announced that the controversial WFI chief has agreed to step aside for four weeks for the investigation to be completed.
Though the standoff is over, apprehensions of both male and female wrestlers need to be looked into, because the WFI chief Brij Bhushan Sharan Singh is a powerful person in sports, who wields a lot of clout. He had refused to resign despite tremendous pressures from all sections of society.
Sources say, the presence of wrestler Yogeshwar Dutt, said to be from Singh's camp, in the Oversight Committee could queer the pitch for the protesting wrestlers, who have levelled serious allegations against the WFI chief.
The protesting wrestlers fear that they may be harassed in future for their role in exposing the shenanigans in the WFI top leadership. It was because of this that the protesting wrestlers had demanded not only Singh's resignation, but all the dissolution of the entire governing council of the WFI.
The need of the hour is to ensure that India's top wrestlers, who brought fame to the country in world competitions, must continue to get respect from all sections and they must be protected from undue harassment from bigwigs in future.
The sexual harassment allegations are such, which after thorough and impartial investigation, must be handed over to the police for taking stringent action under Indian Penal Code.
All apprehensions of the wrestlers, both male and female, must be allayed, so that a professional atmosphere returns to the world of Indian wrestling, and the wrestlers can win more laurels for the country.
One must understand the powerful clout of the WFI chief Brij Bhushan Sharan Singh. He has been saying that he has not become president of the federation because of anybody's mercy, and if he starts exposing others, it could cause a 'tsunami'.
Brij Bhushan Sharan Singh first won his Lok Sabha election in 1991 on BJP ticket. In 1996, when he was in jail, his wife won the election. He was again elected from Gonda in 199. He won from Balrampur on BJP ticket in 2004. In 2009, he joined Samajwadi Party and became MP from Kaiserganj. He was again elected on BJP ticket in 2014 and 2019. His son Prateek Bhushan is a BJP MLA from Gonda, and has won election twice.
The father-son duo wield tremendous clout in their area, and he has vice-like grip on the Wrestling Federation of India. Brij Bhushan publicly says, 'I am a wrestler, that's why I am the don'. Dozens of cases were filed against him during the last 35 years. The charges ranged from motorbike theft to illicit liquor smuggling, murder, attempt to murder, kidnapping, and charges under TADA.
His terror is such that in most of the cases there are neither any witnesses nor any concrete evidence, and he gets himself easily acquitted from courts. He was arrested during the Nineties for helping criminals belonging to underworld don Dawood Ibrahim's gang.
He stayed in jail for a long time under TADA (Terrorist and Disruptive Activities Prevention Act). At present, only four cases are pending against him. His image of a 'bahubali' (gangster) is such that he once said in an interview on camera how he put his gun to the shoulder of a person, and shot him dead. He literally admitted on camera that he killed somebody.
In districts like Bahraich, Gonda, Balrampur, Ayodhya and Shravasti, his word is law. Locals tremble in fear after hearing his name. Singh has been the president of Wrestling Federation of India since the last eleven years.
This is the reason why Singh consistenly says, 'Why should I resign? I am not here at anybody's mercy." Brij Bhushan Sharan Singh may be a wrestler, but he also loves flying in choppers, riding horses, and moving around with a group of armed people.
Singh holds five arms licence in his and his wife's name. He owns a pistol, a rifle and a repeater rifle, while his wife owns a licensed rifle and a repeater rifle. His family owns 56 educational institutes in UP. These include an intermediate and a degree college, apart from several technical education institutes.
Singh says, mere allegations cannot be the basis for his resignation. He needs evidences and claims that the wrestlers could have gone to police and file FIRs by producing evidences.
There can be no doubt that the fight between wrestlers and the Federation chief can cause harm to Indian wrestling in the coming years. Technically, Wrestling Federation of India is an independent sports body and the government cannot interfere in its functions. Singh is taking advantage by using this proviso as his weapon.
Singh knows that female wrestlers will fear to come forward with evidences about sexual harassment allegations, and it would be difficult for them to prove their charges in court. Singh also knows that he can win the game by making it a Haryana versus the rest issue. Most of the protesting wrestlers are from Haryana.
Singh also knows that most of the wrestlers who were sitting on dharna were now senior players, and their careers are at their peak. He is therefore banking on the support of junior wrestlers, who will not dare to challenge him by supporting their seniors.
Singh is now biding his time, so that after the Oversight Committee's work is over, he can call a general body meeting of the WFI and put the entire matter in limbo.
Politically, Singh wields clout in at least five parliamentary constituencies of UP, and no political party would like to confront him with LS elections a year away. In Hindi, there is this proverb "Saanp bhi mar jaaye, lathi bhi na tootey" (literally meaning, the snake must die, but the stick must not break, figuratively meaning, Get your way out without causing any harm) .The BJP leadership seems to be following this line, but Singh is a tough nut to crack. Time will tell.