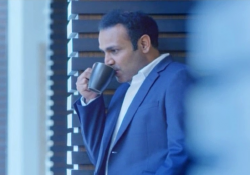 New Delhi, Sept 15: Former India opener Virender Sehwag has revealed that he was never interested in coaching the Indian cricket team and he would not have applied for the job had he known Ravi Shastri would also file his application.
The 38-year-old player – one of India's greatest game changers – was touted as one of the top contestants for the Indian Cricket Team coach's post after the resignation of Anil Kumble, who stepped down citing differences with captain Virat Kohli.
However, Sehwag missed out to Ravi Shastri, who was chosen after much drama and days of speculation post a turbulent phase which saw the rift between Kohli and Kumble come out in the open.
Shastri, however, had initially not applied for the post, but did it only after the BCCI extended the deadline to accept applications.
Sehwag, who has joined India TV as a cricket expert on its hugely popular show "Cricket Ki Baat", said he was not interested in the job and was convinced only after the BCCI top brass requested him to apply.
"I never thought of coaching the Indian cricket team. I was given the offer… BCCI secretary Amitabh Chaudhury and MV Sridhar came to me and requested me to think on the offer. I took my time and then applied for the position," Sehwag told India TV. The show will be telecast today at 7 pm.
Sehwag, who doesn't have any prior coaching experience apart from mentoring IPL franchise Kings XI Punjab, said he also had a word with Kohli before sending his application and was asked by the captain to go for it.
"I also had a word with Virat Kohli, he asked me to go for it. It was only then that I applied. If you ask for my opinion, I would say that I was never interested," he said.
Sehwag, one of India's biggest match-winners and a part of the 2011 World Cup winning team, said he thought of helping the BCCI when they came to meet him. He also said that he will never ever apply for the coach's job in future.
"I thought since they are requesting me, I should help them. I never thought of applying on my own nor I will ever apply in future."
When asked why he was not chosen for the job, Sehwag gave a tongue-in-cheek reply: "See, I didn't have any setting."
Sehwag, who played 104 Tests and 251 ODIs for India scoring 8586 and 8273 runs respectively, said had he known that Shastri would apply, there would not have been any chance of him applying for the post.
"When I was in England during the Champions Trophy, I had asked Ravi Shastri that why he hasn't applied for the post? Shastri then told me that he will not repeat the mistake which he had already made once.
"If Ravi Shastri had applied earlier, then I don't think there would have been any chance of me applying for the post. I would have never applied," he said.