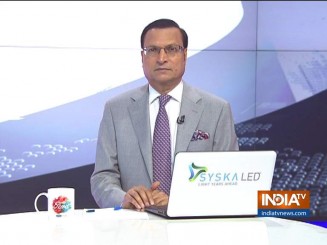 Prime Minister Narendra Modi has decided to invite leaders of BIMSTEC countries, like Bangladesh, Nepal, Bhutan, Myanmar, Thailand and Sri Lanka, and also leaders of Kyrgyzstan and Mauritius to attend his swearing-in ceremony on Thursday at Rashtrapati Bhavan.
This is in line with Modi government's focus on Neighbourhood First policy. Pakistan Prime Minister Imran Khan has not been invited. In 2014, Modi had invited leaders of all SAARC countries, and the then Pakistan PM Nawaz Sharif had attended his swearing-in ceremony.
Modi has also lined up foreign visits, first to Maldives, and then to Bishkek to attend the Shanghai Cooperation Organization meet next month. This will be followed by his visit to Osaka, Japan to attend the G20 summit in the last week of June.
Modi had finalized his foreign visit plans even when he was busy during the election campaign in April and May. This shows the level of confidence Modi had about his impending landslide victory, even before the results were out.
Foreign heads of state were also confident about Modi's victory in the general elections in India. US President Donald Trump exuded confidence when he spoke to Modi and then tweeted: "Just spoke to Prime Minister Narendra Modi where I congratulated him on his big political victory. He is a great man and leader for the people of India – they are lucky to have him!" This reaction sums up the level of personal relationship between these two world leaders.
Modi had been saying at his election rallies that a strong government at the Centre gives a big boost to India's standing in the comity of nations. The world then eyes India with respect, and it gives the Indian Prime Minister the power to deal with world leaders from a position of strength.
You may remember Modi had told me in his interview that when the prime minister of India gets the support of 130 crore Indians, he communicates with world leaders effectively. 'We can discuss issues with them by looking them straight in the eye, and not by keeping our eyes lowered or keeping them upwards." To sum up, this landslide win for Modi augurs well for the people and government of India.
Click Here to Watch Full Video| Get connected on Twitter, Instagram & Facebook