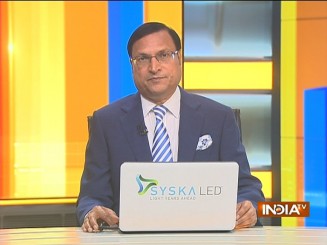 Prime Minister Narendra Modi became the first Indian leader to address the joint session of US Congress twice on Thursday. In his historic address, Modi did not name China, Russia or Pakistan, but put forth India's views on Ukraine war, Taiwan and terrorism succinctly, drawing applause from American lawmakers. There were 15 standing ovations and 79 applauses during the PM's speech. Without naming China, Modi said, "dark clouds of coercion and confrontation are casting their shadow in Indo-Pacific." He called for making Indo-Pacific " a region where all nations, small and large, are free and fearless in their choices, where progress is not suffocated by an impossible burden of debt, where connectivity is not leveraged for strategic purposes, where all nations are lifted by the high tide of shared prosperity". Similarly, on Ukraine war, Modi, without naming Putin, said, "I have said directly and publicly, this is not an era of war, but it is one of dialogue and diplomacy and we all must do what we can to stop bloodshed and human suffering." In an oblique attack on Pakistan, Modi said, "Terrorism is an enemy of humanity and there can be 'no is or buts' in dealing with the scourge." In the India-US joint statement released after Modi-Biden talks, both the leaders called for "concerted action against all UN-listed terrorist groups including al-Qaeda, ISIS/Daesh, Lashkar-e-Tayyiba, Jaish-e-Mohammad and Hizb-ul-Mujahideen." At the joint press conference with Biden, Modi, replying to a question about rights of minorities in India, minced no words, and said, "India is a democracy, and as President Biden said, democracy is in the DNA of both India and America. Democracy is in our spirit. Democracy flows in our veins. We live democracy…We have proved that democracy can deliver, and when I say deliver, it means there is no place for discrimination on grounds of caste, creed, gender, religion or geographical location". The most significant remark about Modi's US visit came on Twitter from none other than US Vice President Kamala Harris. She said, "US-India partnership is stronger than ever. ..The partnership is one of the most important of the 21st century, and this visit will take our partnership to the next level from space to defense, to emerging technology and supply chains." How did Narendra Modi manage to charm his hosts in Washington? From the visuals that we saw throughout Modi's state visit, every minutest detail was pre-planned. At dinner, the manner in which President Joe Biden and the First Lady Jill Biden welcomed Modi, was really charming. The Biden family made Modi's White House visit as if he was visiting a friend's home. Jill Biden brought in Chef Nina Curtis, a specialist in plant-based cuisine, who showcased the best in American cuisine, seasoned with Indian elements and flavors. It was the first time in recent history that the White hosted a state dinner that was entirely plant-based: no meat, no dairy and no eggs, keeping in mind that Modi is a strict vegetarian. Since Modi is a teetotaller who normally raises a toast with water, Patel Red Wine from California was served to guests. Each minutest detail was taken care of in the White House. Modi, on his part, brought gifts with a personal touch for the First family. He gifted a special sandalwood box from Mysuru crafted in Jaipur containing a silver idol of Lord Ganesh, an oil lamp, a copper plate and 10 silver boxes that contained symbols – Das Danam or the 10 donations, that included salt, ghee, silver coin, gold coin, jaggery, rice, sesame seeds, tusser cloth, handcrafted silver coconut and a sandalwood piece. This is Modi's style of putting his personal touch. He has the knack of striking personal relationship. Modi is the world's only leader who struck family friendship with three US Presidents – Barack Obama, Donald Trump and Joe Biden. I remember, in my 'Salaam India' show in 2019, I had asked Modi, how he made friendship with the powerful presidents of America. He told me, as a common Indian tourist 30 years ago, he had visited the White House and stood outside to watch the US President's residence. Modi repeated the same in his speech at the White House on Thursday. Modi also told me how President Obama took personal care, which he never expected, when he first entered the White House as Prime Minister of India. He continued to maintain friendly relations with the Obama family. Modi also told me, when he visited the White House again, he spent nine hours with Donald Trump in the official residence. Trump took him on a trip around the White House, showed him the room where Abraham Lincoln stayed, and without going through a single piece of paper, spoke about what happened in the past there, the agreements that were signed. Trump showed Modi his personal rooms and the two struck a family relationship. I remember, when Trump came to India, Modi took him to the Ahmedabad stadium packed with nearly one lakh people, an event which Trump still remembers. In later days, Trump used to mention his Ahmedabad event frequently to others. Striking personal friendship with world leaders helps a country in matters of state too. The warmth in relations is reflected in official and formal talks. It had its effect on the officials talks that Modi and Biden had on Thursday.
OPPOSITION MEETING : LALU IS THE STRATEGIST
The first meeting to forge a common opposition front against Narendra Modi in 2024 general elections took place in Patna on Friday with top leaders of most of the anti-Modi parties attending. Hosted by Bihar chief minister Nitish Kumar in his official residence, the meeting was attended by Mallikarjun Kharge, Rahul Gandhi, Mamata Banerjee, Lalu Prasad Yadav, his son Tejashwi, Arvind Kejriwal, M K Stalin, Sharad Pawar, Uddhav Thackeray, Bhagwant Mann, Hemant Soren, Akhilesh Yadav, Omar Abdullah, Mehbooba Mufti, Sitaram Yechury, D. Raja and others. BSP supremo Mayawati was not invited, and RLD chief Jayant Chaudhary did not attend. BJP leaders promptly described this as "a gathbandhan of thugs", while Home Minister Amit Shah dismissed the meeting as a "photo session". Shah said, Modi will become the PM again in 2024 and the BJP will win more than 300 out of 543 Lok Sabha seats. A day before, Mamata Banerjee called on Lalu Prasad at the latter's residence. After a long time, I noticed the typically mischievous smile on Lalu's face that has been his trademark for years. Nitish Kumar may be the host, but the main strategist behind this conclave is none other than Lalu Prasad. Most of the leaders assembling in Patna have good relations with Lalu Prasad. Since Day One, Lalu Prasad has been opposing Modi and he never changed his political stand. But, the same thing cannot be said about Nitish Kumar. He ran governments in Bihar twice by joining hands with BJP. Naturally, leaders who gathered at the conclave to forge an anti-Modi front, cannot trust Nitish completely. Another weak link in the opposition parties' move appears to be Arvind Kejriwal. The AAP supremo won both Delhi and Punjab assembly polls on his own, toppling big parties like BJP and Congress. Kejriwal has struck relationships with Sharad Pawar, K Chandrashekhar Rao and Mamata Banerjee recently, but Congress cannot trust Kejriwal. Whatever may be the obstacles in the path of opposition unity, this is a big development in national politics. Leaders of 18 opposition parties gathering inside a room for four hours, despite numerous quarrels among them, with the sole aim of defeating Modi, is, in itself, a big development. These leaders and their partymen know that this is a fight for existence. Almost all of them feel that once Modi is toppled, they can iron out their differences later.