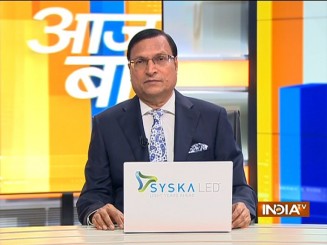 There has been an unnecessary row in academic circles over removal of certain chapters relating to Mughal history from NCERT syllabus. Several academicians have alleged that 'selective sweeping changes' have been made in the syllabus. NCERT director Dinesh Prasad Saklani clarified that the changes were made last year during Covid pandemic to reduce load on students. From Class XI syllabus, chapters like Central Islamic Lands, Confrontation of Cultures and The Industrial Revolution were removed, from Class XII Civic book chapters like Rise of Popular Movements and Era of One-Party Dominance were removed. From Class 10 'Democratic Politics' book, chapters like 'Democracy and Diversity', 'Popular struggles and movements', 'Challenges to Democracy' have been removed. The NCERT director described the debate as 'unnecessary'. But, AIMIM chief Asaduddin Owaisi took jibes asking whether the Centre will now teach students that Modi built the Red Fort and Godse built the Taj Mahal? Since the UP government has decided to follow NCERT syllabus, Samajwadi Party chief Akhilesh Yadav questioned why poems of Faiz Ahmed Faiz and Nirala were removed from Hindi textbooks. After going through the entire controversy, it seems the syllabuses in different subjects may have been changed and some chapters were removed only because there was duplication. But it is not convincing that they have been deleted only because the same chapters relating to Mughals were being taught in different classes. I agree that changes were also made in subjects like Physics, Chemistry, Biology, Geography and Commerce, but History is different. It is a fact that our national education system needs basic reforms, but nothing significant was done over several decades. It was Prime Minister Narendra Modi who, for the first time, formulated the New Education Policy. Whenever the education policy is changed, some old matters are removed and new matters added. If the changes done presently in the syllabuses are temporary there should not be a problem. To view this exercise from Hindu-Muslim or BJP-Congress angles, will not be fair. Bit considering the presently charged atmosphere in the country, those who are viciously reacting to changes cannot be blamed. Since elections take place every year, any change in education sector is viewed from political lens.
YOGI MERGES COMMISSIONS
Uttar Pradesh CM Yogi Adityanath on Tuesday gave guidelines for setting up an autonomous UP Education Service Selection Commission. It shall act as an integrated body for selection of all teachers in basic, secondary, higher and technical colleges by conducting UP Teachers Eligibility Test (UPTET) exam. Currently there are different commissions for basic, secondary, higher and technical college teachers. Yogi said, recruitment of teachers to madrasas and minority educational institutions will also be done through the new commission. Yogi has taken a welcome step. Earlier there used to be different commissions, where corruption and jockeying for membership was rampant. Setting up a single commission will reduce costs on infrastructure, vehicles, staff and other heads. Corruption can be curbed and there will be transparency. Accountability will be fixed. This decision has been taken in the public interest. As far as madrasa teachers are concerned, it must be clarified that the commission will also recruit teachers for Sanskrit schools too. Those who are questioning why madrassa teachers should be recruited, must know that presently, maulanas from Karnataka teach in madrassas in Mughalsarai, maulanas from Bengal teach in Kanpur madrassas. There was no system to check whether these teachers know English, Maths, Science, Computer, or are only conversant in Urdu. Even their degrees of most of them are questionable. Such shortcomings will now be removed. Maulanas will now have to pass TET for recruitment to madrassas. I think this is a good step towards fulfilling Narendra Modi's promise that he would like to see one day Muslim students holding the Holy Quran in one hand and a computer in the other.