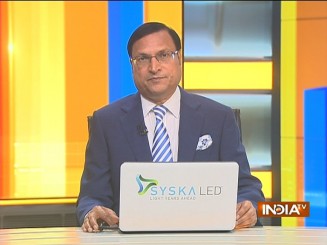 Two developments took place on the issue of uniform civil code on Wednesday. Law Commission chairman Justice Rituraj Awasthi said, the commission has, till now, received 8.5 lakh responses on UCC after it sought views from the public, religious organizations and other stakeholders within 30 days deadline. He said, commission will have wide consultations with all stakeholders. The second development points towards division among opposition parties on the question of opposing uniform civil code. Aam Aadmi Party general secretary Sandeep Pathak said, his party supports uniform civil code "in principle", but later senior AAP leader Sanjay Singh said, the Centre must first reveal details of the bill and hold discussion with all parties, and only then will his party decide. Congress, RJD, Samajwadi Party and JD-U are shocked over AAP's stance. Congress leader Kamal Nath, who is leading his party in the forthcoming Madhya Pradesh assembly polls, said, his party will not "fall into BJP's trap. Let BJP raise uniform civil code issue, we will raise issues of price rise and unemployment among the people." NCP working president Praful Patel said, his party does not oppose UCC, but the Centre should come with the details first. Looking at the political thrusts and counter-thrusts, it seems Modi's arrow has hit the target. It is an issue on which division has appeared among opposition parties. The first sign came from Arvind Kejriwal's Aam Aadmi Party. Secondly, almost all major opposition parties, except Asaduddin Owaisi's AIMIM, Farooq Abdullah's National Conference and Mehbooba Mufti's PDP, are in a position where they can neither oppose nor openly support uniform civil code. If these parties oppose UCC, they run the risk of losing Hindu voters, and if they support UCC, they may have to face the anger of Muslim voters. To be on the safe side, all these parties have now started saying, let the Centre come with the draft bill first and call an all-party meeting, only then will they reveal their views. But I think this middle path will not work. The emphatic manner in which Prime Minister Narendra Modi pushed the uniform civil code issue on Tuesday, is indicative that the government has already made up its mind on UCC. Parliament's monsoon session may begin on July 17, and if the government introduces a draft bill on UCC, Congress and other opposition parties will be caught in a bind. A similar thing happened in Parliament on August 5, 2019, when the Centre suddenly came up with a bill to abrogate Article 370 that gave special status to Jammu and Kashmir. All the opposition parties had to fall in line and support the bill. This time, too, Modi may force the opposition parties to fall in line again. Since several top Muslim ulema, including those from All India Muslim Personal Law Board and Jamiat Ulama-e-Hind have opposed UCC, the opposition is now caught in a dilemma.
WHY BIHAR NEEDS TEACHERS FROM OUTSIDE ?
The Bihar government has amended teacher recruitment rules allowing candidates from all over India to apply for the posts of school teachers. Education Minister Chandrashekhar said, this amendment has been made in order to fill up vacancies for Science, English and Maths teachers. "Talented job aspirants from across India can appear for recruitment since there is a dearth of competent candidates for subjects like Science and English. This will improve quality of education in government schools", he said. A meeting of Bihar cabinet, presided over by chief minister Nitish Kumar, on Tuesday took the decision to amend Bihar State School Teachers (appointment, transfer, disciplinary action and service condition) Rules, 2023 waiving off Bihar domicile for candidates. Notification for recruitment of 1,70,000 school teachers was issued earlier this month. BJP and several student organisations have opposed this move. Former deputy CM and BJP leader Sushil Modi said, people's anger is justified. "If candidates from other states sit in exams, what will be the fate of candidates from Bihar? Actually, Nitish Kumar's government has no intention of hiring teachers and it wants that the matter should go to court, and the entire process comes to a standstill", he said. Bihar government's view that it cannot refuse jobs to youths from outside the state is alright, but the question is: didn't Nitish Kumar know about this earlier? Why was a separate ad brought out inviting applications from candidates outside Bihar? Why were the rules changed? The state government could have convinced aspirants from Bihar about this decision. Instead of doing this, the state education minister has questioned the talent of candidates from Bihar, which is not justified. This has already fuelled anger among job aspirants in Bihar and some students' organizations have given 72 hours' ultimatum. I think, Sushil Modi is right when he says that the matter could go to court and the hiring process will linger on. Ultimately, the youths of Bihar will be the ultimate losers.