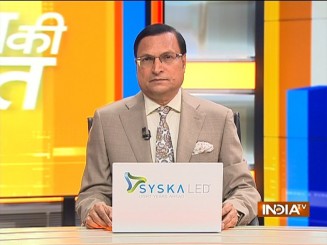 The Parliament Standing Committee on Personnel, Public Grievances, Law and Justice headed by BJP leader Sushil Modi will hear on July 3 officials from Law Ministry and the Law Commission on the issue of reviewing personal laws. This comes in the backdrop of the Law Commission inviting views from the public including all stakeholders on the need to bring a Uniform Civil Code. On Eid ul Azha, most of the maulanas and other Islamic clerics pointed out difficulties in adopting a uniform civil code in the light of Islamic sharia laws. They pitched for continuing with separate personal laws for different religions, as has been the practice since independence. AIMIM MLA in Malegaon Mufti Ismail Qasmi told a gathering at Eidgah ground that the pitch for uniform civil code is being made only to 'harass Muslims'. Addressing a gathering at Eidgah ground in Lucknow, Maulana Khalid Rashid Firangi Mahali described uniform civil code as an "unessential issue" and said, in a pluralist country like India having diverse religions, customs, food habits and traditions, a single uniform civil code cannot be implemented. However, All India Imam Association chairman Maulana Umar Ahmed Ilyasi said it is illogical to oppose the uniform civil code, even before the Law Commission has drafted a bill. He said, a meeting of muftis of Central Darul Kazaa will be called where a draft will be prepared for submitting to Law Commission after consultation among all imams. Several political parties are adding fuel to the fire. National Conference leader Dr Farooq Abdullah warned that a storm can occur if the government went ahead with the UCC, because Muslims follow Shariat rules and there should not be any interference in their personal laws. Shiromani Akali Dal leader Daljit Singh Cheema said, Law Commission had earlier said, a UCC is not required, but if the government pushed ahead, it can create tension. Cheema said, Sikhs will not support the UCC because the community has its own traditions and rules. NCP supremo Sharad Pawar advised the Law Commission to speak to leaders of Sikh, Christian, Jain, Buddhist and Parsi communities first before preparing any UCC draft. An impression is being created that the uniform civil code is being brought "to target Muslims". The second impression that is being created is that UCC may end religious freedom, and may change marriage practices and traditions. People are being misled by spreading rumours that Muslims and Christians may not get decent burials and they may be cremated as per Hindu rituals. The ground reality is that the uniform civil code has nothing to do with religious practices and traditions. The code is meant for changing some social rules. The UCC will ensure equal rights for all. For example, at present there are different minimum age limits for marriage in different religions. This age limit will be made uniformly applicable. The UCC may ban polygamy, and abolish the tradition of 'Halala' among Muslims. At present registration of marriages is not compulsory, and the UCC can make now make all marriage registrations mandatory. For succession, share of daughters in parental property is different in all communities. The UCC will bring uniformity and enact rules for daughters to get equal rights on parental property. In some religions, adoption is restricted. The UCC will provide equal adoption rights to women of all religions. Similarly, there will be uniformity in giving compensation to women after death of their husbands, even if the widows remarry. There are however some questions that still require solutions. For example, in Goa, there is the uniform civil code which says if the first wife does not give birth to a son, the husband has the right to marry a second time. Will such rules be changed? Similarly, among tribal communities, there are marriage traditions that have been continuing since centuries. The Law Commission's draft is expected to come after July 13 and only then the situation can become clear. I have tried to share with you some of the information that we have collected. There is nothing to show that the UCC is being brought to "target" Muslim community or change social practices and customs. It is the responsibility of the Centre to first remove confusions from the mind of the people and then go ahead with preparing a draft UCC.
RAHUL'S MANIPUR VISIT
Congress leader Rahul Gandhi is on a two-day visit to Manipur meeting families displaced by ethnic violence. On Friday, he met homeless people living in a camp in Moirang and later met civil society leaders and activists of like-minded parties. There was high drama on Thursday, when police stopped him in Bishnupur citing law and order problems. Rahul had to return to Imphal and take a helicopter to meet affected people in Churachandpur. In a tweet, Rahul wrote, "I came to listen to all my brothers and sisters of Manipur. People of all communities being very welcoming and living. It's very unfortunate that the government is stopping me. Manipur needs healing. Peace has to be our only priority." On Thursday, two persons were killed after a pre-dawn attack by assailants on a village on Imphal West-Kangpokpi border, and Assam Rifles men had to retaliate. In the evening, hundreds of people protested outside BJP regional office in Imphal, and police had to fire tear gas shells to disperse the mob. I would like to say, Rahul Gandhi did a good thing in going to Manipur and meeting people, but I don't think that the Congress allegation is justified that Prime Minister Modi did not go to Manipur because he did not want the world to know about what's happening in the state. In today's digital age, where nothing can be hidden from media cameras, how can the situation in Manipur be hidden from the rest of the world? The entire nation saw how there was violence in Manipur and thousands had to leave their homes in fear for their lives. Secondly, Home Minister Amit Shah went to Manipur several times to restore peace. Had Modi gone to Manipur, the same parties would have commented that the Prime Minister rushes to such places to get publicity. They would have demanded that the Home Minister should have gone to Manipur. Opposition parties cannot have it both ways.
AMIT SHAH'S JIBE AT NITISH KUMAR
Home Minister Amit Shah on Thursday addressed a rally in Lakhisarai, Bihar. This was his first visit to Bihar after 15 top opposition parties met at a conclave in Patna on June 23. Amit Shah described chief minister Nitish Kumar as "Paltu Ram"(opportunist) several times. He alleged that Nitish "befooled Lalu Yadav" by promising to make his son Tejashwi Yadav the chief minister. He also hit out at Rahul Gandhi saying that Congress, in the guise of opposition unity, is trying to launch Rahul again, but everybody knows this launching will fail again. The Lakhisarai rally clearly showed how things change fast in politics. Earlier, it was Tejashwi Yadav who had coined the sobriquet 'Paltu Ram' for Nitish Kumar for changing camps. On Thursday, it was Amit Shah who used the same sobriquet for the Bihar CM. Amit Shah seems to be right. Nitish Kumar managed to stay as chief minister for 18 years, by switching camps several times. But his days as chief minister seem to be numbered. There is speculation that Lalu Yadav is desperate to see his son Tejashwi as chief minister. It was because of this that Lalu Yadav prodded Nitish Kumar to start working for opposition unity. Lalu wants an opposition front soon, so that Nitish Kumar can become its convenor and, in the process, vacate, the throne of chief minister. Tejashwi will then become chief minister.