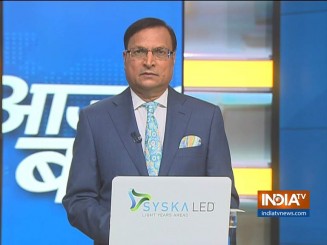 First of all, a Happy Independence Day to all of you. In my prime time show AAJ KI BAAT on Monday night, we showed you visuals of ordinary Kashmiris celebrating India's Independence Day by holding tricolour flag in their hands, the national flag fluttering over housetops after several decades of terrorist violence, and people celebrating the national festival with zest and enthusiasm. Kashmir is the shining crown of India, and for decades, we have seen cities and towns in the Valley living in gloom and curfew during I-Day celebrations. From the Dal Lake of Srinagar, Anantnag, Pulwama and Shopian, people are out on the streets holding the tricolour aloft with pride. With Prime Minister Narendra Modi giving a call for 'Har Ghar Tiranga' on August 14 and 15, the sense of enthusiasm among common Kashmiris has to be seen to be believed. This is a solid reply to those naysayers in Kashmir politics who had been warning that there will not be a citizen left in the Valley to hold the tricolour, if Article 370 is removed. In Sopore, the tricolour was flying on the housetop of a terrorist's brother Raees Mattoo, while in Kishtwar, it was proudly fluttering on the housetop of another Hizbul terrorist Mudassar Hussain. His father Tariq Hussain admitted on camera that his son had strayed from the mainstream. Mudassar Hussain has a Rs 20 lakh reward on his head. His parents want him to return home and surrender. Winds of change are blowing in the Valley and a new Kashmir is emerging. Tricolour flags are fluttering from the rooftops of homes, offices, private institutions and government buildings.
Earlier, it was a rarity. A record number of tourists have visited the Valley this year. In PDP chief Mehbooba Mufti's home district Anantnag, people thronged the local sports stadium to celebrate Tiranga Rally. Shopian, Anantnag were areas, where there used to be strike in the past on August 14 and 15 at the call of separatist outfits. More and more women are now taking part in the celebrations. In Pulwama, several thousand Kashmiris took part in 'Meri Maati, Mera Desh' Tiranga rally that started from Women's Degree College. Pulwama is the place where a suicide bomber blew up a bus in February, 2019, killing 40 CRPF jawans. On Monday evening, the clock tower at the historic Lal Chowk in Srinagar was reopened under Srinagar Smart City project by Lt Governor Manoj Sinha. It has now become a new attraction for tourists. The change that has come in the Kashmir Valley is astonishing. Nobody could imagine this scenario four years ago.
Winning the trust of common Kashmiris is not an easy task. In the last four years, the life of common people has witnessed a vast improvement. Schools and hospitals are now functioning normally, providing better services, roads have improved, while water and power supply services have undergone a vast change. The common man on the street is watching this change with curiosity. In one year, nearly one crore 90 lakh tourists visited the Valley. Arrival of more tourists means more employment and earnings for people engaged in this sector. This is just the beginning. One cannot claim that everything has changed for the better in the Valley. The embers of terrorism and violence are yet to die. Handlers of terrorist groups sitting across the border in Pakistan have not stopped their nefarious activities.
Anyway, this is a welcome change – a good beginning. Kashmir cannot prosper unless its people live in peace. Peace cannot come unless the trust of the commoners is won. The wounds are deep and it will take years to heal. Watching the national tricolour flying proudly in the Valley fills the heart of every Indian with pride. We can say with confidence that Kashmir has resumed its march towards progress. Those who were stone throwers five years ago, are now carrying the national tricolour in their hands. Let us all hope that the day will not be far off when Kashmir will emerge as "a heaven on earth".