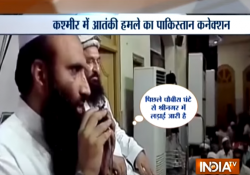 Yet another revelation nails Pakistan's lies about not inciting terror on Indian soil. A 43-second video shot from the headquarters of a terrorist outfit in Lahore exposes Pakistan's hand in the Srinagar terror attacks. The video shows militant Saifullah Khalid, with a mike, delivering live commentary about the Srinagar encounter between terrorists and the Indian army. These terrorists, who were holed up in the city's DPS school campus, were shown being eulogised by Khalid at a time when the operation to eliminate them was under way.
It's highly unfortunate that despite umpteen videos and proofs, Pakistan refuses to accept that it's harbouring and training terrorists. This has been the main thrust and substance in Prime Minister Narendra Modi's summit talks with US President Donald Trump. The ball is now in the US court to call Pakistan's bluff.
The United States must note that Pakistan's act of putting terrorist Hafiz Muhammad Saeed under house arrest is nothing but a sham. Hafiz Saeed was recently detained by the Nawaz Sharif government reportedly in the face of US warnings of sanctions against Pak.
This video is also testimony to the fact that Hafiz Saeed is calling the shots even today. Terror mastermind Abdul Rehman Makki is also spotted in the clip. Makki is known to hold the reins in the absence of Saeed. Makki, Saeed's brother-in-law, known as Professor in terror parlance, holds a bounty of Rs 13 crores on his head. He has risen to limelight for his nefarious activities like provoking youth through radical speeches, doing the rounds of terrorist camps and so on.
This is not the only video revealing Pakistan's nefarious designs. Another video is evidence of a more dangerous nexus. A clip shot in Pakistan Occupied Kashmir shows terrorist outfits Hizbul Mujahideen and Lashkar-e-Taiba joining hands to spread violence in Kashmir.
In the video, Mujahideen chief Sayeed Salahudeen is taped inciting lawlessness in the valley in the name of Burhan Wani. With his provocative speech, he is shown to encourage youth to come out on the streets and engage in unlawful activities.
The emergence of these videos in rapid succession stems from the desperate attempts of terrorists to display their power that's fast waning in the face of aggressive stance of the Indian Government. Indian forces have taken powerful steps in controlling violence in the valley, as a result of which, in the past 35 days, as many as 70 terrorists have been eliminated. This is clear evidence of the terrorists becoming desperate.
Click here for the video