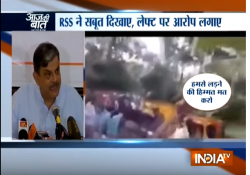 Normally senior RSS leaders do not hold press conferences to level serious charges, but on Friday, senior RSS Leader Dattatreya Hosabale alleged that killings of political workers, mostly from the RSS, have increased in Kerala since the CPI(M)-led Left Democratic Front came to power in May last year. He alleged that 14 RSS workers have been killed since October last year by CPI(M) supporters and demanded that the Centre must intervene.
The Centre, on its part, has decided to send Defence Minister Arun Jaitley to Kerala on Sunday. One should hope that political killings in Kerala will stop after Jaitley's visit. This is necessary because such killings are not a good omen for democracy.
The CPI(M), on its part has said that nearly 300 political workers have been killed in 'reciprocal killings' in the last 17 years in Kerala, out of which 69 murders were in Kannur alone. CPI(M) general secretary Sitaram Yechury has alleged that 13 of his party workers were killed by RSS activists. If his allegation has any basis, the question arises: why didn't his party's government take action? There should be no scope for 'political Talibanism'. The RSS has alleged that its workers are being targeted through open intimidation, and house marking by CPI(M) supporters. Hosabale has shown videos to buttress his charge. The moot point is: targeted political killings in Kerala must stop.
Click Here for the Video