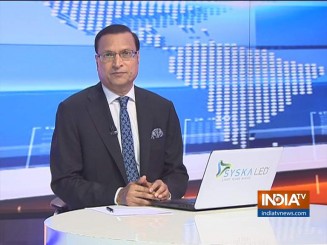 Bollywood actor Rhea Chakraborty feels that Bihar police is blowing Sushant Rajput's case out of proportion in order to use it for Bihar elections. Shiv Sena leader Sanjay Raut believes that BJP and JD(U) are planning to use this case to influence voters in coming Bihar elections. Rhea's lawyers feel she won't get justice in Bihar. Shiv Sena leaders feel that Mumbai police is competent enough to deal with this case. Those on the other side say that Mumbai police is trying to save some people. The result of all this is that Sushant's unfortunate and untimely death has become a political football.
In her affidavit, she alleged that the case has been "heavily politicized" by the Bihar government as the incident has taken place just before the forthcoming Bihar assembly elections. She has also alleged that the FIR filed in Patna by Sushant's father K. K. Singh "was purportedly because of interest shown by the Bihar chief minister."
Rhea and her family members were interrogated by Enforcement Directorate for nine hours in Mumbai on Monday in connection with a money laundering case related to Sushant's death. ED officials also grilled Rhea's business manager Shruti Modi and Sushant's roommate Sidharth Pithani.
Even as new facts are emerging in the case, political brownie point scoring has gone to a new low with Shiv Sena leader Sanjay Raut making comments about the personal life of Sushant's father. Such comments are not expected from the senior leader of a ruling party.
Sanjay Raut has alleged that Sushant was 'anguished' over the second marriage of his father and did not have cordial relations with his family in Patna. He wrote in Shiv Sena mouthpiece 'Saamna' that the anguish might have caused mental distress to Sushant and driven him to suicide at the pinnacle of his career. In his piece, Sanjay Raut has written that "Sushant Singh Rajput was not on good terms with his father. It is true. How many times Sushant went to Patna to meet his father? I have sympathy for his father but there are many things that will come out in the open."
The controversial remarks by Sanjay Raut drew condemnation from political circles in Bihar cutting across party lines. While Sushant's father maintained a stoic silence over Raut's remark, Sushant's cousin BJP MLA Neeraj Kumar Singh 'Babu' lashed out at Raut for his 'cheap comments'. He threatened to file a defamation suit against Raut. Sources close to Sushant's family have denied that his father had tied the nuptial knot again after his wife died in 2002. Bablu said, Raut should be ashamed for making such a comment against an elderly person, that too who has been devastated by the death of his son.
I feel sad when I find Sanjay Raut making the issue of the unfortunate death of an actor as a political football game. Levelling charges on the personal life of a father, who has last his son, is demeaning. To describe Bihar police DGP as a BJP or JD(U) agent is objectionable. Shiv Sena leaders are alleging that leaders in Bihar are taking advantage of Sushant's death because assembly polls are due. It is a strange coincidence that Rhea Chakraborty is also making similar allegations against Bihar government. But Bihar leaders have no faith in the impartiality of Mumbai Police. They believe that Mumbai Police is trying to save someone. Ultimately Sushant's death has become a matter of political football, which is most unfortunate.
Sushant's death at such a young age is really unfortunate and people are really sad and emotional. Nobody should take political advantage from this issue, whether from JD(U), or BJP or Shiv Sena or Congress. CBI has taken up the probe and the matter is in Supreme Court. All of us should exercise patience.
Meanwhile, Mumbai Police sources have revealed that Rhea and Sushant had a violent quarrel on June 8 over their respective families, after which Rhea left his flat. Sources said, Rhea and Sushant almost came to blows, after which Rhea left and blocked Sushant's phone number.
India TV reporter Jaiprakash Singh reports that Sushant's firm Vividrage Rhealityx Pvt Ltd had its IP address changed 17 times. Even after Sushant's death, its IP address was changed thrice. The last change was made on August 7. Both Sushant and Rhea were directors in this firm. Bombay High Court lawyer Chandni Shah says that when anybody has to cover one's tracks and transactions, IP address is changed. She suspected that IP addresses were being changed probably because of matters relating to money laundering.
Questions are many, and since Sushant's death has shocked and puzzled most of the people, each and every bit of information counts. Questions are being raised as to how Rhea, who had less than adequate sources of income, bought flats in Mumbai. It is for the CBI and ED to find out. The moot point is why Sushant committed suicide? Was he suffering from mental depression, if so, what was the nature of his ailment? Since Rhea was his live-in partner, most of the questions are being directed at her, because it was she who was looking after him and his household. What was Rhea's role in Sushant's death?
Rhea was the first to demand CBI probe by tweeting to Home Minister Amit Shah, later she said she was satisfied with the probe by Mumbai Police, and now she has told the Supreme Court that she wants a CBI probe under Mumbai court jurisdiction. Why this change in stance?
Sushant's family members have blamed Rhea for misappropriating his money to the tune of Rs 15 crore. These charges have been made in the FIR filed by Sushant's father, and therefore carry weight. These charges need to be probed thoroughly. Many people suspect that Rhea was buying properties by misappropriating Sushant's money. All these questions need to be answered. The truth about Sushant's death must be revealed. The sooner, the better.