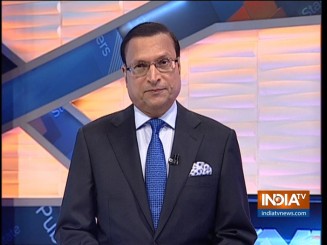 With the Narcotics Control Bureau registering a case under Narcotic Drugs and Psychotropic Substances (NDPS) Act against several persons including Rhea Chakraborty and her brother Shouvik, the stage is now set for a big move to unearth the connections between drug mafia, their peddlers and Bollywood actors. This has brought about a major twist to the ongoing CBI and ED probe into actor Sushant Singh Rajput's death mystery. Rhea's arrest appears to be imminent.
On Thursday, an official letter from the Enforcement Directorate was made available to media in which it was said that ED "cloned" two cellphones of Rhea Chakraborty and 'after analysis of digital data it revealed several conversations of Rhea Chakraborty with Samuel Miranda (Sushant's house manager), Showik (her brother), Dipesh Sawant (Sushant's photographer), and Jaya Saha (Kwan Talent Management executive), Simone Khambatta, Gaurav Arya, etc.'
The ED letter further said: "the analysis of conversations between Rhea and Samuel reveal that these two were working in close coordination and were using the funds of Sushant Singh Rajput for their own purpose. The conversations further revealed that Rhea had obtained details of PIN of Sushant's debit card from Samuel Miranda."
"The whatsapp conversation has further revealed that Rhea was indulging in usage and procurement of narcotics substance namely weed (marijuana/cannabis), CBD etc. illegally since year 2017. ..For the sake of clarity, some of the conversations may be summarised as under: (1) Conversations between Rhea and Samuel dated 17.4.2020 and 1.5.2020 pertain to procurement of weed from Showik and procurement of two bags of weed for Rs 17,000. (2) Conversations between Rhea and Jaya Saha dated 15.11.2019 have revealed that Ms. Saha delivered CBD (cannabidiol, a chemical compound of marijuana which is banned over certain concentration) to Rhea, which was to be mixed in the coffee of SSR (Sushant) (3) Similarly, conversations dated 07.04.2020, 27/28.04.2020, 16.3.2017 and 8.3.2017 pertain to procurement and use of weed."
The ED letter clearly reveals that the WhatsApp messages retrieved till now clearly indicate that Rhea used to procure drugs. Fresh WhatsApp messages retrieved on Wednesday indicate that drugs were sought by Rhea from peddlers, prices were decided, places of delivery were finalized, and the names of those who would deliver the drugs were revealed during chats.
Rhea had deleted all these messages on her WhatsApp, but ED sleuths managed to retrieve them all. And what followed has changed the entire course of the investigation into Sushant's death mystery.
Till now, the cause of Sushant's death was being speculated as murder/suicide/abetment to suicide, the ED had been called to probe the money laundering angle, but out tumbled the drugs angle, and the NCB had to enter the scene. Nobody had then even remotely suggested that the drugs angle could have led to Sushant's death.
WhatsApp messages between Rhea, Sushant, Shruti Modi and Jaya Saha clearly reveal that Rhea was into drugs three years back, since 2017 to be precise. People who came in touch with Sushant through Rhea for providing drugs were all part of her inner circle, whether Shruti Modi or Dipesh Sawant. NCB is now probing how far Rhea's connections with drug peddlers and suppliers had spread. The sleuths are now going to probe whether it was Rhea who introduced Sushant to the world of drug abuse. Was Sushant's death a part of a bigger conspiracy? The jury is still out.
The overall picture about Sushant's death mystery that was hazy till Monday, has now cleared up with the drugs angle appearing to be a vital one. In our prime time show 'Aaj Ki Baat' on Tuesday, I had clearly said that the drugs angle could have been the cause behind Sushant's death, and the direction of the probe appears to be headed towards the same direction.
On Tuesday, India TV had revealed some of the WhatsApp chats between Rhea, her associates and drug peddlers. These appeared to be sketchy and somewhat disjointed, but on Wednesday, we got more WhatsApp messages from our reporter Rajiv Kumar, and the picture now seems to be clearer.
On May 1, 2020, Rhea had a chat with Miranda Sushi, where the latter asked her whether she was willing to pay Dipesh Rs 17,000 for two bags of 'weed'. Miranda said during the chat, one bag is for 'us', and the other bag is for 'HIM'. Towards the end of the chat, Miranda write, HE WILL TRANSFER IT TO US.
Is Miranda Sushi the same person named Samuel Miranda, because Truecaller is showing the name Samuel Miranda for this number. There are words like MDMA, HASH, BUDD in Rhea's chats. In one chat, Jaya Saha is shown telling Rhea to give HIM four drops in tea to sip and see the effect after 30-40 minutes. Was the word HIM meant for Sushant? In another chat, MBD oil (oil extracted from bhang flower) was suggested to be used with coffee.
Remember, May 1, 2020 was the day when lockdown due to COVID was still in force and life had come to a standstill. And yet, Rhea was arranging drugs for herself and for HIM. Two weeks prior to that, on April 17, during lockdown period, Rhea was chatting with Miranda Sushi, in which one was saying that the stuff is no more, and whether we should take the HASH or BUDD from Shovik's friend? To this, Rhea replies, Yes, we can do that, but you must tell how much and how.
There are WhatsApp chats between Rhea and Sushant's servant Dipesh Sawant about how to procure drugs on April 27 and 28. Dipesh is the man, who was present in Sushant's flat on the fateful day, June 14, and helped Siddharth Pithani to lower the body from the ceiling fan to the bed. Dipesh is presently under interrogation of CBI. In one of the chats, Dipesh is telling Rhea that we have to order now because she is going to Dombivali, Rhea replies 'Okay', and on the next day, Dipesh tells Rhea, two bags have been ordered and they will be delivered today.
A chat dated November 25, 2019 reveals Jaya Saha telling Rhea that your people are very cute and I am sending CBD Oil (hashish) to Waterstone. Rhea replies: Bless you, Brosky. The same day at 5.53 pm, Jaya tells Rhea on WhatsApp, the office boy has reached Waterstone. Let me tell you, Waterstone is the resort where Rhea and Sushant spent time after their return from Europe. The same day, Jaya advised Rhea to put four drops (of CBD oil) in tea or coffee and make him sip, it will show effect in 30-40 minutes.
Meanwhile, the CBI on Wednesday questioned the building security guard, Siddharth Pithani and Sushant's servant Niraj. Pithani told the CBI that on June 8, after a quarrel between Rhea and Sushant, an IT professional was called to destroy eight hard disks from Sushant's computer system. CBI sleuths on Wednesday also questioned the Cooper Hospital doctors who had carried out autopsy of Sushant's body. This was the third time in three days when CBI went to Cooper Hospital to question the doctors. There seems to be serious deficiencies in the post mortem report, and an AIIMS forensic team has already sent its observations to CBI on this score.
The overall view at this moment seems to be that the sleuths are yet to find out the real motive behind the act. Was Sushant's death a result of murder or conspiracy, and if so, what was the motive? Who gained from his death? Sushant had no enmity with anybody in Bollywood. He made his mark in the film industry by dint of sheer merit. If it is alleged that it was Rhea who arranged his death, the natural question arises: it was Rhea who was benefiting from her closeness with Sushant. Why should she make him die?
However, with the entry of drugs angle, some definitive facts are spilling out. One, Rhea was using drugs, Two, she knew from where to buy drugs, Three, the drugs were brought when both Rhea and Sushant were staying in Waterstone resort.
The tumbling out of facts also exposes the slipshod manner in which Mumbai Police let its probe drag on for two months. Questions are being asked as to whether Mumbai Police was trying to shield somebody. Mumbai Police questioned 56 persons, some of them eminent directors and producers of Bollywood, for two months but failed to find the drug connection. For most of us sitting away from Mumbai, the drugs angle could be shocking, but insiders in Bollywood know that drugs abuse is common in the industry. And yet, Mumbai Police shut its eye towards this angle. The question is why?
Siddharth Pithani is on record having told Mumbai Police that he had deleted several pictures and texts from the hard disk of Sushant's computer. Why was this angle not probed? Mumbai Police must come out with credible answers because its reputation as a professional police force has gone for a toss.