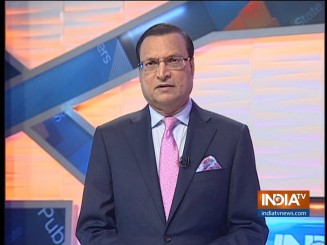 The decision of Narcotics Control Bureau chief Rakesh Asthana to probe narcotics connection has now added a new twist to actor Sushant Singh Rajput's mysterious death case. NCB is going to assign the probe to a special unit to be set up for the purpose.
This comes in the backdrop of explosive information that Rhea Chakraborty had deleted WhatsApp chats with suspected drug dealers Gaurav and talent manager Jaya Saha between 2017 and 2020. The ED has managed to retrieve several of these deleted chats from Rhea's cellphone and has forwarded them to the Narcotics Control Bureau to probe the narcotics angle in Sushant death case.
India TV is in possession of eight such deleted chats from Rhea's WhatsApp in which the drug connections seem to be apparent. In the first chat on March 8, 2017, Rhea is supposed to have told the drug dealer Gaurav that if you are talking about hard drugs, I do not take them much, but I once took MDMA (Methylene Dioxy Meth Amphetamine). MDMA drugs are sold in the West as Ecstasy, Mandy or Molly.
The narcotics connection has however been vehemently denied by Rhea's lawyer. According to some of the deleted chats, on 17 April 2020 Rhea talked to a contact saved as 'Miranda Sushi" who said, "Hi Rhea, the stuff is almost over. Should we take it from Showik's (Rhea's brother) friend? But he has just hash and bud." In another chat with Gaurav she had asked , "You have MD?"
There is another chat with Jaya Saha on November 25, 2019, in which Jaya writes that I have told him to coordinate with Shruti, to which Rhea replied, Thank You So Much. On the same day, in another chat with Rhea, Jaya Saha writes, no problem, friend, let's hope this will help. In the fourth chat, Jaya writes to Rhea, 'Use four drops in tea, let him sip it give him 30 to 40 minutes, it will kick in.'
In another WhatsApp chat on 17 April, 2020, Miranda Sushi tells Rhea, "Hi, we've almost exhausted the stuff. Should we take from Shouvik's friend, he has just hash and bud." The ED also has call detail records of Rhea speaking to Jaya Saha several times on June 14, the day Sushant died. The first call was made at 2.37 pm, four minutes after Rhea got to know about Sushant's death. Rhea called up Jaya the next day also, according to call detail records.
With more explosive information forthcoming, the Enforcement Directorate which had been investigating the money laundering angle in this case, has informed the NCB about the narcotics connection.
Questions are being raised whether MDMA and marijuana was being served in the parties that were being held in the apartment twice a week. Questions are being raised whether Rhea, Sushant and their friends were addicted to drugs.
One of the servants at Sushant's flat has told investigators that marijuana was being served in the parties. The servant Niraj had told Mumbai Police that he offered cigarettes packed with marijuana to guests on June 11 from a special box kept for the purpose. On June 14, after Sushant's death, this box was found empty.
And now, about the actual CBI probe into the actor's death mystery. In my prime time show 'Aaj Ki Baat' on Tuesday night, we showed what Siddharth Pithani, Sushant's manager, told the CBI sleuths in detail. His statement, to some extent, appears to be self-contradictory. His statement is leading to more confusions and speculations.
Pithani was the man who was the seniormost among the four people, including servants, staying in the apartment the day Sushant died. CBI questioned him for more than eleven hours, during which he gave many conflicting statements. On June 14, the day Sushant died, Pithani says, he came to his room between 10 and 10.30 am and started working on his computer system. Keshav the cook came and said that Sushant was not opening his bedroom door.
According to him, Sushant's sister Mitu phoned him to tell that the actor was not answering her calls. Pithani says, he asked Mitu to come over, and sent another servant Dipesh to go to the watchman to call a locksmith. The watchman did not cooperate, and according to Pithani, he searched for a nearby locksmith on Google, traced Rafiq the locksmith. He rang up Rafiq at 1.06 pm, who demanded Rs 2,000 to open the lock with a duplicate key. Sidharth sent him the photo of the door lock and the actor's address on WhatsApp. Pithani says, he conveyed this to Mitu too. At 1.20 pm, the locksmith came with a helper, and after checking the lock he said that the lock would have to be broken. The lock was broken. Within a few minutes, he broke the lock, collected Rs 2,000 and left with his helper.
According to Pithani, he and Dipesh entered the room which was dark. Dipesh switched on the lights, and Pithani says, he found Sushant hanging from the ceiling fan, with a green cloth tied around his neck. His legs were hanging loose near the bed, he said. Both were shocked on seeing this, Pithani rang up Mitu, told her about the incident, and asked her to come fast. Pithani rang up police on 108 and sought help.
The question now arises: why Pithani went up to loosen the body from the ceiling fan and laid it on the bed, even before the police came or Mitu arrived? Pithani told CBI that a call came from Sushant's other sister Nitu Singh from Chandigarh, to whom he told about the incident. Pithani says, her husband O.P.Singh, a senior police officer, told him over phone to take down the body from the ceiling immediately and try to revive the actor. Pithani says, Nitu also told him to take down the body. Pithani asked Niraj to bring a kitchen knife, with which he cut the green cloth into pieces and lowered the body from the ceiling.
According to Pithani, the actor's sister Mitu arrived soon after they laid the body on the bed. She asked whether Sushant was alive. She told them to straighten the body on the bed. Pithani says, he, Dipesh and Niraj straightened the body on the bed, loosened the green cloth tied around the neck and tried to provide CPR to the actor. There was no response of life from Sushant. By that time, Bandra police arrived on the scene, Pithani said.
Siddharth Pithani gave CBI details about how Rhea and Sushant's sister used to quarrel often, how Sushant used to tell him about leaving acting and work on organic farming, how Sushant used to cry when his sister came to meet him and how Sushant was very much perturbed on hearing about his former manager Disha Salian's suicide.
We have full details of Pithani's statement on these points, but because of space constraints, I am unable to narrate all of these in this blog. Millions of Sushant's fans are still waiting for the results of CBI probe and they are eager to know about the truth behind his mysterious death. I hope CBI will surely deliver, soon.